Rowing in the Deep
Perched on the bow seat of the Yale Varsity four-person boat, Kristy Gudmundsson '11 struggled to relax her shoulders and take deep breaths to calm her nerves before the start of her race in one of this year's most prestigious college rowing event of the season: the Ivy League Championships.
Gudmundsson said that the race, held in Pennsauken, N.J. on May 13, started out similarly to other regattas—all of the boats shot off strong.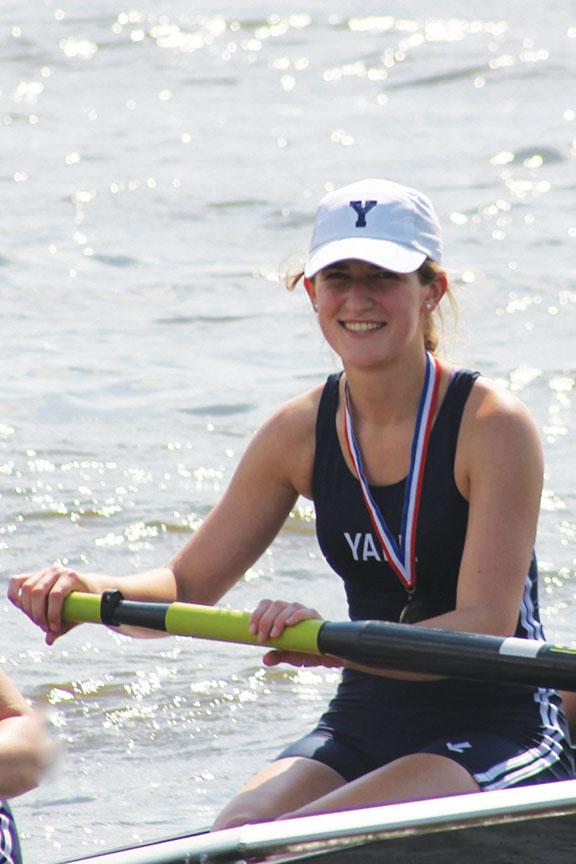 Although all eight boats were tight at the beginning of the race, Gudmundsson and her teammates thrived from their adrenaline and immediately pulled 500 meters ahead of the competition. The Yale boat held onto the lead and kept rowing strong.
Two-thousand meters later, Gudmundsson and her teammates were named the Ivy League champions.
"It was great to realize that we'd done what we had set out to do," Gudmundsson said. "It was a great end to the season."
She added that, after her boat went undefeated all season, there was additional pressure on them to win the Ivy League Championships, the most prestigious competition of the season.
"Everyone in our boat was really close," Gudmundsson said of her and her teammates, "I think we were just excited to be there and to do our best."
Gudmundsson said that her success is a result of hard work and perseverance, which began during the fall of her freshman year in high school.
"Kristy excels because she is so hard-working on and off the water," Gudmundsson's current teammate at Yale Amina Edwards said. "She so dedicated to her training and it shows in practice and during races. "
Gudmundsson's mom, Kathy Gudmundsson, said that Kristy started rowing because she was searching for a new sport and believed that her height, 5'11, would give her an advantage in rowing.
After Kristy's brief forays in volleyball and lacrosse, her dad, Peter Gudmundsson, suggested that she give crew a try.
While Kristy needed an initial push to join the team, she developed passion and dedication for the sport on her own.
"From the moment she started it, she loved the workouts," Kathy said, "she liked that it was kind of new and different."
Kristy excelled at crew for several reasons, said Jules Slim, her coach at the Dallas Rowing Club during her senior year in high school. He said her success is due in part to her height and athleticism but in larger part to the amount of effort she puts into the sport.
"She approached races with a lot of heart," Slim said, "and that's why she did as well as she did."
Charlotte, current captain of the Hockaday crew team, rowed with Kristy during her senior year. Charlotte said Kristy was always the first to get to the boathouse and the last to leave.
"She was a role model for academic, personal and athletic success," Charlotte commented.
Kristy said that before she transitioned to the Yale crew team, she was not certain whether her passion for crew was due to the sport itself or the people she rowed with.
"The biggest thing for me was being on a team and getting really close [to my team]."
Kristy still returns to practices with the Dallas Rowing Club, her high school club team and the home of many Hockaday rowers during the summer.
"She left a lasting impression on the team and the kids that rowed with her still remember her fondly," Slim said, "She continues to be important to the team."
-Elie