Leading a Double Life
Surrounding independent schools' visual art teachers display their artwork in Purnell Gallery
"Artist as teacher. Teacher as artist." This motto drives the 2012 Invitational Exhibition, a Dallas area interschool project that allows art teachers be recognized not just as teachers—but also as artists.
Organized this year by the Hockaday Visual Arts Department and hosted in the Purnell Gallery, the exhibit holds various pieces of art, varying from paintings to photos to ceramic vases, created by over 30 teachers in the Dallas area. Schools that participated include the Episcopal School of Dallas, Bishop Lynch High School, Ft. Worth Country Day, Booker T. Washington High School, Greenhill School, Trinity Christian Academy, Parish Episcopal School, St. Mark's School of Texas, Cistercian Preparatory School, The Cambridge School of Dallas, Ursuline Academy and the Hockaday School.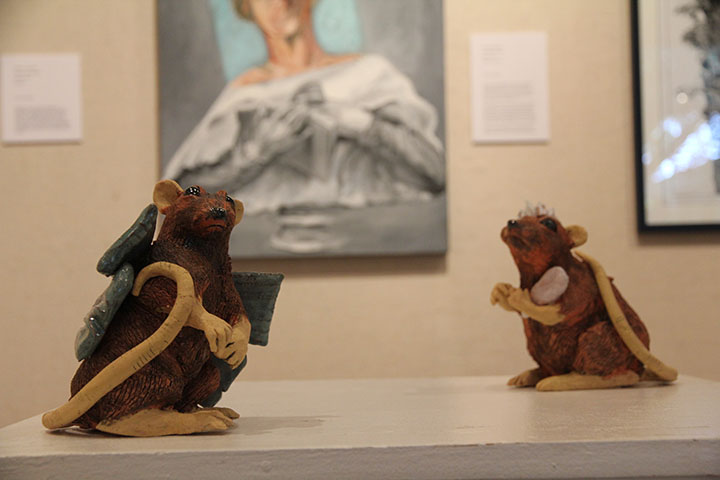 Open until Oct. 5, the gallery allows public visitors to see the artistic projects art teachers have pursued outside of the classroom from 8 a.m. to 4 p.m. Monday through Friday.
"Several teachers I know have been producing art for a long, long time," said ceramics teacher Kevin Brady. "One day a parent said to a teacher from a different school, 'Oh, you make art?'"
In response to her question, several teachers came together to create an exhibit that would allow art teachers to showcase their creations to students, parents and colleagues.
The first exhibit was held at the Episcopal School of Dallas four years ago, and each subsequent year, the venue has changed between participating schools, with Hockaday hosting the event this year.
Hockaday senior Rachel commented on the exhibit, "I really liked the Salisbury Suite painting because I love how the artist portrays the spiritual significance of the stones through the sparking colors."
But it is not only the students who enjoy the artwork. The art teachers get to appreciate each other's works as well.
"Every time I see the amazing work that my fellow visual arts faculty produce I am in awe and amazement," said Greenhill art teacher Valerie Gillespie.
This year, Gillespie entered an acrylic on canvas painting titled The Bond. Modeled after Madonna and Child, the piece centers around the blue and purple figure of a mother cradling a child set upon a red background collaged with bits of paper . She said that it represented the recent birth of her daughter Zoe.
"This particular work of art, for me, represents the love of a mother and her daughter," she said. "I usually paint about content that relates directly to myself, yet also has meaning outside of myself and in the larger scope of life."
On the other hand, Parish Episcopal art teacher Beka Johnson displayed a painting of large popsicles, inspired by her childhood memories.
"I got to thinking about other things in my childhood, other popsicles, things that make me happy even today," said Johnson.
The piece displayed is one piece of a project Johnson has been working on for over a year: a collection of yellow popsicles arranged in a grid.
"I am up to 40 [popsicles] now and it keeps growing," she said. "Eventually I want it to cover an entire wall."
In addition to paintings, the exhibition also contained ceramic works, such as a vase produced by ceramics teacher Kevin Brady. With brownish tones and horizontal texture, the vase curves inward near the center and opens wide near the top.
"It is a piece I made last summer, and it was wood-fired," Brady said. "In some ways, it was a gamble. Since I had not helped fire the kiln in a while, I had little idea of how it was going to turn out."
Though each piece of art is distinct in content and style, they all display the common theme of love for art by teachers around the city.
"When it comes to art, I'm just absolutely enamored with the notion of using one's imagination to create something beautiful," Gillespie said. "Art can literally be anything you make of it. That's the beauty of it!"
-Kathy