Rags to Riches
The Dance Department will perform "Cinderella" for its fall production
Cinderella got her own fairytale ending, complete with the ballgown, glass slippers and Prince Charming. Now, starting from scratch, HockaDance is crafting its own fairytale: it's a rags to riches story.
The Dance Department is preparing for the upcoming "Cinderella" fall dance production on Nov. 13 through Nov. 16.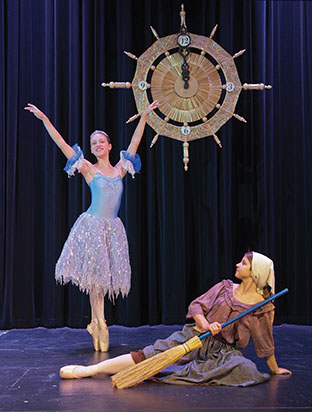 Performing Arts Chair Beth Wortley, along with dance teacher Christie Sullivan, will choreograph the dance production.
"We're choreographing it from the beginning," Wortley said. "It's a brand new creation."
Both invested a lot of time and energy into the production, noting the struggles that come with creating an entirely new production.
"We like to challenge ourselves," Wortley said. "Sometimes we think we're crazy! But it keeps you on your toes to say, 'let's start brand new, let's start from scratch, let's build it from the ground up.'…I think it's good for the girls to see us go through that process, because you're not going to have the perfect idea every time, the first time."
Every Hockaday company, from Dance Extension to Dance Theatre, will participate. But Dance Theatre will take on the main roles, such as Cinderella and the evil stepsisters.
In the past, dance students have performed story ballets such as "Hansel and Gretel" and "Peter and the Wolf."
"We have a lot of kids who are really strong dancers, so we thought it would be fun to think of another story ballet," Wortley said.
Another attractive factor of "Cinderella" was that it contained the potential for many roles.
"We envisioned a way to get all the companies involved," Wortley said.
Sullivan and Wortley spent hours this summer preparing for the fall production. Sullivan cut Sergei Prokofiev's original "Cinderella" ballet composition, which is over two hours long, into less than an hour in order to fit assembly time.
"It's still a work in progress," Sullivan said. While Sullivan cut, Wortley listened to audio clips and envisioned dance routines.
Because the eighth grade musical "Annie" is a few weeks before the dance production, some sets will be shared with that musical. Other sets will come from last year's Upper School musical, "The Fiddler on the Roof."
"We're going to capitalize on some stuff that is already there," Wortley said.
In addition, Wortley's friend and set designer Chris Emery, built a Cinderella carriage that lights up and rolls.
"It's really beautiful," Wortley said. Emery also constructed an enormous clock for the production.
The two dance teachers searched for new costumes in both stores and costume catalogues.
"We found some really great stuff and we're really excited. It fits the story and will highlight the girls really well," Sullivan said.
Senior Maddie, a student in Dance Theatre, looks forward to the production. She will play the role of Cinderella.
"It's a good story and it's easy to follow," Maddie said. "It's easier for audiences to follow when there's a story."
The Upper and Middle School assemblies will take place on Nov. 13 and 14 respectively. The dancers will perform an evening concert on Nov. 15.
Half of Lower School will attend the Upper School assembly, and the other half will attend the Middle School assembly.
"It's a good way to get the younger kids interested in dance," Wortley said.
Although Cinderella is technically a ballet, the version Hockaday performs will not consist only of ballet dancing, Wortley explained.
"There's a lot of classical ballet in it, but it's going to have a lot of theatrical dancing, a lot of characters and character development and an almost court-dance like mazurka," Wortley said.
Nonetheless, Maddie is excited for what she predicts will be one of the best productions during her four years in Hockaday dance.
"It will be a unique Cinderella. It won't be a your regular Cinderella ballet—it will be our own kind of creation," Sullivan said. "Seeing the whole department do it together, all the way from Dance Extension to Dance Theatre, is fun."
-Tiffany