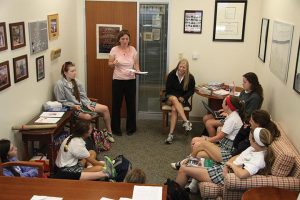 Incoming members alter hours for various programs to legitimize work, promote honesty
For many girls at Hockaday, it isn't hard to tell which community service projects give you the biggest bang for your buck. Volunteering at The Genesis Shelter, for example, earns a student five service hours for a two hour work period. Hours inflation from the Genesis project and other Hockaday-sponsored community service project has brought the issue of inflation to the attention of the Community Service Board. 
 After 25 years of maintaining the same service hour designations for school sponsored projects, the Community Service Board members have decided to alter the number of hours given to students for many Hockaday programs. Laura Day, Director of Community Service for Hockaday and St. Mark's, explained that many hour designations were, at that time they were decided, set for specific reasons, such as accounting for transportation and encouraging students to serve their community. Day believes many of those no longer apply to Hockaday and St. Mark's anymore. After evaluating the system in her first year, Day now sees the opportunity to alter the hours in her second. "It was never to be deceitful. I think it was just to encourage people to get involved, but we are looking at it now," Day said. With the start of another school year, the members as well as board chair senior Katy believe now is the time to address the issue. "Are they doing it to do service or to get five hours?" Katy said. "That's not the motivation I wanted people to have. We knew that it was not going with the Honor Code." Other Board members agree that inflated hours distracted from the mission of the Community Service Program, which states their purpose "to develop in [their] students a sense of purpose and responsibility to contribute to the well-being of all in our community." Part of that responsibility requires integrity in recording hours, and last year's hours amounts did promote that honesty. They did not show that those hours are actual seconds and minutes of work. "I definitely supported hours being changed, because an hour is 60 minutes. If it was a point system, that would be different, but you can't make up time," said senior Natalie, Head of Agencies and Drives on the Community Service Board. While the hours adjustment may go heavily noticed by students this year, in the future, Katy said she hopes that the slight decrease will become the normal, appropriate and uncontested amount for hours given. "This year, there might be a small decrease in some of the hours," she said. "But then in a few years, no one will know the difference. That will just be the norm." Though hours are lesser in amount, the changes should not greatly affect the program and could, in fact, be beneficial, Katy said. Both Day and Katy believe that the altered numbers will correlate better with the new requirements: eight hours in the first semester and seven in the second. The truth about these small changes should quell students concerns when trying to get service hours for this year. "We're really barely changing anything. We're basically trying to make sure that each project is accurate." Day said. "We're looking at everything and maybe every once in a while taking an hour away to make it more legitimate because we want to be honorable, and we want to be honest." In order to ensure honesty inside the Hockaday community service program, the board wants to make the hours they offer closer to the truth and hope that students follow their example in return when submitting individual forms. "I think with us decreasing the hours, we're just trying to get the point across. It is not honorable to inflate your own hours, and we want to set a good example. 'Hockaday and St. Mark's do not inflate the hours too much, so you should do the same in your own projects.' I think that will translate," Katy said. Regardless of the example set by the actual board, students are also bound to honesty by the Honor Code, whose jurisdiction includes the Community Service Program as well as the academic and moral aspects of the school. "Everyone is under the Honor Code for community service, so that's one thing, to be able to hold them accountable," said junior Dalton Youngblood, who is responsible for entering in hours as Assistant Chair of Administration Board. Day said, following the Honor Code when recording hours is all preparation for a professional and honest life. "I want to lay a good groundwork at this age for people to see that that's not something we're okay with," she said. "And it's something that we want to be thoughtful about." The Board does not expect too much backlash about the reduction of hours, according to Natalie. She hopes students will understand it's for a very specific purpose. Though, some have made the argument that a decrease in hours will decrease the incentive as well. "People may just do the minimum 15 now because they will have to do more things to get a high amount of hours," junior Taylor said. In addition to this decrease in offered hours, the board has also altered the procedure of self-reporting with the addition of electronic system OrgSync for tracking hours on the computer. However, the honesty expected during the process will go unchanged, even with the new online program. After its installation in October, students will be able to report hours from their phones, but their service will still have to be approved by either Day or Assistant Director Sarah Satinsky before receiving credit. "We will call places a little more, not to check up on people but because we want to hear about what happened," Day said. "If somebody went to the Arboretum for five hours, I might call their volunteer coordinator and say 'hey, how did it go this weekend?' That may happen more, but we're not going to regulate what people put down." This increased effort to get feedback from the programs is less about trying to catch people and more about checking on the progress of the project, Katy insists. The reduced hours will help keep the system honest and fair for both the student and board. "We trust that people would put the hours that they did and that's what we're going on," Day said.
-Katie