The Upper School Commons:
As a freshman I would seek refuge there when I had five minutes to spare or when class got out early. The large, worn arm chairs (which would soon disappear to be reupholstered) were always comfy, and I could count on finding a friend or two.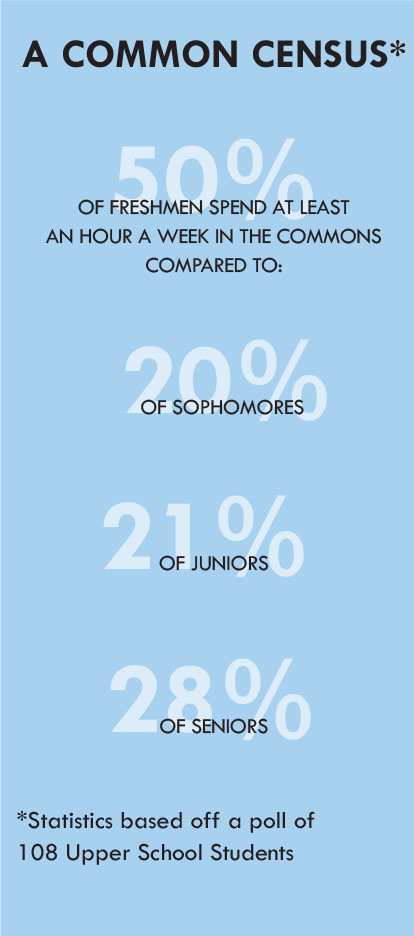 Personally, I never used the Upper School commons as a place to work, it just wouldn't happen. Rather, I sought it out for a room to relax in on Friday Y periods and the moments when homework was not going to happen in a room full of fellow 2015 classmates. The commons was the perfect place for just that, freshmen seeking shelter from the rest of the Upper School.
Now, as a fresh sophomore the thought of stepping foot into the commons has never crossed my mind. Why would I go there? Unofficially it's a freshman room, a place where freshman can adjust and learn to use their newly found free time. I mean, it is in their hallway so it makes sense that they flock to it in large numbers.
"The freshmen take it over and it would look weird for a senior to sit in there with freshmen," senior Farheen Jooma said.
And senior Radhika Mohan agreed, "[they] take over it. It's supposed to be for the entire Upper School… or just seniors I'm fine with that too."
Working in the commons is not always easy.
"The noise level is too loud outside the rooms, which is why I prefer to study elsewhere now," Junior Yvette Anguiano said.
As upperclassmen began retreating to the library or Tarry House to work, the administration has made several attempts to change who uses the commons and how.
In attempt to foster more of a working environment and less of a lounge, they removed the arm chairs and replaced them with more tables.
They also have locked the four workrooms in each corner of the commons and have divided them by form: one room per form.
According to a recent Fourcast survey of 108 Upper School students, only 38 percent are in favor of this new rule. Those in favor say they're excited to see if they can actually get some work done in the commons.
"I like the new designated rooms," said freshman Kate Clement.
The other 62 percent, however, do not.
But there are flaws with this new system. Rooms sometimes lie unused while several girls from one form don't have a place to work because their designated room is occupied.
"Personally, I think it's better if you just allow people to use the study rooms however they please as long as they don't use the rooms as personal lockers," sophomore Whytne Stevens said.
There is, however, despite its improbability, a solution. Like in Middle School, there should be two commons; one upstairs and one downstairs.
But since we aren't remodeling the Upper School any time soon there are some other ways we can use the commons in a more productive and beneficial way.
First we really need to clean up in there. I know that it's easy, especially for the freshman, to use those empty cubbies as temporary lockers but lets try to avoid that, and use those values that were drilled into us in Middle School: pick up after ourselves, treat the school how you would want someone to treat your house, etc. Second, especially now with the long tables, lets not fan our stuff all around us and leave more working space for others. Thirdly, if all you want to do is hang out with friends, please don't use the one workroom we have in our building for that. It's terribly annoying to have to walk to the LARC and loose a good five minutes when trying to finish homework that's due the next period. Plus with the weather as beautiful as it is, why not try to take advantage of the courtyard?
-Avita