Permission to Play
Daisy Land: How play enhances learning and incites the imagination
If you were to film Chinese teacher Dr. Justin Rudelson's Chinese I class and then replay it in fast forward, you would not see students. Instead you'd catch glimpses of rapidly moving green, white and plaid.
As the students in Rudelson's A-period class progress through the lesson, they flit from the Ping-Pong table in the back of the classroom to the SMART board in the front. They sit on their chairs—and on their desks and on the floor. Upon forming teams of four, they run relay races to the board, where they scramble to recall all 10 strokes of a complex character.
Eugene McDermott Headmistress Kim Wargo has given something to Rudelson, his students and the rest of the school: permission to play.
Over the summer, she asked teachers to read Dr. Stuart Brown's "Play," which examines the ways in which play stimulates the brain and sparks creativity.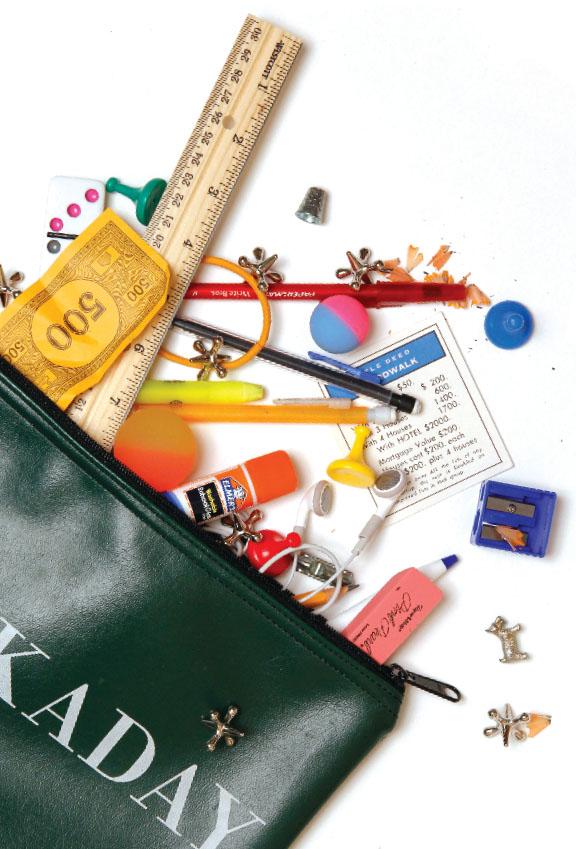 Brown defines play as "an absorbing, apparently purposeless activity that makes you want to do it again." He deemed the "emotion of play"—the unfettered joy that it sparks—as its defining characteristic.
"If you think about what you remember best in life, it is often tinged with joyfulness," Brown said.
Wargo has charged teachers in all divisions of the school with the task of incorporating the spirit of play into the classroom.
"There is something about being in a joyful place that makes people more inclined to be productive and creative," she said.
Rudelson said his students are indeed learning at record speed. His first year Chinese students practice pronunciation by hitting beach balls in motions that mimick the various Chinese intonations. And they review their numbers by counting their jumping jacks.
"There's a lot more energy in the class," Rudelson said. "On the first day, they all got the tones. It's really quite astounding."
Play in the Upper School
John Ashton, Head of Upper School, keeps a guitar in his office for a reason—so students can "strum it up."
"We need to give each other more permission to play," he said. "We need to lighten-up around here."
Ashton said he believes that students are at their "best and most creative" when merging play and study.
"Play isn't the opposite of work," he said. "If you live that way, you're going to grow-up and endure five days to hopefully live two of them."
Wargo said she envisions play in the Upper School classroom as more than just "throwing a ball around in a discussion."
"It's more about being willing to, say, do some role play in the classroom," she said.
Wargo offered an example pertaining to history classes. Students learning about the New Deal, the series of economic and social programs enacted from 1933 to 1936 by the Roosevelt administration during the Great Depression, might each research the viewpoint of a different member of Roosevelt's Cabinet. Then students would role play a Cabinet meeting during the time period.
"This type of activity gives students an opportunity to feel more invested in what they're learning," Wargo said.
Lynn Nolen, Director of Learning Services, suggested that teachers break-up 80-minute classes into smaller, more manageable chunks of time in order to keep students playful, alert and engaged.
"If you can take your basic one hour class and have eight to 10 separate, short activities, your brain is going to have to stay much more in tune to what you're doing than if you do the same thing for 80 minutes," she said.
Nolen added that the brain may "go to sleep" after doing the same thing for 80 minutes. She said that breaks actually help students acquire certain cognitive skills.
"If one is allowed to take short breaks…they have to remember where they were and be able to move forward with it," she said.
Junior Maddie said that she has already benefited from switching gears throughout her Chinese I class.
Since the first day of school, the students have taken breaks from the daily curriculum drudge by translating aloud headlines and snippets of "real life" Chinese. They also alternate between learning tones, practicing vocabulary, reviewing grammar and starting their homework.
"It makes it more fun to learn. And it makes you more comfortable with speaking," Maddie said. "You're taking more in."
But students will not only experience play in the classroom this year. Ashton plans to work with students toward a more playful environment outside of the classroom as well.
For starters, he'll be playing music over the loudspeakers before assemblies. And he'll encourage students to plan open-microphone lunches on graduation terrace.
"It shouldn't take six weeks to plan it," he said. "Come on now. Put a mic up there and let's do some karaoke.
Play in the Lower and Middle Schools
Randal Rhodus, Head of Lower School, said that the Lower School faculty and students finally have something to teach the rest of the school.
"We work with young children, so we know the importance of play," she said. "I think our Lower School faculty is excited that everyone in the school is as excited about play as we are."
While Lower School teachers have long incorporated word play, role play and physical play into their curriculum, Rhodus said she plans to encourage parents and teachers to make more time for "unstructured play."
"Children are sometimes in the afternoon scheduled for gymnastics and this and another activity. Sometimes they need a time after school when nothing is planned," she said. "Play is when you get to connect with other people. It's when creativity begins."
Wargo pointed out that, through unstructured, imaginative play, children learn a process called executive functioning, in particular decision making and prioritization.
Linda Kramer, Head of Middle School, also said she hopes that her students and their parents will re-focus on unstructured play outside of school.
She added that, in the classroom, teachers should more intentionally incorporate play into their lessons. Eighth grade math teacher Jenni Sout has already begun integrating the Wii gaming console in her lessons.
Using the "Big Brain Academy" puzzle video game, Stout teaches the girls special relationships. In one mode of play, for example, the girls use the controller to rotate boxes and manipulate them through obstacles.
Stout said that the girls are so enthusiastic about the activity that she must beg them to stop participating.
"Even if only one person has the remote, they're all watching," she said. "I have to tell them to stop yelling at the person who has the remote. It gets your brain interested because it's fun and colorful."
Play Outside the Classroom
"When the going gets tough, the tough go play," Stuart Brown wrote in "Play."
Brown argued that, during play, the brain makes sense of itself through simulation and testing.
"The genius of play is that, in playing, we create imaginative new cognitive combinations," he wrote. "And in creating those novel combinations, we find what works."
Brown explained that, by watching victories and defeats of our favorite football team, we learn how to argue with our friends.
And by reading about Rich and Ilsa's doomed romance in Casablanca, we learn about love and how to live our lives with honor and a sense of irony when love is lost. Further, by facing physical challenges, we learn skills for application in the workplace: perseverance and commitment to goals.
Brown added that creative ideas are often those that bring together ideas from different domains or fields. Play is designed to activate diverse regions of the brain to synergistically integrate their function.
"I think of it as important as something like sleep or hand washing or other bodily functions," Brown said in an interview with The Fourcast.
Wargo offered students advice in finding their ideal method of playing outside of school.
"For each of us, it's going to be different," she said. "I would ask yourself when do you feel most like yourself? What am I doing in that moment?"
Play Has Its Limits
Steve Kramer, History Department Chair, said he adds levity to his classes through the incorporation of humor and storytelling. But, for the veteran teacher, these moments of lightheartedness are not premeditated. They're organic.
"You always have to do something that lightens up the day," he said. "But I don't plan it."
Kramer said he keeps students involved by telling stories that relate to the day's topic of study. And, every so often, he allows the class's conversation to venture off topic—he'll answer a student's random question or point out the humor in a SMART Board malfunction.
"I think the lighthearted moments in class are what kids remember," Kramer said.
But Kramer noted that teachers must maintain a serious tone most of the time. Kramer keeps his students on their toes and on top of their reading by frequently starting class with impromptu essays based on the night's reading assignment. From there, little game playing ensues. It pops up only in the off moment.
Wargo agrees that play has a time and a place, both of which are second to rigorous coursework.
"We do the academic stuff really well," she said. "We get that. We know how to do that. It's what makes us Hockaday. I don't want to change that. I don't want to see it diminished."
Wargo added that she wants to see girls work hard and be challenged—with playful elements built into the curriculum.
"We don't want to become a school that's all about play," she said.
Linda Kramer said that she sees the incorporation of play as one of many tools in a teacher's tool belt.
In addition, she said that she hopes teachers keep both moderation and spontaneity in mind.
"When you walk into English class knowing you have to do 20 jumping jacks, it doesn't have the same effect as a surprise spark might have," she said.
With too much planning and premeditation, play just might turn into another item on our to-do lists.
– Hailey