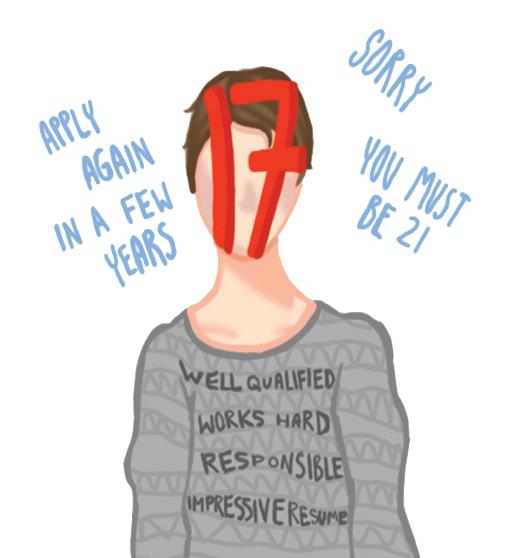 At almost 18 years old, I double as a black hole into which my parents' money drains freely. I hate it, but change is nowhere on the horizon. Cooking dinner has never been an issue, laundry is no problem, I can take care of things at home, but when it comes to paying for myself, I am utterly helpless.
Just last week, I visited a restaurant with a clear shortage of employees, and I asked for a job application. I was immediately turned down on the basis that there would be alcohol on the premises. On my insistence that the restaurant did not even serve alcohol, the hostess pedantically informed me, "Lots of people bring it." 
It wasn't anything new. I had been told essentially the same thing at every other stop on my job search: that I was unqualified. Even the SPCA and Operation Kindness—although I insisted I was the dedicated caretaker of almost every type of animal under the sun and would happily scoop feces if it were asked of me—refused to acknowledge anything beyond my age.
I could blame much of my past failure on insurance liability. At places like the SPCA, there are animals, and animals are unpredictable. Parents could sue.
But this was different. For a restaurant to refuse me on the assumption that I could not be trusted in the vicinity of alcohol felt like an infringement of my rights.
To most potential employers, I am nothing more than an arbitrary number. I could be more qualified for a job than every other applicant, but until my number reads "18," or even "21," I'm out of the race. It seems everywhere I go—as soon as that puny "17" slips through my lips—smiles turn to paternalistic frowns.
In the bitterness of my dejection, I began to wonder how this was any different from racism or sexism. While the comparisons may seem extreme, each is connected by a common thread: the belief that a person can be defined by one inalterable aspect of his/her character. This was the same principle used to justify slavery, the same used to bar women from work, the same that today keeps so many kids from gaining real world experience.
Age is a no more reliable indicator of capability than skin color or gender. I could see more, accomplish more and develop a stronger set of values than any adult, yet I would still be barred from a job as simple as bussing tables, on the sole basis of my age, a fact I cannot change.
If I did not know there would soon be an end to the unsolicited cradling, the shameless condescension and the prejudice, I would speak out. I would fight for the rights—or at least the respect—I believe is my entitlement as a hard-working American citizen. But I don't.
And perhaps that's exactly our problem. The only people who might be willing to speak out—the kids themselves—are stifled in the act by the idea that somehow it's okay for people to demean and exclude a whole subset of the population, as long as its constituents are somewhat younger than the rest. We are bullied into believing that respect is a right of passage.
Even at Hockaday, the relative freedom we receive as Upper School students is undermined by the fact that we have little to no voice in school politics. Most major decisions are made entirely by the school board, not by the people who know the school best: the students.
Somewhere in our history, Americans reached the mass consensus that kids were to be protected, sheltered at all costs from the evils of the adult world. This trend has been gaining momentum ever since; its grip grows tighter with every new technological development. Today, it plays a clear and definite role in our legal system. There are few things more detrimental to a person's self-esteem than a culture that deems him/her unworthy of trust.
Bill Gates was only 19 years old when he co-founded Microsoft, the same age as Mark Zuckerberg when he commercialized Facebook and John D. Rockefeller when he started the company that would make him the most influential businessman in history.
At 14, Nadia Comaneci achieved, for the first time ever, perfection in Olympic gymnastics. At 15, Louis Braille invented the unprecedented Braille system— he was three years younger than Mary Shelley when she wrote Frankenstein (The Modern Prometheus).
Americans gravely underestimate the swelling motivation that arises from a kid's desire for independence. After all, what else could make a person eager for the chance to scrub feces from animals' cages?
For a kid, it's not just money that comes from work, it's empowerment. It's independence and respect. It's a chance to show the world what you are capable of.
Yet still we turn them down.
The result is an inexperienced workforce in the jobs that matter and a less efficient population overall. There is vast potential in this vastly underutilized human resource. It's time we started treating young people with the trust and respect each deserves.
And it's time for young people to stand up and demand what is lawfully their own: the right to engage in, invest in, and build this country, that is as much their own as it is their parents'.
– Annabel