How Hockaday debate girls balance stressful classes and a busy debate schedule
At exactly 8 a.m., she starts her day with self-defense. Then she heads over to AP English, followed by AP Physics C. Finally, she has a free period, but during that time, she works on the Multivariable Calculus and Differential Equations class online. And for the next day, she goes to AP Economics, AP Spanish Literature and prepares for her upcoming debate tournament.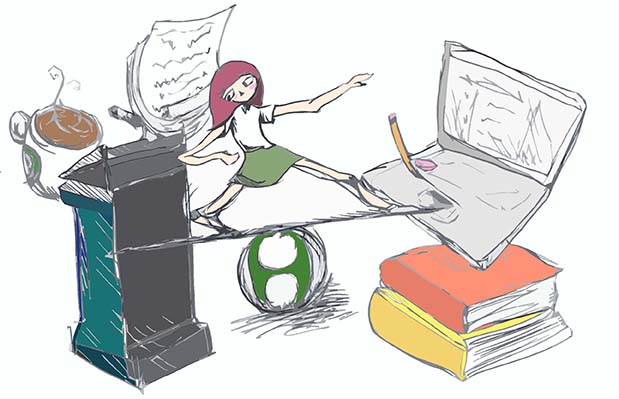 Senior Christine has been a member of the Hockadebate team for four years. She, along with other debaters, are debatably the busiest people in the school. They are able to balance AP and advanced classes with the debate workload and after-school activities.
Christine spends an average of two hours a night working on debate and devotes the entire night before tournaments to preparing and practicing for the next day's debate.
"It can be difficult, especially now with the pressure of college applications. But this is my fourth year in debate, so over those years I've learned at times, through failures, what it takes to achieve balance between schoolwork and debate," Christine said about finding a healthy balance. "You have to know your limits and sometimes have to be willing to put off a tournament to keep up with your grades."
Sophomore and second -year Hockaday debate member Lakshmi also devotes a lion's share of her time outside of school to debate.
"As soon as I am done with my homework, I work on debate," she said. "When a topic first comes out, I will spend around three to four hours a week researching, and the night before the tournament, I will spend at least a solid two to three hours on it."
Because the topics come out one month in advance, Lakshmi and her fellow Hockaday debaters have already been preparing for the November tournaments while still finishing the October tournament.
At other schools even outside of Texas, debate is still very time consuming.
Jessica, who attends Walt Whitman High School in Maryland, said, "In terms of explicit time spent on debate, I would say I spend about 10 to 15 hours a week. Leading up to tournaments, the workload increases with extra practice rounds and drill sessions."
But at Walt Whitman, debate is not an actual class due to lack of funding. Therefore, the coaches are not part of the school's faculty, unlike Hockaday. Even though it isn't a class, debate still requires lots of out-of-school time.  Jessica described debate  rather as "a time-intensive, extra-curricular activity."
As Christine and Jessica said, debate does not only take up time during the week, but also on the weekends.
Cumulatively, the Hockaday team participates in up to six tournaments each month. Individual girls, however, may attend a maximum of three consecutive weekend tournaments—mandating they each have at least one free weekend per month.
On tournament weekends, many of which include traveling to locations as far as New York, debaters must balance the preparation and competition with completing school work due the next week.
And at Walt Whitman, weekends aren't much different.
"The tournament itself takes up the entire weekend," Jessica said. "We hardly have any time during that period that isn't spent thinking about debate, actually debating, eating or sleeping."
Eric Melin, Director of Debate at Hockaday, said that according to data and results, Hockaday is one of the only all-girls debate teams that competes nationally. The team consistently places highly in both local and national tournaments, and many individual girls have won commendable awards. For example, last year, Christine qualified for the Tournament of Champions and three Round Robins that included the top 16 debaters from across the country.
But strictly debate awards are not the only distinctions presented. They are also distributed in categories such as "Top Smiler," an award given to Christine for being fun to judge.
"Our Hockaday team dedicates a large amount of time to debate, but it seems that we actually spend comparatively less time than other schools," Christine said. "Not because we are not as dedicated, but because our academics—that is, our course load and homework expectations—are so much harder."
Debate has also taught the girls valuable life skills. Senior debater Nikita said that it has taught her "confidence, not only in public speaking, but in every discussion-based class."
Another key reward from taking debate, Lakshmi said, is that it has taught her "to be more organized, see both sides of issues and think things through more carefully before making decisions."
Christine mentioned that it has taught her self-discipline and how to be time efficient. It has even helped her in other classes. "Constantly having to think critically and rebut other people's arguments has directly helped me in class. For instance, I can more actively engage in English readings because I keep questioning claims and not always accepting things at face value."
Debate is like another extracurricular activity. If you want to do well, you practice more. For some Hockaday girls, debate is what they love, while for others it's just another class. Nikita said that, "A lot of times, you deal with it by just staying up a bit longer, but mostly you just have to prioritize your work, while setting aside an hour of your night to debate."
-Charlsea