Junior Divya recently completed her arangetram to culminate 11 years of Indian dance
Vibrant costuming, striking make-up and glittering jewelry from head to toe adorned junior Divya during her arangetram, a traditional graduation ceremony after 11 years of Bharatnatyam dance training.
The program at Dallas Children's Theater on Jul. 21, which featured two hours of Divya's dancing, split into eight dances, was dedicated to Pratham, a non-profit organization that promotes child literacy and education in India.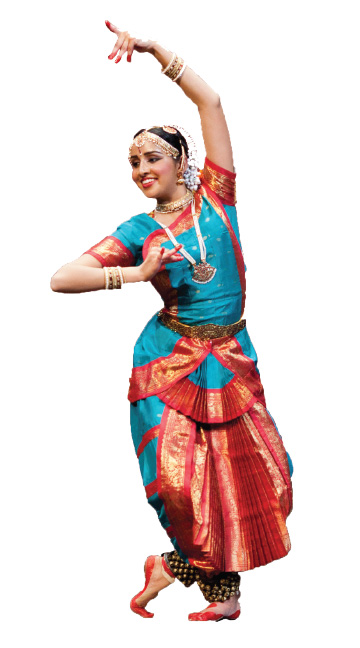 In lieu of gifts, Divya asked her friends and family from Texas and India for donations to the organization, of which she has been an active volunteer and ambassador since age six. The 8,500 dollars she raised contributed to a total of 55,000 dollars she has raised thus far.
Though the lavishness of such an event could easily digress into materialism, with more emphasis on  the costumes, the food or the venue, Divya wanted to keep the integrity of the performance.
"In America, it has become a material thing. In India, it's more related to dance, which is how I wanted to see it," Walia said.
Preparation for this event began over a year ago when Divya's dance guru, her teacher and guide Revathi Satyu, deemed her ready for this major milestone.
While her mom put effort into organizing the program, the musicians, the food, the auditorium and the accommodations for guests, Divya dedicated herself to her dance training.
Last summer, she went to India to participate in an intensive dance workshop and learn new dances that she would perform at her arangetram. This summer, she practiced for as many as four hours a day in preparation for the big event.
"She practiced like she was preparing for a marathon," her mom, Vineeta Salvi, said.
Her preparation paid off.
Because Divya had practiced so much,  she said she was not worried about forgetting anything because she was focused and had adrenaline.
"It went by so fast, like a blur," Divya said.
The audience thought Divya performed well. The most frequently recurring sentiment from the audience, Salvi said, was praise for Divya's expressions that matched the mood of the dance.
All the songs were in a different Indian language, and Hockaday alumna Chinmayee Venkatraman '11 was a vocalist for the program. To someone whose first language is English, the subtle nuance in the interpretation of the songs could get lost in translation.
"It's hard to portray the mood of a dance," said senior friend and attendee Maya, who does a form of Indian dance called Kuchipudi.
Especially the audience members from India were "blown away by her expression and the mood of the dance," Salvi said.
At the end of her performance, Divya received a standing ovation, which is not usual, her mom said.
Divya acknowledges, however, that her arangetram is merely a step on her journey.
"[Divya] wanted less fanfare around it," Maya  said.
Divya said she is by no means a master of dance. She is now expected to perform at a higher level, but there is still much to learn.
"When you've been doing something for so long, there is just a comfort in going back to something you know you can do," Divya said, "Stopping it would be like why?"
-Mary Clare