How and what to wear this season
It's about that time of year again. Summer has officially ended, and the transition into colder weather and warmer colors has begun. Now's the time to start embracing the beauty of fall fashion—and many of this season's trends may come as a surprise.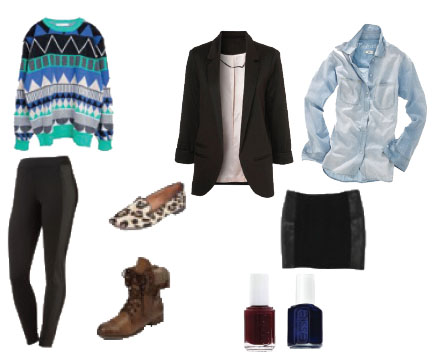 Fall Colors
Fall colors this year are not what most would expect.
"Oxblood is probably the greatest fall color ever invented," senior Hannah and Nordstrom B.P. fashion board member said. "It's a deep, dark red, so it's appropriate for fall and winter but breaks up the monotony of the typical blacks, grays and browns of fall clothes."
Another fall color comes as an additional surprise.
"There's white, which is surprising because you're not really supposed to wear it after Labor Day," sophomore Kennedy, who is also a member of the B.P. board, said.
Fall Classics
Classic fall apparel such as sweaters, jeans, vests, boots and button-ups will never go out of style.
These items can be paired, however, and given fresh twists with the trends of this season.
Leather
Leather is a major trend this season.
"Tons of designers like Rag and Bone, Alice + Olivia and Marc by Marc Jacobs are doing things with leather," Hannah said. "[For example,] leather paneling on pants, leggings, dresses, pleated leather skirts and my personal favorite, leather peplum tops."
One of celebrity Lauren Conrad's favorites this season is the leather jacket.
"Depending on the fit, color and hardware," said Conrad to People Magazine, "they can look just a bit edgy or downright tough!"
Other Trends
Kennedy shared that other trends to look out for this season include graphic print pullovers and crew neck sweaters, army jackets, ankle boots, loafers and menswear-inspired items.
Many sweaters with patterns and prints, ranging from geometric to aztec, can be found on SheInside, a shopping website.
Army Jackets and similar military-inspired items, paired with neutral and olive tones, make an outfit more casual. This trend can be found in stores such as Zara and Topshop.
Menswear-inspired items were popular last year and are returning this season as well. Apparel such as well-tailored coats, blazers and trousers can be paired with a feminine accessories to create an overall balanced look.
"A nice, structured blazer in a solid neutral or even a print can be worn with almost anything, from dresses to jeans," Hannah said. "It's definitely the classiest and most versitile piece you can have in your closet."
Boots are always big for Fall, and this year short boots, or "booties" are the trend.
"For shoes, boots are always in style, but lately booties have gotten really popular," Hannah said. "Whether they're moto-inspired, wedges, heeled, or flat and Euro-inspired, booties can be dressed up or down and worn with leggings, jeans, skirts, dresses and tights."
Nail Polish
Elle magazine reported that the colors for this season are nude, deep blue, camo, jewel tones and dark red (or oxblood!).
-Elie