Junior Miranda Ferguson broke the Guinness World Record for most consecutive back handsprings, garnering worldwide fame.
A bona fide celebrity lives among us. She has been featured on domestic and international news outlets such as ABC News, Daily Mail, MSN, Huffington Post, USA Today, BBC Canada, New York Daily News, Jezebel, Metro (a UK newspaper), Courier Mail and The Herald Sun (both Australian newspapers), to name a few.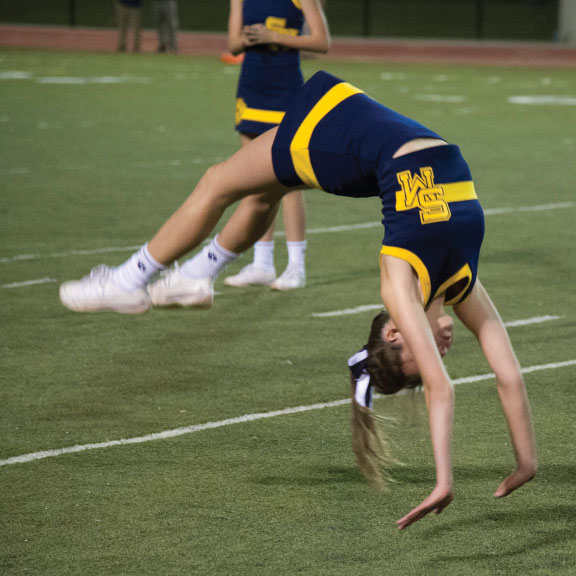 While her fellow juniors took the PSAT on Oct. 17, junior Miranda was on a plane to New York  to formally receive her Guinness World Record framed certificate for completing 35 back handsprings from a standing position. This charmed life, however, did not come without its challenges along the road to worldwide fame.
During halftime at the St. Mark's football game on Oct. 5, Miranda said that colder  temperatures and gusty wind amplified her nerves and made her less confident.
"I was really nervous for her," senior cheerleading captain Natalie said. "We didn't have her doing any hard stunts because we were afraid we were going to tire her out, but I knew she could do it."
Before halftime, fans in the stands expressed the same sentiment.
"She can do it. We have faith," senior Ellen said.
At the same game one year ago, Miranda completed 20 back handsprings and set her sights on breaking the world record.
To build up her endurance, she began practicing on the golf course behind her house, any high school football field or virtually any random grassy plot of land.
"My mom would just pull over the car and be like 'go', " Miranda said.
To improve her form, she had private lessons with cheerleading coach Billie Odem, who works with Sachse High School and Rowlett High School in Garland, Texas.
"It was hard to get past the 25 point," Miranda said, "but after that it wasn't too bad."
Miranda's mother and fellow cheerleaders served as major sources of encouragement. Miranda said that many times she wanted to quit. She told her mom she might give up her dream of breaking the record.
"I was like 'No ma'am I don't want you to feel like you quit,'" Kathy Ferguson, Miranda's mother said.
Little by little, Miranda built up strength. At practice on the Tuesday, Oct. 2, she completed 32 back handsprings, enough to tie the record.
Before the big day, Kathy Ferguson, also a St. Mark's cheerleading coach, took care of the logistics.
The paperwork filed with Guinness World Records in order to attempt to break the world record took four to six weeks to process. Kathy Ferguson contacted two witnesses, a requirement from the Guinness organization.  The witnesses were LeRoy McCullough of the National Cheerleaders Association and Isis Pochciol of ASI gymnastics. They were present to verify that Miranda completed the record according to the rules.
Such stipulations included that she had to start from a standing position, not wear any protective gear on her hands, move continuously and stand up after each back handspring.
McCullough said that the Guinness World Record witnesses were surprised by Miranda's superior form.
"After 32, she really had to push through for those last three, but she did a really good job. She kept pretty good technique the whole time," he said.
Video footage of her back handsprings, along with written statements and forms from the witnesses, were sent to Guinness World Records to confirm that she had broken the record.
Regardless of the technicalities, when Miranda stood up after her 35th back handspring, "the stands erupted," Kathy Ferguson said.
The Guinness representatives presented her with a shirt that read "World Record Holder" as her cheer team surrounded her.
"Her team was precious and sweet," Kathy Ferguson said. "They all ran and loved on her. It was such a good feeling that it kind of brought tears to everybody's eyes."
For Miranda, her halftime stunt was a way to bring the community together.
"I really wanted to get people to the game and get them excited," she said. "I really wanted to make it more about them and less about me doing something."
Neither Miranda nor her mom ever expected the amount of fame that her world record attempt garnered. Kathy Ferguson posted a news tip to Fox 4 to do a small story, but soon the video of Miranda's flipping frenzy went viral worldwide.
Miranda said that, when she heard she was on Yahoo! News, she screamed and headed straight to her computer.
"It was really exciting because I didn't think it would go anywhere," Miranda said.
How wrong she was.
On the morning of Oct. 11, Miranda appeared on NBC's Today show while fellow Hockadaisies lived vicariously through her by watching on the television in Tarry House.
NBC 5 covered the viewing party, capturing the anxious anticipation of all those who donned their dress uniforms to squeeze into couches and corners to catch a glimpse of our hometown celebrity.
Dressed in her St. Mark's cheerleading uniform and once again enduring the frigid temperatures and gusty wind (this time at the plaza outside the Today show studios in New York City), she gave a handspring demonstration, completing 24 before coming to the end of the mat.
This time, however, Miranda had her Guinness World Record and Matt Lauer's suit coat to keep her warm.
-Mary Clare