Fall Sports captains set goals for success at SPC
As they row, run, lunge and hit toward the end of the fall season, Hockaday fall sports' captains share their goals for the upcoming SPC tournament, state championships and the end of the fall season.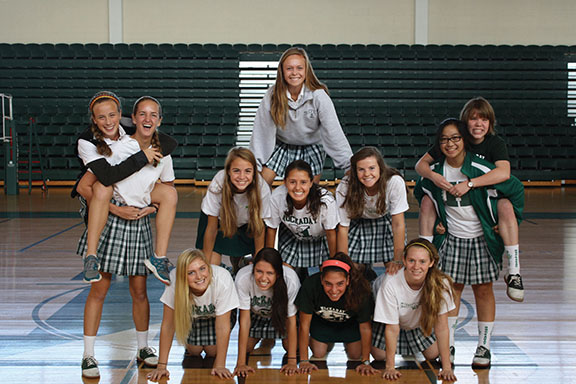 Crew
Sophomore rower Luda, applying medicine to her blistered hands, said that blisters were as common in crew as they were painful.
"I think varsity people have less because they have built callouses throughout their years of rowing," she said.
As they focus on conditioning and train hard to prepare for the spring season, senior 4-year rowers and varsity crew team captains Charlotte and Callie also have goals that do not require sweat to fulfill.
"While increasing our level of competitiveness is important, we also aim to create a fun, encouraging and lasting program," senior co-captain Charlotte said.
Field Hockey
This year, there are four captains on the Varsity field hockey team: seniors Callie and Ramie and juniors Meredith and Evie. The captains have set one goal per practice since the start of the season; for instance, moving from drill to drill efficiently or eliminating foot fouls. Now, they are looking to take the Division I championship at SPC.
"[Our goals] have helped us concentrate more and think about how to get better as a team, which has helped us do better in games," Ramie said.
Fencing
The Hockaday fencing team, under the redirection of new Head Coach Michael Kim and Senior co-captains Leia and Katie , has adopted many changes this year, such as more organized daily workouts.
"We used to condition a lot; now we fence more than condition in a more organized manner," Leia said.
Looking back at the Fencing State Championship, which was held at Hockaday on Nov. 3 and 4 for the first time, senior foil captain Rebecca said that the goal was  to "ramp up team spirit."
"Individually, we are hoping for ranks, and as a team we try to do our best," Leia said in reference to goals they set up for the state championship.
Volleyball
Although they started the season with a slew of injuries and low numbers at try-outs, the varsity volleyball team has pulled together throughout the season under the leadership of senior co-captains Maisey and Meredith.
Their goals for the team this season are to play hard and enjoy it. Maisey said that "mental toughness, resiliency in games and making adjustments based on other teams' performances" will keep the team moving forward.
"We hope to win as many games as we can, but as long as we have worked as hard as we can, we will be content," Maisey said.
Cross Country
Varsity cross country captains seniors Lexie and Courtney hope to "keep the crown from winning SPC last year," as said by Lexie. After their first SPC championship since 1987, the cross country team is looking forward to the final finish line of the season.
"We have another really strong team this year, so I'm really optimistic about our chances," Lexie said. "We have a lot of girls who are freshmen and sophomores that are new to cross country this year, so it's been really fun to just watch them reach their potential."
-Cassie