The Hockaday team fences for the first time at Hockaday in a tournament meant to bring more recognition to the sport.
In an effort to shed a little more spotlight on an all-too-often forgotten sport, Head of the Athletics Department Tina Slinker brought the sport's state tournament to Hockaday, the first fencing competition the school has ever hosted.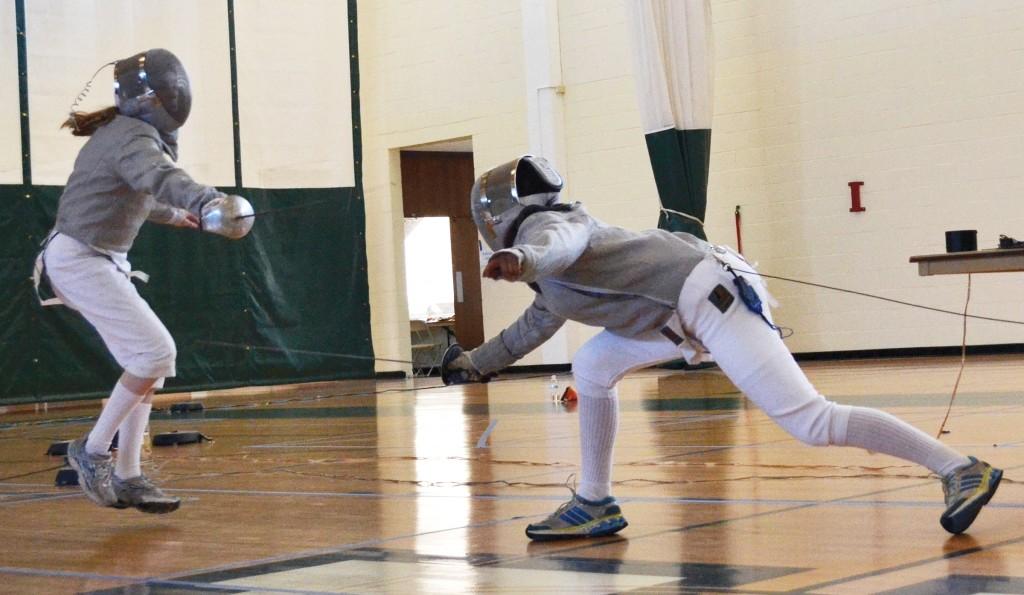 On the weekend of Nov. 2, fencing teams from Jesuit College Preparatory School of Dallas, The Parish Episcopal School, Lovejoy High School and Lighthouse Christian Academy came to Hockaday to compete in the state tournament. Hockaday girls placed first, second, third and fourth in the women's individual foil competition and first in women's epee.
Despite Hockaday's efforts, the tournament lacked support from the community, with less than ten people in the stands during Sunday's events.
"It would be nice if more people could come to cheer even if they came only for 30 minutes, just to see a couple of bouts and experience fencing," senior fencer Katie said.
Slinker said that it will take time for awareness for the sport to grow. "I think we can always do more to promote this sport."
After three years of fencing at St. Mark's, senior Hailey said she appreciated the chance to be able to fence at Hockaday and have the school's attention.  She added that, because the sport is largely a mind game, people do not often recognize the physical strength and endurance required to excel in it.
"There's a lot of footwork and concentration though there is an intense physical component as well," Hailey said.
Sophomore Aashima Garg explained that, because it is not a sport included in the Southwest Preparatory Conference, fencing has not always been popular among members of the Hockaday community.
"Being able to have this tournament at Hockaday allowed us to do really well and make both Hockaday and St. Mark's proud," she said.
Varsity fencing Coach Michael Kim said that the popularity of the sport has risen nationwide due to the coverage it received during this year's Olympic games. "It isn't known to most of the population but since its televised during the Olympics, [popularity for the sport] is picking up."
While fencing may not be the most popular sport in the school, it is one of the most unique, particularly because it is combined with the St. Mark's fencing program.
Fencing is the only joint Hockaday-St. Mark's Varsity sport. The programs merged because of the expense of the equipment necessary to sustain a fencing team. Also, the schools can share a team because physical differences between boys and girls are not too prominent, explained Kim.
But some differences do exist. While boys are more aggressive, girls are able to keep up due to their greater agility and tactical approach to the sport.
Though it has disadvantages, such as Hockaday students missing the first 15 minutes of practice while commuting to St. Mark's, Kim believes that the joint program is overall beneficial. He said it helps the athletes gain experience to practice with a more diverse group of fencers.
St. Mark's sophomore Burke has benefited from practicing with a greater variety of fencers.
"I do like having [the girls] there," he said. "Girls tend to have a more agile style of fencing. It keeps it interesting."
The girls also think positively of the practice arrangements.
"I think we are pretty content with practicing with boys because it builds up our stamina and we get to see them and hang out every day," Hailey said , "Boys do a lot of weird stuff and it's funny to watch."
Although practicing with boys at St. Mark's is entertaining and more feasible, the fencing team is just as much a Hockaday varsity team as a St. Mark's varsity team.
"Fencing takes enormous discipline and dedication," Slinker said, "our girls represent Hockaday in a positive and wonderful manner."
-Avita