Morgan, Samantha and Cameron explain their physical therapy exercises
Every athlete's most common experience but worst fear: pain. And not just the pain the morning after a challenging workout. It's the bad pain, the pain that makes you immediately know it is more than just some soreness.
Eager to get back into their regular workouts and practices, many girls turn to physical therapy to rehabilitate muscles and heal their injuries. A few partake in particularly outlandish types of physical therapy.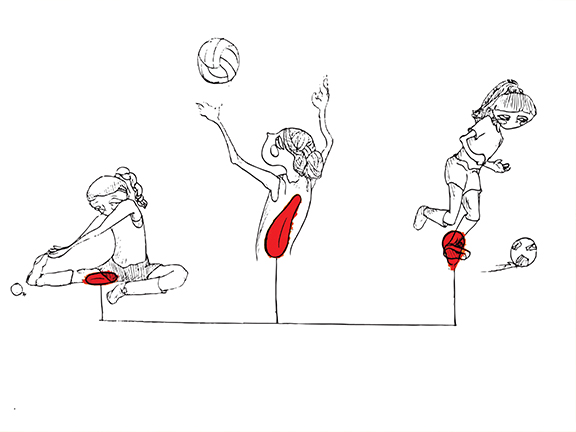 Cryotherapy
During field hockey preseason, sophomore Cameron strained her hamstring and attended a physical therapy where her body temperature was lowered to 30 degrees for three minutes at a time in hopes of a quicker recovery. This process, called Cryotherapy, blasts her body with air ranging from -133 to -320 degrees. Cameron had a total of six weeks of physical therapy. She also underwent regular physical therapy at Southwest Sports and Spine and muscle activation treatment at The Move Project.
Cryousa
6901 Snider Plaza
Suite 250
Dallas, TX 75205
866.910.0221
$47-$75 per session
The Move Project
4809 Cole Ave., Suite 110,
Dallas, TX 75205
Airrosti
Sophomore Samantha felt a sharp pain in her lower back whenever she served in volleyball, so she went through four rounds of physical therapy at Airrosti Rehab Centers. Airrosti stands for the Applied Integration for the Rapid Recovery of Soft Tissue Injuries and has many locations throughout the metroplex.
Samantha said she had a "deep tissue and muscle problem," which was fixed by an "incredibly painful massage."
Each visit, the doctor "would do deep tissue physical therapy… on my entire back, my IT bands, my calves and occasionally my bottom," she said. "It was one of the most painful things I have ever experienced."
"I would even start sweating and crying at points" because the pain was so excruciating, she added.
Afterwards, Samantha stretched each muscle out with a foam roller and did exercises to strengthen her core. Finally, Dr. Lederman taped her back with Kinesio tape to increase blood flow and recovery time. Kinesio tape supports and stabilizes joints and muscles without constricting their range of motion.
Dr. Seth Lederman
Airrosti
2909 Lemmon Avenue
Dallas 75204
http://www.airrosti.com
Chinese Acupuncture
Sophomore Morgan injured her ankle playing soccer in August and missed the first part of her field hockey season as a result. She goes to Dr. Park's Chinese Acupuncture, where Dong Rae Park locates her pressure points and then massages them. He also uses acupuncture, using needles and occasionally adding pads with electricity to increase circulation and reduce swelling through shock therapy.
Dr. Dong Rae Park
11661 Preston Road Suite 170
Dallas 75230
214-691-3210
-Megan