Having it All
In Pursuit of Perfection
Hockaday girls try to achieve perfect grades, have outstanding extra-curriculars and maintain busy social lives. But is it really possible to "have it all"?
At the beginning of the popular 10-season T.V. sitcom "F.R.I.E.N.DS," fictional character Monica Geller is a single woman dedicated to her apartment's cleanliness and her job as a poorly-paid chef. But her dad doesn't mind. "I read about these women trying to 'have it all,'" he said, "and I thank God 'Our Little Harmonica' doesn't seem to have that problem."
Students are often told that they can "have it all." They constantly strive to do so: at Hockaday, that means perfect grades, outstanding extra-curriculars and busy social lives. But excelling as the nerd, the jock, the artist, the social butterfly—all at the same time—may be unrealistic.
The Phenomenon 
Hockaday students are empowered to believe they can "have it all" through the seemingly endless opportunities provided by the school.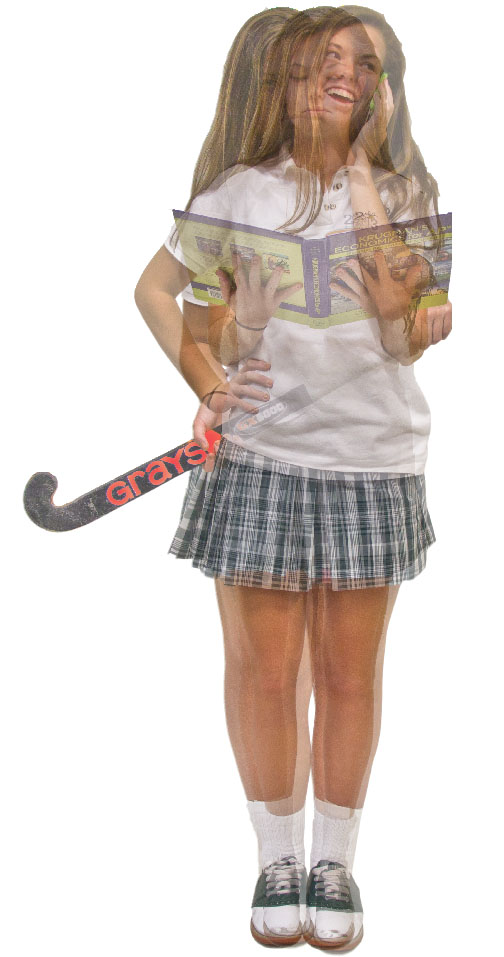 "At times, probably in our desire to ensure that Hockaday girls have every opportunity, we send an implicit and probably unintended message that she should take advantage of every opportunity, and that can be challenging for any girl," Eugene McDermott Headmistress Kim Wargo said.
In trying to take advantage of all opportunities, a Hockaday girl constantly thinks, "Did I forget to do something?"
"There's always something in the back of my head—there is something I need to do, to improve myself, to work harder," senior Anase said.
Each day, Anase moves through a cycle of school, sports, homework and sleep. "I could literally not see my mom for three days," she said.
Girls invest so much of their time and energy into perfecting these spheres that they forget to leave time for the basics, such as family. This mindset of "having it all" stems from various points. One of them is a process every Hockaday girl eventually encounters: the college admissions process.
"But at what cost?" Upper School Counselor Dr. Margaret Morse asked.
While Hockaday tries to encourage girls to find a balance, it still wants its girls to succeed. But at a high-achieving school like Hockaday, girls easily believe it is essential to excel.
"It takes a lot of courage to stop yourself and think not of what matters to entire college admissions industry but what matters to you," said Rachel Simmons, author of "The Curse of the Good Girl." Simmons was a Rhodes Scholar but dropped out. "My self esteem was totally based on my accomplishments."
Girls feel pressured to fill their résumé by getting straight A's, being the president of a club, performing theatre or playing a sport.
"People lose track of what they really want to do," senior Renee said. The inception of this idea occurs at a young age as well, budding and trending through Lower, Middle and Upper Schools. At present, Hockaday teachers focus on academic skills at a younger age, beginning with Pre-K and Kindergarten rather than second grade.
"[Students] come in [to second grade] more knowledgeable and with a higher level of skills because we start teaching those skills much earlier than we used to and because of the information available around us," second-grade teacher Lydia Gillespie said.
In addition to an earlier start to academics, the "have it all" mindset may also emerge from parental pressures.
"Parents are more anxious than they were 10 years ago," Gillespie observed.
Former Hockaday Lower School teacher Claudette Wolfe agreed, adding that parents "know about the competitive world their children are going to be in and want to prepare them for that."
Thus, society is the ultimate source of the "having it all" mentality. While it may be liberating that today's social media encourages women to both support a family and have a career, women are pressured and ultimately confused about how to do so. This parallels a perpetual dilemma at Hockaday as well: how do girls "have it all"?
How to "Have It All"
Yes: there is a way to "have it all." In her article "Why Women Still Can't Have It All" in the July/August 2012 issue of The Atlantic, Princeton University professor Anne-Marie Slaughter details the key to doing so.
Commitment.
Think of someone who "has it all." Do they really?
Senior Kate has straight A's, takes four AP classes, plays tennis, plays the piano, is Editor-in-Chief of Cornerstones yearbook and attends social functions or lectures with her friends on the weekends.
Junior Catherine is a straight-A student, a three-season varsity athlete and is secretary of the Form III Student Council.
Senior Courtney strives for straight A's, captains the Cross Country team and aims to go to sleep by 10 every night.
How do they do it?
Time efficiency is crucial, Courtney said. She leaves her phone downstairs when doing homework and turns off wireless when writing a paper.
But Courtney, Kate and Catherine all admit that they do not think they "have it all."
Kate is a busy student as well but said she does not always excel in all areas of academics, extra-curriculars and social life. Catherine does not equate straight A's or full sports playing-time with "having it all." And Courtney said "definitely" sacrifices her social sphere.
"I have a couple of things in every area, so everybody might assume that I have everything," Burke said. "But actually I just do the same number of activities as everyone else."
Above all, girls who are perceived as "having it all" have the mindset of taking advantage of as many opportunities as possible.
"I really engage in all activities," senior Renee said. "I want to do well in whatever it is that I'm currently doing, so if that's not doing homework, then I want to do not-doing-homework to my fullest potential."
But this intensity and determination can become dangerous.
Sequence.
"What is the secret?"
On Sept. 25, NBC News anchor question to Christine Lagarde, chairwoman of the international currently, the first female Managing Monetary Fund.
Throughout their lives, most women encounter a different version of "having it all" in terms of balancing work and family time.
While Upper School English teacher Janet Bilhartz stayed at home for 10 years with her children before returning to work, Wargo has always been a working mother. Their actions were personal decisions. Bilhartz missed being at home with her children; Wargo thought to do her best work as a mother she needed to do work outside of the home that excited her.
"There was a natural connection, because I educate girls and raise a daughter," Wargo said.
Although she did not choose to dually work like Wargo, Bilhartz emphasized the possibility of doings o.
"At any time of life, you have to choose what's most important to you," Bilhartz said. "I think it's very hard to do everything well. That doesn't mean you can't work and still be a mother…I think that if you do make that choice you're definitely sacrificing something else."
So what is Lagarde's secret to "having it all"?
"You cannot 'have it all' at the same time," she replied to Mitchell. "I think you can, in a way, as long as you can afford to be patient."
In her article, Slaughter warns women that there is no perfect sequence to "having it all."
No matter the sequence a woman chooses, she will always make a sacrifice. And there lies the problem for Hockaday students: "having it all" has a single definition at Hockaday.
How to Really "Have it All"
Those are Slaughter's secrets to "having it all." But if "having it all" at means being committed and sequencing activities, then the possibility of "having it all" in the short time frame of high school is impossible.
One may, however, do so according to her own definition, one unique from other people's.
Although she has not voyaged internationally as she intended after leaving Hockaday, former Eugene McDermott Headmistress Jeanne Whitman now works with nonprofit clients, often travels outside of Dallas with her husband and visits her mother, step-daughters and grandchildren. And she believes she "has it all."
To "have it all," one must know oneself, Whitman said. She encourages girls to try it all—but not expect to sustain it all.
Hockadaisies should ask themselves, why do they want it all? For some, "having it all" means being accepted and successful. Yet "having it all" does not necessarily equate with success.
Whitman added that success is finding something that is "enriching, satisfying, and worthwhile to do."
Lyda Hill '60, who donated $20 million to Hockaday in 2011, said she enjoys investing in nonprofit concepts to help others succeed. She "has it all" by her own definition.
Girls must be able to make choices and trade-offs. Rachel Simmons, author of The Curse of the Good Girl, said that the problem arises "when we think we don't have to make any trade-offs; when we think that if we work hard enough, we'll be the one who gets to have it all."
The current one-size-fits-all definition of "having it all" at Hockaday can be misleading for students. And it may even be likened to achieving perfection.
"We should stop expecting ourselves to be able to check all those boxes and to give ourselves permission to be human, and to be human means to be fallible and flawed, and that's the beauty of being human," Wargo said.
In the series finale of "F.R.I.E.N.D.S," Monica earned a high-paying job as a chef in New York. But Monica, who wanted even more to raise a family with her husband Chandler Bing, decided to quit her job and move to the suburbs. She relinquished her professional aspirations to focus on her family. Monica's personal decision demonstrated that she did not and could not "have it all" at the same time, as her father ironically asserted. Mr. Geller knew all along.
-Tiffany