Former Hockadaisies, now freshmen in college, adjust to their new environments across the country and around the globe
Putting on a white blazer, receiving a senior ring and surviving junior year are just a few of the many rites of passage a Hockaday student experiences in order to reach the ultimate one: exiting Graduation Terrace in a white dress and entering the next chapter—college.
The most recent graduates, members of Hockaday's Class of 2012, have disseminated to universities in 25 states and three countries. Four former students who have left Hockaday and started their own respective higher educations this fall share what the perks of college life have been like since May this year.
Fallon Bock: Southern Methodist University in University Park, TX
While some students see college as an opportunity to pack up and move away from home, Fallon Bock did not feel the urge to migrate to another city or state.
After visiting numerous schools, Bock finally asked herself: "Why would I leave Dallas when I already have all the resources available to me?"
While University Park is home to many Hockaday students, Bock said she still feels like she is in a different town, except for the occasional sighting of a Hockabus.
"I usually forget I'm actually in Dallas and think I'm simply in an SMU-based town," she said. "It really is amazing. I often forget because SMU is its own community, and I have entered a whole new area of Dallas I've never seen before."
Bock is currently majoring in business, completing a minor in anthropology and plans to eventually attend business school.
One of Bock's favorite experiences so far has been SMU's Panhellenic Day, a mock bid day in which she visited every sorority on campus. Other recent memories include forming and establishing close knit relationships with the rest of her dorm members, and those are just a few of the many.
Though Bock was a Hockaday lifer and a Dallas resident since childhood, she is still exploring and discovering new areas of the city and truly believes that "there virtually could not have been a better or more suitable choice for me."
Dani Lamotthe: University of Texas at Austin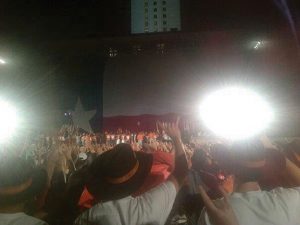 The sixth most attended university in the country, the University of Texas at Austin is a big school, but one of its newest students, Dani Lamotthe, said she feels at ease with transitioning from a small private school to a large public college.
Even though the university is comprised of nearly 50,000 students, most of Lamotthe's classes are small, similar in size to the ones she took at Hockaday, and she is pursuing a musical major by playing the cello and piano. Like a typical strictly academic course, however, she must complete theory tests and other exam-like assessments periodically.
What Lamotthe enjoys most in a school that is so large is that there is always some event or activity for her to participate in. However, she has come to understand that "no one is there to hold your hand or to tell you what to do or events to attend. You have to go and find things you're interested in."
Along with the plethora of new opportunities now available to Lamotthe, she is also enjoying the fresh start of entering a college community.
"In high school, you got put in a group, but in college, you really get to choose which friends you have," she said.
And with a student body as large and diverse as UT's, Lamotthe can take advantage of meeting other people with all sorts of different perspectives.
"You learn things about people you can't necessarily find in a textbook," she said. "I don't like being around people who are just like me."
Lindsay Opoku-Acheampong: Occidental College in Los Angeles, CA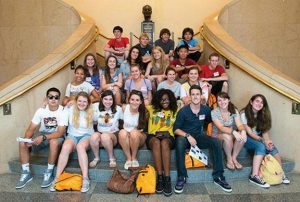 Like any 2012 senior planning on attending college, Lindsey Opoku-Acheampong had major decisions to make for her future this past spring. But when she visited Occidental College, a small, diverse liberal arts institution, in person during her high school senior year, she immediately felt "at home."
She chose to attend "Oxy", as students and alumnae call Occidental, in the fall because of a "feeling."
And after her first few months of college, she has not regretted this decision. Currently studying chemistry, calculus 2 and French, she is looking forward to taking biology courses to discover what she would like to pursue in the future.
Opoku-Acheampong said she enjoys her newfound freedom at Occidental and does not feel "out of place being from the greatest state in America." At the same time, however, she said she misses Hockaday, mainly the unique bond she and her classmates shared as well as the memorable instructors who she studied under.
"I miss all the 2012 inside jokes and the crazy dance parties in the senior hallway," she said. "I also miss the teachers, they really do prepare you for college."
Opoku-Acheampong is taking advantage of the beneficial opportunities Los Angeles offers, including a close proximity to Hollywood.
"There's always something to do if you have transportation," she said. "And you're bound to run into a celebrity at some point."
Catherine Hicks: University of St. Andrews in St. Andrews, Scotland, UK
A Hockaday lifer, Catherine Hicks said she was initially hesitant about attending a university in another country. Yet at the University of St. Andrews' diverse student body, of which international students make up 30 percent, she has adapted well to the new setting.
"There are so many different cultures coming. It's such a huge melting pot," she said.
Hicks' decision to attend St. Andrews was a self-described whirlwind. Unsure of whether or not to stay in America, Hicks finally got on a plane and visited the university.
 "I had a nervous breakdown [about college]," Hicks shared. "The next day, my mom called me and said, 'Pack your bags, we're going to Scotland.'"
Upon arriving to the campus, she said she immediately and "completely fell in love with the campus and people."
Fortunately, the distance proved to be less of a problem than she thought.
"Once you leave, going another nine hours on a plane isn't that bad," she said. "In fact, most of my friends [in American colleges] are more homesick than I am."
In addition, studying abroad offers opportunities inaccessible in the states. For example, Hicks recently had the chance to go to the St. Magnus Bay, a beach close to campus, with her roommate and watch the northern lights, an experience nearly unattainable in any American university, as they are only visible near the North Pole.
Hicks is in the process of attaining a dual degree in art history and international relations. She is also taking a supplement film studies class. She attributes her decision to pursue an art history major to taking the Hockaday's History of Art and Music class.
And the fact that Prince William and Duchess Kate Middleton attended the same institution and even resided in the same dorm Hicks lives in, makes her education at St. Andrews all the more exciting.
"It's so cool going downstairs and doing laundry and realizing that Kate Middleton was once there doing her laundry, too" she said.
Though Opoku-Acheampong, Lamotthe, Bock and Hicks are scattered throughout the country and the world, they all share a similar root beyond their high school alma mater and enjoyment of the newfound freedom college entitles its freshmen. 
– Amy