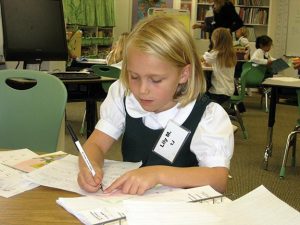 Lower School and boarding students connect through pen pal program
The door to the office of dorm mom Masha Barsuk burst open as eager Hockaday boarders pushed and shoved each other through the doorway. With hands outstretched in eager anticipation, the girls shouted, "Can I have a letter? Can I have two letters?"
The first round of letters from Hockaday's first graders had just arrived, and the boarders were eager to pick their pen pals.
This year, a once-a-month letter exchange will include all pre-kindergartners and first graders and boarders from eighth grade to seniors who wish to participate. A smaller scale exchange took place last year between eighth-grade and freshman boarders and first-grade teacher Kim Acosta's class.
"We were trying to think of some way to connect our girls to the girls in Upper School, and they love writing letters," first grade teacher Kathy Hogan said. "The [first graders] could also use some help in writing skills."
 But beyond the academic purpose of learning how to write, the pen pal program was designed to develop bonds between girls in the Lower School and those in the Upper School.
"We just wanted to have friends in the Lower School," Barsuk said.
Senior Anastasia said she opened her letter from first grader Elena and was amused by how funny and blunt her pen pal was.
"She wrote about being Peruvian and Italian and how she cannot shut her 'moth' (mouth) up," Anastasia recalled with a laugh. "I thought about my first grade self and how I had a pen pal with an older girl. I remember that it was a really cool experience, and I wanted to reciprocate."
But for the majority of boarders, most of whom, unlike Anastasia, did not attend Hockaday in Lower School, the excitement of learning about another division of the school enticed them to participate in the exchange.
"Some people who did not want to do it in the first place saw all this excitement of other people receiving letters and reading those cute notes, so now a lot more people want to do it," Barsuk said.
But the excitement was far from one-sided. The first graders are just as enthusiastic about their older pen pals as the boarders are about their younger ones.
When asked about what they wanted most from their Upper School pen pals, first graders Landry and Julia shouted, "Answers to our questions!"
Barsuk experienced this excitement first hand when she subbed in first grade a few days ago. "They kept calling me the 'letter person,'" Barsuk said. "I didn't get it at first, but then I realized that I was the one who was going to bring them letters."
Some of the boarders have already written their replies; the next step is to mail them out.
"I am excited, and I am also nostalgic because, being in Upper School, I don't think about Lower School very much," Anastasia said. "Doing this makes me think about that time."
This experience has not only let Upper School girls reminisce about their childhood but it lets the younger girls learn about what older girls are like.           
"I hope to get the feeling of community across all grades. I just know my older daughter was here at Hockaday, and she just loved getting to know the younger girls, and the little girls loved getting to know the older ones," Hogan said.
-Kathy