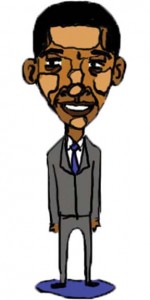 Students attend meetings, plan debate to inform others and themselves in preparation for this year's presidential election
After numerous informational club meetings, live debate screenings and an invigorating Hocka-Mocka-Debate between Young Democrats, Young Republicans and Young Independents, Democratic candidate Barack Obama won the Hocka-Mocka election on Monday by receiving 46.8 percent of student/faculty votes. Coming in second, Republican candidate Mitt Romney received 39.1 perdent of votes, Independent candidate Gary Johnson took 12.4 percent and miscellanous candidates captured the remaining 1.7 percent.
Hockaday's Upper School political clubs had worked tirelessly to ensure an informed electorate many weeks leading up to the mock election.
"Mock elections give people a general sense of the importance of participating in a democracy," said senior Adela, president of Junior State of America, commonly known as JSA. "It lets people feel that excitement and really get into it."
Since only about 40 percent of the senior class was able to register to vote in the real election, the mock elections held at Hockaday every four years in the Lower, Middle and Upper School, provide the entire student body with an opportunity to participate in some way.
All three political clubs Young Republicans, Young Democrats, Young Independents, as well as JSA worked to compile information and formulate arguments to captivate the student body. They encouraged participation and tried to draw interest throughout the election process.
Adela said that girls who are members of certain political parties rarely encounter unbiased information about the current national issues or each of the candidate's views.
"Conservatives generally look to more conservative outlets of information and liberals tend to look to more liberal sources of information," she said. "And by that token, a lot of times pure information, unbiased information, is something that most people don't have access to or are exposed to."
And that is exactly what JSA has set out do. It held several meetings in anticipation of the mock election to inform the student body in a nonpartisan way by presenting the pure, concrete facts.
"Maybe if people were more educated, they wouldn't see issues in such a dichotomous way," Adela said.
For the first time JSA opened up a Twitter feed (@hockapolitics), from which they tweet articles and fact checks to make it easier for girls to find good sources of unbiased, nonpartisan information.
Young Independents, a new club this year, has also tried to present nonpartisan information, appealing to the undecided voters, 28 percent of girls, looking to form their own opinions.
"I think that [the political clubs] are a great outlet of information," JSA sponsor and Upper School history teacher Colleen Durkin said. "I also want people to realize that they can go to both groups."
Over half of the Upper School has attended political club meetings, both partisan and nonpartisan, revealing both the political interest and activism of Hockaday girls.
This year, 27 percent of those who have been attending political club meetings have also been to "cross party" club meetings, as club presidents have encouraged their members to attend the opposing party club meetings as well.
Young Republicans President and senior Eliza has attended several Young Democrats meetings and said she has found the information presented very informative.
She said, however, that she tries not to "get her feathers riled" during certain conversations.
Durkin said it's important to attend multiple club meetings to widen your perspective and expose you to different issues.
"You might think you're very adamant about being a Democrat or Republican now, but that might change the future for whatever reason," Durkin said.
Thirty-six percent of those who attend "cross party" meetings admit that their perspective at least slightly changed.
"I think the worst ones are people that don't know anything about politics," said Young Democrats sponsor and History Department Chair Steve Kramer.
But only 5 percent of the Upper School said that they do not follow the election at all.
"It's always amazing to me how so many of them are very politicized and how so many read newspapers, read magazines, watch John Stuart or watch Fox News," Kramer said.
-Anisha