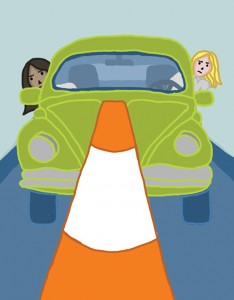 Hockaday students express frustration in dealing with the recent density of traffic in the Dallas Area
Slouched in the passenger seat of her mother's car on the way home from school, sophomore Phoebe impatiently fixed her position every minute or so. The radio was playing and the only other sound in the car was the frequent sighs of impatience coming from Phoebe's mouth.
The car was hardly moving.
Cars piled up on Forest Lane and she knew her usually short ride home would be prolonged. Overwhelmed with frustration, she gave in. "I'm walking home," she said. Phoebe opened the car door abruptly and began on her 10 minute walk home.
As students here at Hockaday may have noticed, Forest Lane has been unusually congested due to recent construction on Lyndon B. Johnson Freeway and other major roads. Because of the recent project, many drivers are using Forest Lane as an alternative route to I-635 for their school/work commutes.
Alberta Blair, Director of Public Works for Dallas County, said that there is so much construction because the city is rushing to complete the I-635 project. Therefore the construction is heavy during all times of the day, including rush hour. Blair also said that the city is "making sure [the construction] gets done quickly."
But what do they mean by 'quickly'? Andy Rittler, Director of Corporate Affairs at the LBJ Express Project, said the final phase of construction should be done by December of 2015.
Other major roads, such as Preston, Inwood and Northwest Highway, have also undergone recent construction such as repavement that affects students' daily routines and leads to messy pile-ups and delays.
"[Normally,] it should take me 10 to 15 minutes [to get home], but I've been getting home in 25 to 30 minutes," junior Madison said. "It's tough when I have even less time to do my homework."
In an October survey of 100 Hockaday students, 45 percent reported they have had to leave their homes much earlier than they did last year in order to avoid being late to school.
Forty-two percent of the students also said they were forced to skip breakfast and/or forgo up to an hour and a half of sleep. And 45 percent said that they have arrived 10 to 20 minutes late to school because of the heavy traffic.
In order to escape the traffic on the way to and from school, some Hockadaisies have attempted to take alternative routes themselves, but they have so far been deemed unsuccessful.
"I tried to go on Northaven a couple of times to get to school, but I also think there are more cars on that road so it did not help and actually took longer," senior Taylor said.
Yet the traffic does not only affect the time it takes to get to and from school. Members of Hockaday sports teams and student organizations have reported difficulties travelling to out-of-school events.
"We had a [debate] tournament in South Lake a few weeks ago," Sophomore Aashima said. "One of the girls completely missed her rounds because of the traffic buildup."
Aashima said that the team did not do as well as they had hoped because they were all "frazzled by the fact that [they] were late."
Why is there so much construction leading to so much traffic? Blair said that "compared to the rest of the country, [the amount of construction in Dallas] is above average."
Aashima recommends that iPhone users take advantage of the new Google Maps application which displays amounts of traffic in certain areas. You can access this feature my rolling up the page in the bottom right hand corner of the Maps application on the iPhone.
-Sydney