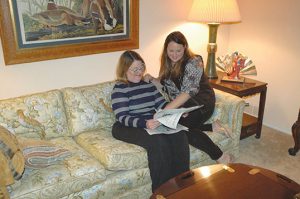 Students critique and help edit their parent's published works, instead of the other way around
J.K. Rowling's latest work of fiction concerns neither wands nor wizards but rather troubled teenagers and their troubled parents.
Another key difference is a change in editors: this time around, one was Rowling's teenage daughter Jessica.  The 19-year-old had an unusual reaction to her mother's work.
In an Oct. 2 interview with NPR, Rowling said that Jessica, after reading the book came to her and said "I finished it; I cried."
"We had a very interesting conversation," Rowling said in the interview. "I supposed this book brought it home to her."
But Rowling's daughter is not the only teenager voicing her opinion regarding her mother's work. Some Hockaday students, like Rowling's daughter, have helped with and critiqued their published parent's work.
Junior Daisy said she is incredibly proud of her mother, Amanda Tackett, a freelance columnist for D Magazine, D Home and Garden and Living Magazine and who is currently writing two different books.
Daisy said that her mother, an English major who has a love for writing, was tired of staying at home and "decided to start sending some of her writings to the manager of D Magazine…Soon enough, he finally decided to publish them."
"When I was around 37, one day I woke up and said that I am going to publish a story, and I did, I got a column and then suddenly I was winning literary awards," Amanda said.
Daisy always reads her mom's columns—sometimes her drafts and sometimes her published work.
"She always asks for my input," Daisy said. "Same with my dad, we always look over each [other's] stuff."
Daisy reads her mom's columns because most of them concern her own family. Whether it is a "problem that we have with the house or a roach infestation, her columns are always funny," Daisy said.
Daisy plans to pursue a career in a writing field, so she looks towards her mom—as well as her dad, who is a commercial script writer—for inspiration.
"I trust my mom's advice when she edits my work," Daisy said. "I don't like her to fix anything but just point out general areas of concern."
Daisy has started blogging for Preston Hollow People, following in her mother's footsteps.
Hockaday alumna Katelyn Hall '11 has started down a path behind her mother as well.
Hall, currently a sophomore studying journalism at Southern Methodist University, almost didn't join a publication when she came to Hockaday her freshman year. The reason she joined The Fourcast was the same reason she was shy of becoming a staff member in the first place- her mother, Cheryl Hall, is a business columnist for The Dallas Morning News.
Now Katelyn wants to work in the communications field when she is older, and she attributes this to the experiences she had watching her mom work for The Dallas Morning News.
Katelyn said her mother inspired her as a writer and especially as a journalist, showing her "the power of writing."
Joining The Fourcast her freshman year, Katelyn said she was at first scared to ask her mom for any advice on articles.
"She's such a good writer and I really looked up to her," Katelyn said.
After some time, however, she was able to approach her mom—not as a professional, but as a mother—to ask her for advice on topic ideas or difficult interviews.
Journalism came naturally to Katelyn because when she was younger, she read all of her mother's articles.
"It was very important to my family. We would share ideas and I would listen to her transcribe interviews on the kitchen table," she said. "I was able to see the full process." 
"I would often ask Katelyn and John, my husband, what they thought of a topic, any ideas that they had that they wanted me to pursue," Cheryl Hall said. "Katelyn would give a younger person's perspective of what might be of interest for young adults."
Katelyn said that listening to her mother's interviews served as inspiration for her journalistic development.
"I got writing capabilities from Hockaday, from Mrs. Rosenthal, my English teachers, but my mom was the one who helped me with interviewing and with my confidence," she said.
Cheryl said that she has always enjoyed helping her daughter write articles and sometimes still tries to help. Recently, however, Katelyn has become increasingly independent, Cheryl said.
"She bounces off ideas with me but she pretty much knows the basics and doesn't like a lot of interference," she said.
English Department Chair Dr. Deborah Moreland can relate to children not liking as much involvement. Moreland, who has written many "memoirs and scholarly pieces," said she does not share much of her work with her sons, and her sons do not attempt to help her much.
"They are proud of their mom for what she has done, but they aren't into Virginia Woolf or modernism," Moreland said with a laugh.
Even when Moreland wrote her memoir, she did not share it with the rest of her family.
As Moreland wrote her dissertation about 15 years ago, her son noticed how hard she was working on it, so he suggested she build a robot to help her edit her work so that she could spend more time playing with him.
Her sons also preferred to keep their mother out of their editing processes.
"Since I am an English teacher, my children made me keep about 10 lengths from their own writing: they would never want me to read any of their writing simply because they wouldn't want that kind of involvement in what they considered their own work instead of mine."
Her son has actually called home from college before to ask Moreland questions, once about rhetorical analysis. The conversations, however, are still limited.
"I would try to explain ethos, pathos, logos, but thats as far as we got," she said.
Although the four different families—the Rowlings, Tacketts, Halls and Morelands—have varying degrees of involvement with each other's writing, they all share a common trait: a mother and a child supporting one another.
– Gretchen