Faculty and staff members have begun bringing their pets to play with boarding students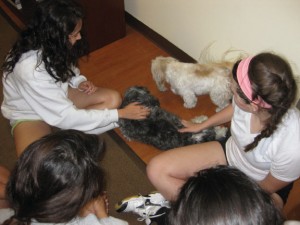 A swift scurry and a bark, unusual sounds echo in Tarry House, draw­ing a group of boarding students downstairs from their dormitories on a Saturday af­ternoon. There, the boarders find themselves immersed in love, laughter and—puppy fur.
The Hockaday Residence Department has set up a regular program through which faculty and staff are invited to bring their dogs to share with board­ing students.
The idea of a boarding pet program arose from several re­quests for a boarding pet last year. Director of Residence Danielle Ferguson said that these requests were denied due to allergy and hygiene reasons.
In order to "make up the missing element from home" for boarders, however, Ferguson said that she thought of having faculty members bring their pets to boarding to share with the girls.
"The program has created a sense of home and additional ties between faculty and staff and boarders," she said.
This year, Associate Di­rector of College Counseling Courtney Skerritt, who has established residence in the boarding department along with her husband and son, vol­unteered to organize the pet sharing program.
"I love dogs," she said. "I am a big dog fan, and it's a nice component to have in a com­munity."
Skerritt added that she has witnessed this "hour of furry love" make a boarding stu­dent's day.
"It's a little bit of home, a little bit of community, and it's just comforting," Skerritt said. "I do [the pet program] because it's nice for the community."
Besides pausing for fun, boarders can also establish a closer relationship with their teachers during the evening ac­tivity.
"What I've heard from the faculty is that they enjoy bring­ing a piece of their life to the students," Skerritt said. "In a boarding school, so much of the relationships center around sharing with each other. And the faculty enjoy the oppor­tunity to share their pets and families with the boarders."
Skerritt said she encour­ages faculty and students to attend the activity not only for the sake of enjoying some time with furry friends but also to bond with one another.
"It's not about the dog. It's about the conversation," she said. "When you are sitting down, it's an equalizer. It's a common experience."
Second-grade teacher Kelly Turner, owner of a 125-pound great dane named Leonidas and a lab mix named Izzie, brought her dogs to Tarry House on Oct. 29.
"The girls got really ex­cited," she said. "They couldn't believe the dogs were that big." 
Big dogs are only occasion­ally seen in countries like China and Korea where some of the boarders came from because they are hard to keep in apart­ments.
"I don't often see big dogs at home because they are less convenient," senior boarder Re­becca said. "People usually either have no pets or choose smaller pets."
A new teacher at Hockaday this year, Turner said she appre­ciated this chance to join the residence family for an hour.
"It's good for me because I got to know the boarders a little bit," she said. "When I see them out, it's just nice to see that fa­miliar face."
Yoon said that she spends the school day looking forward to playing with the pets.
"Everything is happy with them," she said. "It's good for people who have pets because it allows them to cope with their longing for home. But it's also good for people who don't have pets because it is a moment to kick back and play." 
According to a National Institute of Health Technol­ogy Assessment Workshop, re­searches found that pets "pre­vent heart disease, lower blood pressure, fight depression, pro­vide a sense of security, improve psychological stability and even increase levels of oxytocin, aka the love hormone." 
The pets have not only brightened up boarders' days but also added another ele­ment to what a true boarding school is like. Ferguson and Skerritt, on behalf of the resi­dence department, give thanks to all faculty and staff who have allowed boarders to share their joy with pets.
-Cassie