The Palladium Ballroom, a Dallas concert venue, hosted the techno group Ghostland Observatory on Oct. 27. While this evening received notable press, it was not the first event at the Palladium to see the extremes of underage drinking.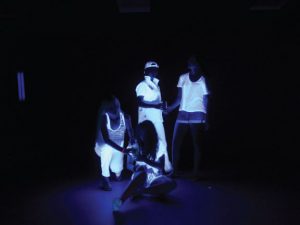 After several events involving underage consumption of alcohol were reported and publicized in The Dallas Morning News and other news outlets, Palladium executives began to question whether or not electronic concerts are an appropriate environment for minors.
Numerous Hockaday Upper School students have witnessed out-of-control events at the Palladium Ballroom. In a poll of 70 Hockaday students who have attended a Palladium concert, 76 percent said they have witnessed underage drinking and drunken behavior throughout the night.
For senior Lexie, a night at Palladium Ballroom in 2011 ended when she had to carry out an unconscious stranger for immediate medical attention.
"Some of my friends and I decided to leave the concert because we felt like it was getting out of control, but on our way out, we realized that there was a boy about our age passed out on the floor," Lexie said. "We took him to an adult that could get him medical attention and eventually found someone who started caring for him."
Lexie said she later found out that the boy had been evacuated from the venue in an ambulance for emergency care.
Stories like this are numerous, but Palladium concerts have rarely seen critique like that received in light of the 2012 Ghostland Observatory concert.
"People weren't just drunk, they had left the building. Typically at these concerts you can tell who's intoxicated in comparison to those who aren't, but I legitimately felt like one of the only sober people there," said junior Abby, who attended the concert that evening.
After such negative public attention from the accounts similar to Abby's about the night of Oct. 27, the Palladium Management stated to the Dallas Morning News that no one under the age of 18 would be admitted into electronic concerts in the future.
"As a member of the five percent of the crowd who could actually understand and rationalize words throughout the night, I feel the new rule is incredibly justified," Abby continued. "I remember uncomfortably laughing when Ghostland actually came on and asked everyone to calm down because they had already seen three people pass out in the five minutes they had been on stage. It was unreal."
For parent Monica Pimentel, mother of junior Regina Pimentel, Alina Pimentel '09 and Andi Pimentel '06, this new regulation doesn't change much. Pimentel always had concerns about these concerts because of the underage alcohol abuse, but she doesn't believe it will incite change.
"Younger kids seem to be drinking more frequently and more heavily than 10 years ago [when Andi was in school]," Pimentel said. "Anything that they can do in order to refrain very young patrons from attending is a good idea. The fact that the events were reported shows us that there is concern, but we still haven't reached a solution to the bigger problem."
Pimentel also commented that she feels more reluctant sending her daughters into these environments which hold more potential and severe consequences for teenage girls than they do for teenage boys.
Upper School Counselor Dr. Margaret Morse '93 further explained how an environment such as the Palladium is particularly hazardous for girls.
"Not only can girls physically become more intoxicated more quickly than boys, but if they lose control of their bodies and their actions, it can be very dangerous," she said. "With a boy there is the fear that they might get in a fight, or potentially even take advantage of a girl, but it's another, greater fear to worry about a girl being on the reciprocating end of these actions."
Even though the decision to exclude minors could potentially negate a portion of revenue from their concerts, Palladium manager Larry Fontana reported to the Dallas Morning News that "we will reiterate to our staff the principal importance of enforcing the rules and regulations. We take security and safety of our patrons at our concerts very seriously."
But security of patrons is exactly that, and doesn't apply to those outside the walls of the Palladium.
As venues like the Palladium shift to stricter policies against minors, some question whether or not it will truly benefit minors' safety in the long run or whether it will just push minors to a new situation, potentially a more dangerous one.
"There is a little bit of dilemma. There can be a dual nature of the concerts, while it's bad that kids are exposed to strangers and are therefore more vulnerable, it is a positive that they aren't driving around while under the influence," St. Mark's senior Henry said. "I do think it's harder to be victimized as a guy and that girls can be put at risk at these concerts, but teenagers are prone to overdo it regardless. It's just a matter of whether Palladium is more dangerous than driving around under the influence and why."
Henry is not the only one who believes that venues like Palladium are just a portion of a bigger issue.
"I don't think Palladium is really doing much good with this new rule," said Hockaday's SADD (Students Against Destructive Decisions) president and senior Natalie. "Not allowing minors at a concert helps with the darker, rape side of the issue, but teenagers will continue to drink and it won't eliminate the dangers that exist with it. The rule protects Palladium more than it protects people."
But for Dean of Upper School Meshea Matthews, the underlying drug element is the greatest danger that these concerts bear.
"People might be surprised to hear this, but electronic concerts were around when I was in High School and they have always been associated with drugs like ecstasy," Matthews said. "You're in there with thousands of people, so it really is a frightening idea that teenagers go to these concerts and lose control of their faculties because of the underlying sub-culture that comes to these venues to prey on those who have done exactly that."
To Matthews, these gateway environments that lead to more intense, seedy practices are an alarming piece of the underage substance abuse puzzle. She added that trusting a stranger could prove detrimental to personal safety. 
According to Hockaday self-defense teacher Meg Hinkley, 90% of sexual assault victims are attacked while the victim is under the influence.
"It's hard to be in a mindset that you might be in danger when you're just there for a good time,"  Matthews said, "and to me, while drinking and driving are very serious, this still might be the greatest danger at these concerts after all."
-Molly