Whistling to himself, Fine Arts Department Lead Chair Ed Long winds his way along the sidewalk outside of Hoblitzelle Auditorium and onto the grassy lawns, stopping only when he stops at a diminutive white tree, bare of any leaves. The tree is easily overlooked, for it is significantly smaller than the surrounding 50-year-old Live Oak trees.
1) Chinkapin Oak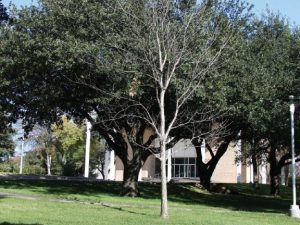 Very few hockaday students know that the white Chinkapin Oak tree was planted in memory of those who died in the catastrophe of 9/11, Long said. On the first year of 9/11, the tree was planted in a ceremony in memoriam of the tragedy.
As is to be expected at a school steeped in nearly 100 years of history, there are many objects lying about that have seemingly always been there. Students and teachers alike don't know where they came from, why they're there, or sometimes even what they are. Long seemed to know about nearly all of them.
Paintings and pictures line the administrative hallway—many appear to be common objects that a Hockaday student could pass hundreds of times without even noticing. Among them, encased in a cubed frame, is a woman dressed in a blue patterned shirt and black skirt, lounging on a flowery pink sofa.
The cardboard sculpture was made by Red Grooms, an artist from an offshoot of Pop-Art; the art movement of the 1950s which used popular culture imagery including celebrities, advertisements and news. Long said Grooms is most widely recognized for his "cardboard cut-outs and trademark garish colors."
The cardboard sculpture was donated by Patricia Patterson '57 as a "gift to the remarkable people of Hockaday in honor of Liza Lee, Founder's Day, 2001." In addition, the subject of the sculpture is Gertrude Stein, a noted art collector and writer who Ela Hockaday knew personally. There is even a photograph of Ela Hockaday with Stein and her infamous poodle in the Archives room.
3) "Godot"
For many years, there was writing on the stage manager's side of the proscenium, the arch around the theater of the auditorium. The message said: "Back in five minutes, Godot." Though it has since been painted over, very few appreciated the joke of the message while it was there, Long said.
The message was a reference to the play "Waiting for Godot" by Samuel Beckett. In the play, two characters, Vladamir and Estragon, meet at a tree and wait for a character named Godot. Two other characters arrive—Pozzo and Lucky—but Godot never shows. Vladamir and Estragon wait and wait for him that day and the following day though Godot himself never comes.
"It said 'Back in five minutes,'" Long said. "But for those who understood the reference it was funny because it said he will be back in five minutes when in fact he probably will never be back."
4) Hole in the Wall

On the front of Penson Gym, there is a rather random piece of plywood covering a hole in the wall. The hole was intended as a time capsule, but the idea was abandoned and the plywood is still there decades later. It was most likely put there around when the Penson Gym was first built, Long said.
Thus far there are no plans to replace the piece of plywood or fill the hole. There are, however, plans to create another time capsule for centennial year, though it will most likely not be placed in the hole.
Hanging on the wall outside the headmistress' office, there is a certificate for Allison Campfield. Some may disregard the certificate—some may not even know it is a certificate—but it holds significant meaning.
Allison Campfield '89 was the first female winner of the metroplex Davey O'Brien athlete/scholar award in 1989. The awards were given to the student who excelled in the academics with formidable athletic talents. Long said the majority of these awards were handed to quarterbacks in the Dallas area. Campfield, however, was a triathlete.
"It was a very big deal," Long said. "For a committee, which I presume was practically all-male at the time, to adjudicate this and declare that it was a Hockaday girl that had won it against all the entire male competition in the metroplex, it was very big deal."
6) Impressive Impressionist Piece
I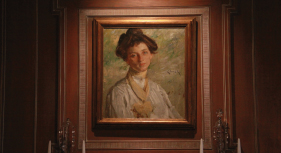 n Memorial Living Room hangs a painting by William Merritt Chase and it is perhaps the school's most important painting, Long said. Chase later was one of America's most distinguished Impressionist painters and helped found the Parsons School of New Design in New York City.
The painting was owned by Ela Hockaday and hung in her cottage on old Hockaday Campus on Greenville and Belmont.
Hanging above the fireplace, bathed in a light from a spotlight, the painting shows a portrait of a woman wearing a white blouse and yellow scarf, her distant gaze almost forlorn.
Long said that, because the painting is highly admirable and representative of Chase's style of painting, scholars visit it and even request to study it.
"One of the reasons I remember it is because it is so evocative of the Ether Horton summer reading books," Long said. "I was struck how the portrait may have been a character straight out of Horton's book. It's a magnificent piece."
From the Chinkapin Oak tree near the auditorium to the hole in the wall in front of Penson Gym, Hockaday is teeming with seemingly random objects and peculiar oddities. Objects that we pass everyday. Objects that we don't glance at more than once or think of twice. Objects that are wrapped in history from different ages in Hockaday's near one hundred years of existence.
-Courtney