Students often see certain teachers together eating lunch in the cafeteria or walking through the hallways. The Fourcast asked these four sets of teacher best friends for a little more insight into their friendships.
Downey and Moreland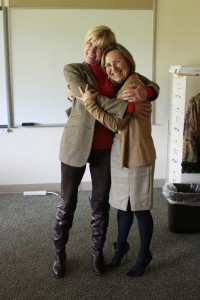 English teachers Dr. Kathy Downey and Department Chair Dr. Deborah Moreland are close friends and have known each other since graduate school when they worked on their doctorates at the University of Texas at Dallas.
Moreland joined the Hockaday community in 1998 and hired Downey in 2006.
They live just two blocks away from each other, take frequent walks around White Rock Lake, attend concerts, listen to lectures, shop and sometimes even share clothes.
When not discussing literature or their English courses, the two enjoy conversing about other deep matters and even share motherly advice.
"We talk about politics, what's most important to us in life, where we're vulnerable and where we need help,"  Moreland said. "We talk about our dreams of the future."
They have parties with mutual friends outside of school and have taken trips together to Florida and New York.
Downey said that Moreland technically being her boss at school could have potentially caused  friction in their friendship, but that she does an amazing job of managing that with their close relationship.
"I have a deep respect for Dr. Downey," Moreland said.
Walder and Stimpson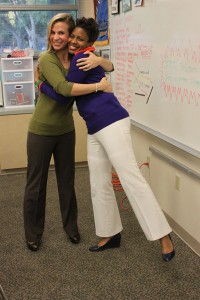 Upper School History teacher Tracy Walder and Middle School science teacher Jennifer Stimpson quickly became best friends after meeting each other at a new teacher orientation in 2010.
Walder said she liked Stimpson's energy and was drawn to her.
"She had such a positive attitude, and she was so excited about everything and wanting to try everything," Walder said.
Because of their different schedules, eating lunch together is not possible, but their advisories visit each other.
"I think Tracy has a very outgoing personality, and I just naturally bonded with her," Stimpson said.
Both Walder and Stimpson share a love for American history and frequently discuss historical events in addition to the Real Housewives of Atlanta.
"The thing about Ms. Stimpson is that I just totally trust her," Walder said. "She always makes me want to be a better person, and she makes me think differently about things."
Over the summer, they often ate dinner and hung out. The two have also met each other's close family.
"Tracy's my role model," Stimpson said, "She's always good to me."
Satinsky and Ojeda
Assistant Community Service Director Sarah Satinsky and chemistry teacher Ann Ojeda, both new to Hockaday last year, met at faculty technology training and instantly clicked.
Since then, for the past two years, they have eaten lunch together, sat at faculty meetings together and frequently emailed each other during the school day from the two separate buildings. 
Ojeda often helps with community service art projects and the two make fun arts and crafts such as wall hangings in their free time. In addition, Satinsky teaches Ojeda ballet while Ojeda helps Satinsky with volleyball.
"But neither of us are good at the other," Ojeda said.
They watch movies, have dinner, go on walks and have cooking nights on Sundays with Ojeda's husband, Eric Ojeda. The two also spend quite a bit of time at each other's houses when not at school.
Ojeda helped Satinsky a lot when she moved and Satinksy also helped plan and organize Ojeda's wedding this past summer.
"Sarah was always ready and willing," Ojeda said.
Gallegos and Mariel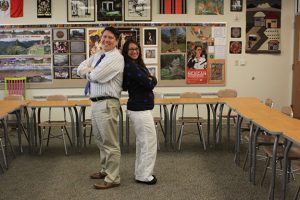 Gallegos and Mariel were both new to Hockaday in 2010 and met while setting up their classrooms the week before school had started.
"It was easier to walk into the dining hall with someone that you knew rather than walking into a room full of teachers you didn't know," Gallegos said.
Other commonalities include driving sports cars, loving the theatre and enjoying Latino culture.
In addition to seeing dance performances and plays at the Wyly Theater and the Winspear Opera House, Gallegos attends each and every performance of Mariel's theatre company.
"He's been to every single play since he's been here, and that's really special to me because I know I'm always going to see his face in the crowd, and it's like, 'Luis is here, this is great!'" Mariel said.
The two make up half of the "quartet" of teacher friends that also includes Middle School Spanish teachers Martha Maldonado and Orlando Greene.
"We like to get together every couple of months, have dinner, put some music and even dance," Mariel said.
Gallegos said meeting Mariel and the other teachers was a perfect outlet for him, having been new to Dallas.
-Anisha
Photos by Anisha and Tiffany