The city of Dallas develops bike trails that are exciting prospects for a greener city
Dallas has turned green in recent years, first with envy of other city's pro-biking development successes, and now with the eco-friendly pro-biking stance of our own sprawling city. The issue is a complicated and expensive one, but with joint programs guided by the 2011 Dallas Bike Plan, which organizes on-street bike lanes, and various efforts from efforts from the Parks and Rec, the city is on track to be a little more earth friendly.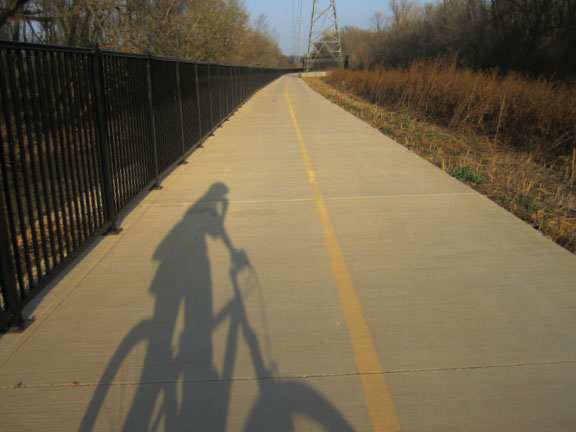 The plan, whose completion is about 20 years out, is exciting but seemingly slow, especially for young people who can hardly imagine "where I'll be in 10 years." However, considering the size–and expense–of the project, the timeline sounds much more reasonable.
"It all boils down to funding. Trails are not cheap," Dallas Parks Planning Manager Michael Hellmann said. "They're about a million dollars per mile to construct."
Luckily, the Parks and Recreation Department is not developing these parks willy-nilly over Dallas County. Instead, their goal is to focus their efforts where trails can connect, which helps biking become a mode of transportation as well as a healthy pastime.
"The idea is to connect the trail system to DART Light Rail stations, neighborhoods, schools, employment centers, so that the trails can then become an alternative transportation option," Hellmann said.
Senior Anastasia Almyasheva, who enjoys biking, is looking forward to the connected trails. She said she would consider using them as transportation when they are complete.
"I have trails next to my house that I bike around, except it's really annoying because they're so disconnected and really short," Almyasheva said.
The trails also aid Dallasites who wish to save money by travelling without cars and, Hellmann said, who are "the future of environmental protection and environmental quality."
By walking and biking on the trails, the city is giving Dallasites more opportunities to get out and be active. Therefore, the trails serve as recreational amenities for citizen's general enjoyment and as investments in citizen's health.
Still, the trails are pricey and take time to acquire funding, plan and build. The city constructs trails in the same manner as a roadway. First, the Parks and Recreation Department must develop a plan that includes acquiring land on easements or right-of-ways, surveying it, designing, and constructing it. Then the funding process begins.
To raise capital, the funding for construction, the city depends on capital bond programs. General taxes do not allocate any money. Instead, the city goes into debt, which is paid off through the small portion of property tax and sales tax revenue it receives. Sometimes an allocation of money from the city will leverage more money from the county, state, or even a private fund to help finish a trail, since the city usually cannot pay for an entire trail at once. Remember, a 10-mile trail costs $10 million.
Take the Trinity Forest Trail as an example of a project built in phases. The trail is useful, as just Phase 1 hits three different trailheads, commencing at Loop 12, passing along Little Lemon Lake and ending with the Joppa Preserve. Phase 2 continues over the Trinity River towards the Audubon center. With the recent announcement of a new Dallas golf course, the trail may be extending to Phase 3. The trail is part of a smaller effort to develop the Trinity River which is called the Trinity River Corridor Project
Although private funding is becoming more frequent, "It needs to be more common," Hellmann said. "We're relying more and more on private funding because the City of Dallas parks system is the fifth largest parks system in the nation." However, Dallas is one of the lower funded per capita systems, Hellmann said, so private funding and outside partnerships aren't "a luxury any more, but a necessity!"
For now, the Dallas trails are somewhat confusing since the biking plan is merely part of the way through. Until the projects are completed, the Dallas Parks and Recreation department won't have funding to create a user guide to help plan a trip to ride. However, the user guide piece will be something to look forward to from the city.
Even now, however, there's plenty of biking to be done on Dallas' 115 miles of trails. Spanning a wide variety of areas in Dallas, the city offers its citizens and visitors alike a view of Dallas not often seen in daily life.
"You get to see parts of Dallas that you never would otherwise off the trails. There's some neat places. And some neat natural places," Hellmann said.
-Emily