This just in: there is someone who runs more than senior Jackie.  On Nov. 3, the New York Times featured two miniature distance runners, Kaytlynn and Heather Welsch, ages 12 and 10 respectively, and their incredible results in various marathons and triathlons.
The two girls have run over 160 endurance races within the last two years.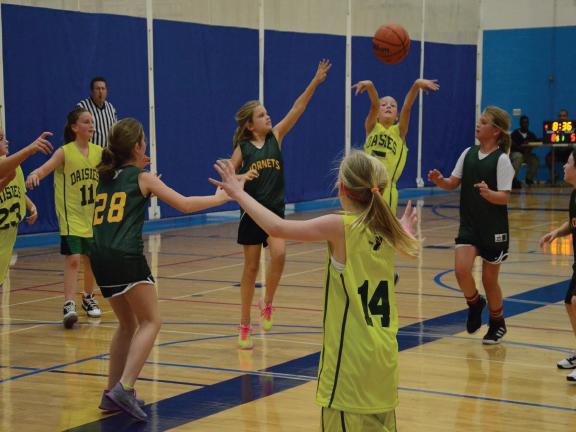 In the age of "Helicopter parenting," this article brought up an age old question: how much is too much for these young children? The pressure to succeed, particularly in sports, exists in society today and pervades the Hockaday community.
Director of Athletics Tina Slinker said she has noticed increased athletic participation at an early age in the Hockaday Lower School.
"I think they're playing too many hours a day and they are specializing too early," she said.
Seventh-grader Maria started playing soccer in pre-kindergarten and later joined the select soccer club, Sting, in the second grade. She currently practices four times per week and travels five times per year for tournaments. However, that will increase to traveling twice per month next year when her teams joins Elite Clubs National League.
While soccer doesn't "take much away from [her] schoolwork," Maria recognizes that she does have to miss "a lot of things," such as parties, because of her intense schedule.
On the other hand, senior Anase, who began club soccer in fourth grade, said it is "pretty hard" to balance schoolwork with soccer, especially during the winter when she goes from "practice to practice or game to game," she said.
"My grades improve because I'm so stressed but it's not a very happy time in my life," she said. "I always notice that I get really tired around January or February."
But Anase said that, at the end of the day, she is happy with her decision to stick with soccer though many classmates have quit due to struggles with the time commitment.
"I realize it's a good way to exercise. It's fun. I've been doing it for so long so I would encourage it as long as you don't take it to the extreme. Mimi [Anase's sophomore sister] plays a ton more than me, because I know she likes it a lot more than me," Anase said. "You're able to balance everything if you like it."
This pressure starts at an early age. In order to combat the competition in the Lower School, Lower School Head Randal Rhodus added a new position in the Hockaday's Parents Association this year: Lower School Extra-curricular activities liaison. The position was assumed by Ed Johnson, father of fourth-grader Hudson and third-grader Scout.
Johnson organizes sports teams through the YMCA for each grade, including soccer, basketball and softball, as well as manages the Adventure Princesses and Girl Scout Troops. He also places new girls on the teams to ensure that every girl receives the opportunity to participate.
This position came about in order to preserve a healthy amount of competition in Lower School. Rhodus said she has noticed a definite change in the competition level since she herself started at Hockaday in the first grade.
"Many of our students are involved in so many activities after school that they don't get the unstructured play time that girls need," she said. "That's a big difference from when I was here."
Since Lower School sports are not directly run by Hockaday but comprise mainly of Hockaday students, Rhodus said she wanted this position to include all students, especially new ones, and ensure that the Hockaday cornerstones are upheld throughout all ages.
"There was competition among Hockaday teams in different sports that we didn't feel was healthy since we are a community and a family," Johnson said. "We just needed someone to handle the situation."
Johnson has teamed up with Slinker to provide a new message to parents, coaches and children.
"Winning is not on the scoreboard," Johnson said. "Winning is getting these kids to love the sport so much that they come back next year."
Slinker has met with each coach, primarily parent volunteers, as well as each grade level in order to cement the philosophy and mission statement of Hockaday sports.
"We want to set the standards now with the Pre-K class going forward," she said. "Some of the classes have the ingrained culture already with competition. There are parents who are competitive in their jobs every day and it definitely filters down to their children. We are setting up the culture for sports to be fun at this age."
Rhodus appreciates the increase in the positive messaging in Lower School sports.
"I think this year there is a really good feeling of wanting to promote play and sportsmanship as the fundamentals to Lower School," she said.
There is already pressure to join multiple teams or start club sports. Coaches hope for girls to commit to one sport year round when they are just 10 years old, according to Johnson.
Especially for his older daughter, Johnson is debating whether to stay with the YMCA soccer team or switch to a club team.
"As a parent, you're in the decision between the environment she'll improve the most in, which is the club soccer, versus the environment she has the most fun in, the YMCA soccer," Johnson said.
But societal pressures are influencing his decision. "We're a society that's all about improvement," he said. "Fun is not a priority, it's all about being the best you can be."
Johnson hopes to keep the fun in the sports by not allowing his daughters to specialize in one sport, or at least not yet.
"Our philosophy at home is that we allow our girls to do an individual sport and one team sport as well," he said.
Currently, his daughters both play soccer in the fall and basketball in the winter, while Hudson focuses on swimming and Scout chose to specialize in gymnastics.
Like Asom, Johnson sees the need for a balance.
"In team sports, you have to interact with people, you have friendships," he said. "In individual sports it's much more about time with yourself. I think you need a healthy balance of both."
Johnson said he dreams for his daughters to each find one passion, but not for a few more years. He added that, while some parents are competitive about joining club or academy sports in lower school, varsity letters and college recruitments are off of most parent's radars at this point.
However, Johnson does fear athlete burnout, which Slinker said contributes to approximately 12 out of 15 kids choosing not to continue a sport in high school.
Johnson said he hopes to reduce this burnout rate by keeping their playtime free and easy in Lower School.
"Kids burn out from playing in structured environments where they're constantly held in check," he said. "We're trying to make it more play and less structure."
According to Slinker, who hopes these new enactments will maintain the all-important balance, sports, especially in the Lower School, should always be a release and an escape from the pressures of school or social issues.
"We've become so outcome based instead of enjoying the journey of playing the sport," she said. "At the end of the day, no matter what level you play on, it still needs to be fun."
-Megan