Students gathered to watch a documentary about empowering women and girls to challenge limiting labels and sparking millions of small actions that will ultimately lead to large-scale change.
Approximately 250 Upper School students flooded Clements Hall on Nov. 2, pizza in hand, to watch the "Miss Representation" documentary. The screening was hosted by seniors  Ashley, Laura-Brynn and Megan, all of whom attended this summer's International Girls Forum hosted by Hockaday, where they watched the film together for the first time.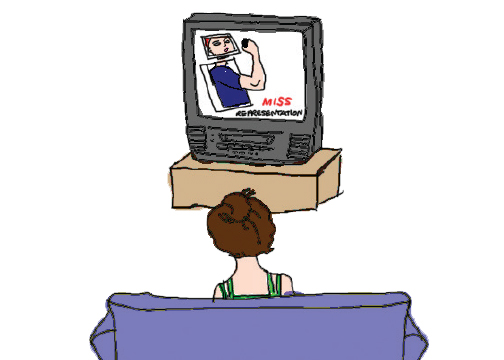 Director and producer Jennifer Siebel Newsom, frustrated and tired of unrealistic images of woman being plastered across the media, wrote, directed and produced produced "Miss Representation" in the hopes of empowering women and girls to challenge limiting labels.
Many students who attended the screening said they were not acutely aware of the problem of women being degraded by the media.
"The only thing I knew would be in the news about a [TV] anchor who made a ridiculous comment about a woman politician about what she was wearing and not about her knowledge," said junior Grace.
Grace said she left shocked by the statistics on how the media fuels anorexia.
"I left the movie completely energized and furious and wanting to change the world," she added. "There is a war to be fought… preferably before the next generation."
The screening educated and changed many students' views of the media.
"It really opened my eyes to just how misogynistic our society still is," senior Laura said.
After hearing about the screening from her friends, senior Hannah decided to attend the screening to support her friends. Hannah said she walked into the screening knowing little about the cause, but left with an entirely different outlook on the media.
"I was pretty horrified," Hannah said. "The movie talked about things I never thought would be offensive or should be. Men, and some women, were talking about women in such rude terms, especially female politicians, commenting on what she was wearing instead of her thoughts. It was offensive that they were focusing on her appearance."
Although she does not see herself as a feminist, Hannah said she was taken aback by the response some women portrayed in the film had to media's portrayal of women.
"I don't think a lot of girls feel like they have any value because of how the media portrays them," she said. "I want all women to watch [Miss Representation] so they know how much power women can have that we aren't given credit for."
Grace said she believes that, although women across the nation should watch Miss Representation and become educated about the matter, men should watch it as well.
"We love them, they are great, but there are definitely moments when they say something hurtful or degrading," Grace said. "I would really like to see St. Mark's run a screening that they were all required to watch."
Senior Renee said she believes that watching movies and TV shows in which women are portrayed as physically flawless perpetuates the cycle of misrepresentation of women.
"We've been telling the media every day that we're fine with men being the protagonists, because we watch 90210, Gossip Girl, Vampire Diaries," Renee said. "Our favorite shows are of beautiful, objectified women. We watch this stuff and they make more. We don't watch it, they don't make it. It's a waste of resources."
Upper School Counselor Dr. Margaret Morse '93 said that the only way to change the image of women in the media is for women to "get angry and say enough."
And that is exactly what "Miss Representation" and the "One Tweet Campaign," a club created by Megan, Ashley, and Laura-Brynn are striving to do: to empower women to rise up and fight for less submissive advertisement and for TV shows with strong, independent women.
"My mom always says that she can see me being a politician," Hannah said. "If I end up as one, I will have the opportunity to end the problem by just trying to put down negative comments about women, slowly trying to get people to see that women have a strong place in society."
Grace also can see herself as a politician or a writer for Saturday Night Live, a comedy show that mocks politicians. If either ones work out she believes that she can change something.
"I have this brilliant idea," Grace said, "'Miss Representation' with men. It would be like switching our society with theirs–what if we lived in a society where men were the victims."
-Gretchen