When you walk into Purnell Gallery, brightly glazed blues, yellows, oranges and purples catch your eye as you glance around. You can find anything from coil pots, tea cups, bowls and vases. Some are oddly shaped, being smaller at the bottom and larger at the top, or a bowl that is shallow and short.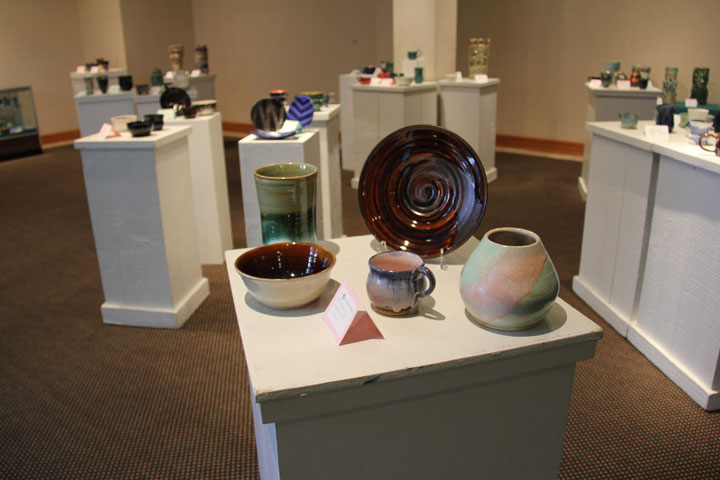 Ceramics is a Fine Arts course offered to any girl in the Upper School. The two different levels of Ceramics classes are determined by the skill of each girl and usually grade level. This means that the girls had different assignments that they construct.
For example, coil pots are simpler so they are usually for freshman and sophomores. This is opposed to higher-leveled juniors and seniors who use the pottery wheel to form smooth bowls and vases. They have more expectations and requirements for the projects they create.
Kevin Brady, Upper School Ceramics teacher, said that there are a lot of different assignments that are being showed at the gallery this year. Along with the girl's expertise and capability, he said imagination is always a factor.
Each year, every girl has the chance to show their work in the gallery. It gives them the opportunity to invite their parents, grandparents and other relatives to come and see the work they have done during class from the beginning of the year.
The ceramics show will be on display in Purnell Gallery until Feb. 5. At the reception on Jan. 24, all Fine Arts teachers attended as well as Eugene McDermott Headmistress Kim Wargo to see the ceramics artwork the girls have made this year.
Sophomore Ariella has been taking ceramics for two years. This year, she has two pieces that are showing in the gallery—a bowl with a coffee-brown outside glaze and a vibrant, teal color painted on the inside.
"A lot of time people don't get to see the work we do in ceramics because it isn't displayed anywhere; but this gives us the opportunity to show what the department does."
Ariella and sophomore Sam agreed that they are both very proud of their work and excited to showcase it in the gallery.
The gallery this year definitely shows off a lot of the artistic abilities Hockaday girls have in the arts.
Brady said, "I would like to think that every year the gallery is special. It's just really fun to teach at a school like Hockaday that has so many talented students."
-Charlsea