After stepping onto the green and white bus, eight-year-old Sarah took the 30-minute ride from Girls Inc., a nonprofit organization across Canada and America for girls ages six to 18, to Hockaday. On the evening of Jan. 24, 36 girls from Girls Inc. were invited to the annual community service event with Hockaday boarders.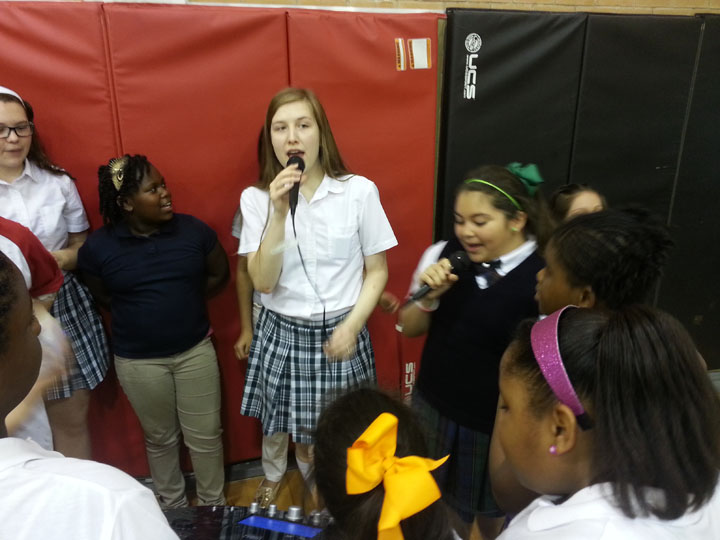 A ride on the "Hocka-bus" is a daily routine for Hocka-boarders. For Sarah, however, it was an exciting and novel experience—one she had looked forward to for a whole week.
"I am so excited that you chose me to go," Sarah said to her instructor, Victoria Hernandez, Girls Inc.'s West Dallas Campus Director. Students good grades and behavior at Girls Inc. were chosen as one of the 36 to join the event.
Girls like Sarah are what motivate the Hockaday Residence Department to continue hosting this event for Girls Inc. for five consecutive years.
"We do it because we wish the girls from Girls Inc. to have the experience here and also for us to tie a relationship outside of Hockaday," Director of Residence Danielle Ferguson said.
Because boarders from Hockaday meet with students from Girls Inc. every year, they are able to recognize a few faces, call out some names and even build up a friendship with them.
"I really like coming here and I want to come back again next year!" said Safari, a student from Girls Inc.
The two-hour event is divided into two parts—a cookout-style dinner followed by games. Although the even usually takes place on Graduation Terrace, the weather caused it to be moved into the Lower School Gym. With electronic equipment in the gym, the girls were able to play Wii and sing karaoke. They also engaged in hula-hoop and jump-rope competitions.
"These games allow our girls to interact with the students from Girls Inc. on a common level because through games, all barriers are erased," Ferguson said.
In addition to earning two hours of community service, boarders befriended girls from different family backgrounds and helped them learn more about the experience of living away from home.
"I was really learning about the girls and bonded with them. One girl tried to teach me how to dance, and it was fun," senior Anastasia said.
The annual event at Hockaday is not the only time students at Girls Inc. get to meet Hockaday boarders. In fact, every Wednesday seven boarders from Hockaday commute to Southwest Dallas to tutor girls at Girls Inc.
"It makes girls from Hockaday see how fortunate and blessed they are to be at our school," said Vicki Palmer, the Dorm Mom of Upper Morgan who drives boarders to Girls Inc. each week. "Some girls would go regularly, and I could tell that they really enjoyed it."
Ferguson is unsure if Hockaday will continue to host the event next year—it depends on the new Director of Residence and whether he or she decides to keep this tradition or not. Nevertheless, she wishes to maintain a relationship with the organization.
She said, "We will absolutely continue working with Girl's Inc."
-Cassie