Community Service Program Expands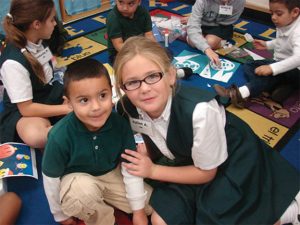 First-grade students clustered around tables in their classroom, working on their class project: making handmade class treats and dog toys to donate to SPCA, an animal welfare organization, in early December. This is just one of the ways community service is becoming more incorporated into the Lower School curriculum.
"This year we want to make Hockaday students service-oriented from a young age to understand what service is," Assistant Community Service Director Sarah Satinsky said. "We are extending community service, which is such an important part of Upper School, on to the younger students as well."
The Lower School grades were assigned categories of community service that will be the main  focus for that respective grade. Pre-kindergarten's theme is appreciating and celebrating the school support staff; kindergarten's assisting the elderly; first grade's helping animals, second grade's caring for the environment; third grade's feeding the hungry and fourth grade's helping other children.
"The themes were chosen from a combination of age appropriateness and what we thought that those grades would be able to understand the concept of their theme," Satinsky said. "A kindergartener can understand why it's important to help the elderly, because they have grandparents, but they might not yet fully understand the idea of hunger."
Each grade incorporates community service theme into curriculum by going on a related field trip or service project, inviting speakers concerning their topic, conducting in-class projects pertinent to their theme and checking out relevant books from the library.
Teachers in each grade-level incorporate their assigned community service theme into their curriculum through class projects. For instance, the kindergarteners will make personal hygiene packs, in which they will include shampoo, conditioner, soap and tissues to donate to the elderly who need these necessities.
In third grade, the students in class answer questions on a website called freerice.com. For every question the third-graders answer correctly, the website automatically donates 10 grains of rice through the World Food Programme to help end world hunger; their community service theme is feeding those that need help feeding themselves. The questions test the third-graders' knowledge of vocabulary and ability to correctly identify vocabulary words.
In addition, the third-graders conducted a food drive in which each girl brought a grocery sack of specific kinds of food. Third-grade teacher Mary Wilensky took her class to the North Dallas Shared Ministries on Jan. 31 where her students personally delivered the food.
"The great thing about the community service this year is that the girls get to see the end result of what they are gathering this food for," Wilensky said. "They get to go to the North Dallas Shared Ministries and help put the food in the pantry and see where it goes and the kind people that need it. This is the first time it's been this hands-on in a long time."
The third-graders expressed their enthusiasm in being able to interact personally with the people they help.
"I liked going to the North Dallas Shared Ministries because I got to bring canned goods and actually help out," third-grader Cate said. "It made me feel happy that I was able to help people that really needed help."
After-school programs offer more community service opportunities for the Lower School students. Lower School Spanish teacher Marcela Gerber conducts the after school program Happy Happenings, in which students from all Lower School grades make baby blankets. She said she hopes that they will make between 100 and 150 blankets to donate to charity that will be decided at a later date.
"I think that the sooner the girls are involved in community service, the better," Gerber said. "The girls get involved in different ways than the girls in Upper School to fit their level developmentally, but they're still getting involved."
Lower School students are not only becoming more involved in community service, but also working alongside with Upper School students. The second-graders have become the "recycling ambassadors" of the Lower School alongside the sophomores.
Sophomores meet with the second-graders and teach them how to recycle because the activity relates to their theme of helping the environment.
"The girls look up to the Upper Schoolers," Satinsky said. "They're really excited that they can help. I hope we're inspiring them at a young age to be interested in service or at least get excited about it and know why it's important."
-Courtney
North Dakota Bound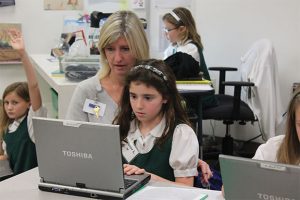 Snowy fields, American landmarks and one big history lesson: Lower School third-grade teachers Mary Ellen Wilensky and Karen Roberts hope to experience them on their upcoming trip to North Dakota.
Wilensky and Roberts plan to go on a five day trip from March 8-13. To further expand on a major component in the third grade history curriculum, the expeditions of Lewis and Clark and their encounters with Sacagawea, the two third grade teachers will travel the area which these explorers once walked on.
Each year, Lower School teachers attend conferences and workshops about Lewis and Clark to learn more and bring back new information to their students. This year marks the first time teachers will be going to a location where the actual events of Lewis, Clark and Sacagawea took place.
"We thought it would be good to have this activity be more hands-on and interactive for the girls," Wilensky said. It was Robert's idea to stray away from the norm for third-grade teachers to attend conferences about Lewis and Clark.
While trekking around, Wilensky and Roberts will contact the girls via Skype to share what they have learned.
Roberts said that they will be accompanied by an interpreter while in North Dakota.
"He is actually going to be planning the lessons," she said, "That is all he does—each about Lewis and Clark."
Aside from just video chatting with their students, Wilensky said that she and Roberts plan to maintain a blog during their trip.
"We will post daily about what we are seeing and doing," she said. "The third-grade students will have the opportunity to sign onto the blog, comment on posts and view photos."
Third-grader Hannah said she is excited to read and comment Wilensky's and Roberts' blog.
"It's cool how we are going to be able to see what [Wilensky and Roberts] are doing," her classmate Remy agreed.
Wilensky said, "Hopefully the girls can kind of see first- hand a portion of the country where Lewis and Clark were."
-Sydney
Second Grade Visits Violin Shop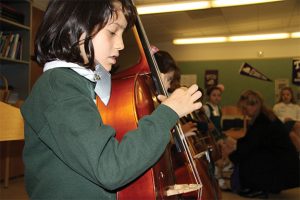 The star of the second grade 10-week string program,  Lower School music teacher Denise Jones said, has always been the field trip to Luthier Violin Shop in Denton where the second grade class learns the process of building a violin.
"They are standing there for an hour just listening to him talk, and they are just mesmerized," Jones said.
Because the shop is such a small intimate space, the second grade has to be split into three separate visits to fit comfortably into the store.
Lower School orchestra director Sunny D'Apice, who teaches the second graders alongside Jones, said that the trip leaves an impression on the girls.
"Theres so much to see and visually, it's such an impact for them to see the violins in the different stages," D'Apice said.
Second-grader Avani, who with her classmates boarded the Hockaday bus on Wednesday, Jan. 16, said she loved the trip.
"My favorite part was when he showed us the different types of wood," Avani said.
Avani, who started playing the violin in October, will be joining the Lower School Orchestra, which boasts 26 members and the only bass player at Hockaday.
"That's how our little Lower School orchestra grows: by introducing all these string instruments to our second graders," Jones said.
Seven years ago, D'Apice put the string instrument program into place after approaching Jones and Head of Lower School Dr. Lisa Holekamp.
"I came to Denise, and I said 'let's do this,'" D'Apice said.
Jones' second-grade class sat in a semicircle in the center of the room a Tuesday afternoon in January. Lined up in the corner were 20 instruments, large and menacing compared to the girls in their seats.
"Everyone who can play the violin go stand at the door, everyone who can play the bass, and last not but not least everyone who can play the viola go stand at the door," Jones said.
Upon their completion of a 10-week string instrument program, the second grade students can each play one type of string instrument. Jones said this marks the achievement of a rare feat by Lower School students.
The 7-year-old music program concludes with a grandparent's day performance at the end of the school year in which each girl plays "Twinkle Twinkle Little Star."
"Music is just infectious," Jones said. "You can hardly walk into a music room, even adults, without wanting to touch all the instruments and play them. It's just a very exciting thing to have the ability to be exposed to especially for a second grader."
-Avita