Each generation has its own genre of music. Except for ours.
As a high school student, Math Department Chair Jeri Sutton listened almost exclusively to rock n' roll. Fast forward to 2013, and senior Annabel listens to multiple genres:  indie, alternative rock, some classical, some folk, and Americana and "a whole mix of other stuff that ranges anywhere from jazz to old school rap." The times have changed, and apparently so has the music.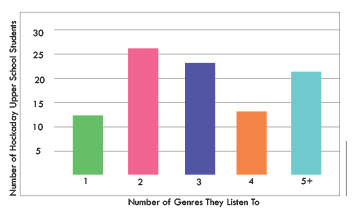 Fine Arts Department Lead Chair and Dean of Upper School Ed Long compared the expansion of popular musical genres to a phenomenon within the fashion industry.
"I heard from the four people who talked about fashion (the Hockaday Alumnae in the Arts) at the evening meeting," he said. "They said, if there was a '60s dance, everyone would know what to wear. If you had an '80s dance, everyone would know what to wear. But if you have a 2000-2010 dance, no one knows what to wear, because there was no iconic fashion statement."
The same goes for music.
"It's very clear what '50s rock and roll is and what to expect," Long said. "But what are the recognizable styles and hits of 2006?"
With the addition of many genres over the years and the increasing ease of distribution through the Internet, the formation of unanimous music popularity has become outdated, Long said. The spread of such genres began in the early 1900s with the jazz age.
"It's gotten so very diversified," Mr. Long said, "There's a lot of music out there."
Assistant Director of Community Service Sarah Satinsky '07 said that she has noticed a generational shift in the variety of music listened by members of her family.
"If you listen to music from the '70s, like stuff that my dad listened to, it all kind of fits in the same genre," she said.
Satinsky added that when she listens to the radio today, she usually hears songs from completely different genres played on the same station within the same hour.
"None of them fit in the same category," Satinsky said, "whereas I feel like the music from two generations ago all went together."
Mrs. Sutton grew up during the emergence of rock n' roll.
"I listened to the Beatles, and Led Zepplin, and the Rolling Stones," she said, "That was about it."
Coming from a different background, John Ashton, Head of Upper School, said he had more of a taste for different  genres at early age.
"My dad was a musician and a band director," Ashton said. "So I listened to classical, jazz, rock n' roll, early rap and Motown."
Annabel, Hockaday Orchestra President, agrees with the variety of the current generation. "I don't think our generation has a single identifying genre," Annabel said. "Instead, I feel our generation is defined by a certain open-mindedness toward music."
However, she finds that there is some sort of continuity throughout the current music.
"Even in genres as diametrically opposed as Indie and Rap, when you strip these songs down to their bare bones, there are the same messages, those of hope and an eagerness for change," Annabel said, "This, I think, is the factor that most clearly identifies the music of our generation."
As time goes on and opinions change between generations, genres are expanding to include any types of music previously thinkable, Long said.
"There's a lot of music out there," he said. "It'll be interesting to think 20 years from now, what music is going to stay. I'm not sure what I'd teach from today."
-Elie