A One-Woman Show
Senior Annabel directed her own one act play that will be performed later this month
When senior Katie read "A Flash in the Pan," a play written and directed entirely by senior Annabel, her comment was unexpected.
"Congratulations, it's a bouncing baby bomb!"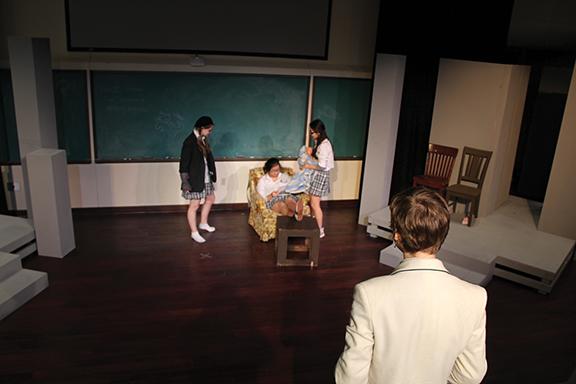 Annabel first dreamed of writing her own play during her freshman year.
"I always wanted to write a one act play, but it was one of those things that I thought would never happen," she said.
After long hours of work and commitment over the last few months, Annabel's play will be performed on Feb. 21 and 22 in Clements Lecture Hall.
The plot includes a "saucy affair," a baby who is actually a nuclear bomb and an over-the-top family who knows nothing about what to do with the child.
"It's absurd and ridiculous, and it doesn't really make any sense, but I think it will be a lot of fun," Annabel said.
The play is centered around a 20th century art class Annabel took last year at Hockaday. In the class, she said she learned and heard about ideas she hadn't been exposed to before.
"We talked a lot about absurdist plays and 'living theatre,' which is basically like giving the audience headaches," she said.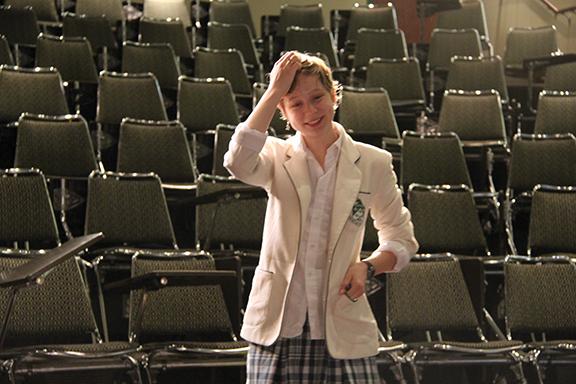 Her journey began on Parent Visitation Day in English teacher Kyle Vaughn's creative writing class. Dozens of modern art pictures were laid out for the girls to pick and choose from. Annabel, along with senior Katie, chose a picture from the pile.
Annabel chuckled as she reflected on what it looked like: a family with gas masks covering their faces standing over a baby carriage.
By the end of the class, she and Katie had written a short story about it.
"I guess I just got inspired by it and wanted to turn it into something bigger," Annabel said.
In a matter of just a couple of weeks, she continued to play around with ideas and eventually wrote a first draft.
The next step was to actually put it on stage for an audience, so Annabel decided to talk to Susan Hubbard, the Middle School drama teacher.
With Hubbard, she learned the process of auditioning, casting and directing. They worked out a timeslot to show the act and a day that auditions could be held.
"It's always wonderful when someone wants to direct something. When someone wants to direct and write it is always a great experience," said Hubbard.
According to Hubbard, it's interesting for the director to compare how they picture their work before to what it turns out to be in the end.
Seniors Katie and Leia will help out as "assistant directors" to create all of the sets and aid with costumes and lighting.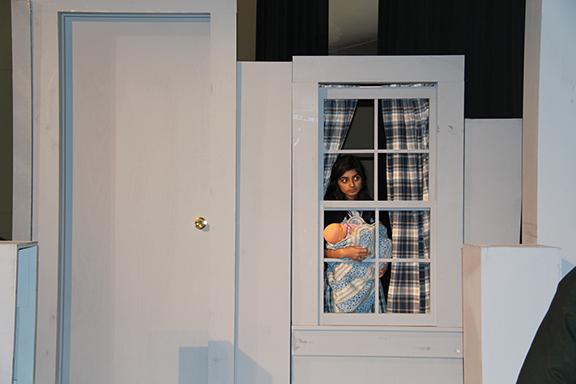 "Annabel has done most of the work, from writing the script to casting the characters and holding rehearsals. I assist her as much as I can," Katie said.
Leia agreed and said that she helps out whenever Annabel needs her, but especially with set and the readings of the script.
"I just give whatever help is needed here and there," she said.
Katie and Annabel have also encouraged underclassmen to write one act plays and participate in "Script Frenzy," in which students are challenged to start and finish writing a script in the month of April.
"For the past few years, there have been no one acts that students have directed or written, and we hope to break that trend," Katie said.
Ed Long, Dean of Upper School, has read the play already. He claims that it is going to be very entertaining and works with the "theatre absurd."
"I think it's very creative and I think it's very insightful on other works of modernism and postmodernism. It has some absurd elements that cause us to question." He continued, "It reads well and sharp and it is going to be very good entertainment."
Both Long and Leia agree that her work is very original. Leia said with a laugh, "It just reeks of Annabel all over it."
A written and directed one act is something Hockaday has not seen in a long time. All those who have read this absurd, creative, and very original play are no doubt looking forward to seeing the end product.
"Mrs. Hubbard got me going and gave me a path, and I just took it from there," Annabel said. "I just thought, 'What the heck. Let's go for it.'"
-Charlsea