Hockaday Security Department Implements Changes
Phase one was completed in Dec. 2012 and phase two is already a work in progress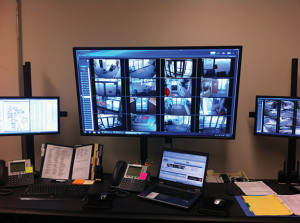 Reporting suspicions. Brainstorming improvements. Protecting the members of the Hockaday community. The Hockaday Security Department works behind the scenes 24 hours a day, seven days a week. In past months, its security operation has updated to a state-of-the-art system. The changes, replacing an outdated system with a new one, are working to make Hockaday a safer place.
Phase one of these updates, initiated in October and completed in December, primarily swapped old security equipment for new one. It included adding exterior cameras, placing access controls at strategic locations, changing security uniforms, acquiring new radio technology and training faculty and staff to use the new equipment.
"We wanted to make sure we were focusing on the major things we could accomplish in the first phase," Director of Safety and Security Karyn McCoy said.
The security guards' new uniforms allow faculty, staff, students and parents to automatically identify them. Furthermore, McCoy noted that they serve as a "huge deterrent," discouraging any potential crime at Hockaday. The number of security guards and cameras on campus remains undisclosed.
With new digital radios and a digital radio repeater system, security guards can now walk off of the school campus and still communicate.
The security control center  on campus also received new technology to monitor campus cameras and access controls. One of the most notable changes were the access boxes at each entry to campus buildings, which no longer require codes but are instead unlocked by badges owned by all faculty and staff.
"It's all in response to making sure we're safe, so that makes sense," Upper School history teacher Steve Spencer said.
The codes could be easily transferred to outsiders, but the badges, connected to the security control center, can grant immediate building access—or block access in case of a lost badge. Plus, in case of emergency, the entire school can be locked down with a switch.
"I think everyone feels safer," said junior Dominique Cooper, a boarder from Houston. "Someone's always watching security cameras, gates, doors and parking lots—and there are a lot of new security measures."
Security Supervisor Danny Ussery noted these changes were more "user-friendly" for officers and provided better surveillance of the school.
Phase two, although still a work in progress, is set to begin this July and should be completed before the 2013-2014 school year. It involves more interior changes by adding security personnel, interior cameras, lighting and fortification, ensuring a set baseline and increasing training with the Dallas Police Department to make sure everything the security department does is in corporation with it.
The new updates are not the only ones planned. In fact, the security department is already planning subsequent phases. Phase three will likely focus on campus security surrounding the upcoming construction.
"We will never be satisfied with what we have. When we are, that's when we've failed," said Dallas Police Department officer Robert Blanco, who is one of the officers who work at Hockaday. "When we get complacent, that's dangerous."
These security changes were not spurred by the Sandy Hook Elementary School shooting on Dec. 14, McCoy said. Plans for security changes had already begun in April 2012 and were in place before the shooting. However, McCoy said that the department did reflect on the event.
"Anytime there's an incident nationwide, we want to look at how they handled it and get information from law enforcement and ask, 'What are things they could have done?'" she said.
Although the shooting shocked the nation, the security department could not allow to be shocked. Panic occurs in conjunction with the element of surprise, but McCoy said "you have to eliminate the element of surprise in our staff…we can't afford to be surprised."
Jill Callahan, mother to Hockaday's fourth-grader Emilia and primer student Annabel, was concerned in light of the shooting.
"Just like any other parent, having daughters in Lower School, it heightened my concern when I dropped them off each morning," Callahan said. "Somebody could just walk in through a back door."
The shooting also spurred the question of teachers potentially holding weapons at school. McCoy said, however, that she does not think it is necessary to resort to such measures at Hockaday.
"We're very well-protected, and we have Dallas [Department Police officers] who would be responding to the location within a matter of moments," she said. "We are in the process of setting up alert systems, and when we start practicing, learning and training, I think that those are things we need to focus on—not weapons because then there's a lack of training, and when you have people who aren't trained, there are even bigger problems."
Regardless, Blanco noted the importance of anticipating all possible scenarios.
"We're going to be judged on what happens tomorrow," he said. "You should never have to ask questions because it never happened—because we intervened."
The key to this success, Blanco noted, is having a stable line of communication.
"[McCoy], while she's in charge, she's also in her office. If the guards see something, they have to be able to tell her and not be afraid," he said. "[McCoy] just opens up communication a lot more. When you add that to the large number of eyes, an armed officer and several ways of communicating to each other, everyone is that much safer."
Blanco, who has visited other schools around the Dallas metroplex, said that Hockaday security is "years ahead of everybody else."
One of the first steps to maintain a safe school is by remaining aware and reporting any suspicions. Security starts with reports.
"Hopefully faculty and students can feel like they can come up to us and report something," Blanco said. "Sometimes, we can't give you details, but we take your concerns into account."
While Callahan said she feels "comfortable" talking to the security department, she is not quite familiar with who or what the security department is. "Kief [Tekle, security officer] is the only one we see all the time. Otherwise, I don't know much about it at Hockaday," she said.
In the future, McCoy said she hopes to open up programs to students by training them to keep Hockaday safe.
"We want to build that relationship with students, and they need to know that. If they have questions, they can visit with the security officers or drop a note—we're here 24/7," she said.
McCoy noted that she also hopes to add more personnel and increase training with faculty, staff and students.
"They should know exactly what to do in case of a crisis," McCoy said. "We're constantly building a culture of preparedness.
-Tiffany