Cowgirl Heads to World Championship
It's a Friday night and freshman Austria walks into her family's trailer, which is parked outside her Terrell home, and checks that her western-style long sleeve button down shirts, belts and cowboy hats are in their proper places.
She passes Haidas Heritage and The Boss Cat, her horses, each a treat before the trailer pulls out of  the driveway. She is heading to another cutting competition.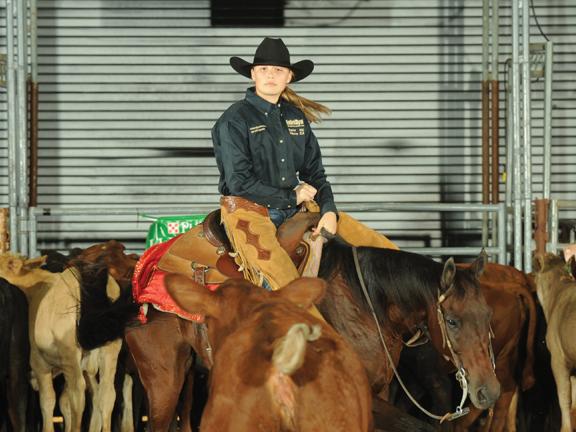 This is a routine for Austria, one of the top 15 cutters her age in the country. Austria travels to horse shows whenever possible— in fact, she has nearly every weekend since last June—to compete in cutting, a Western-style sport where a rider, along with her horse, are judged on their ability to separate a cow from its herd and keep it separated for a short period of time.
The goal of her travels: to be in the top 15 junior youth cutters in the Fort-Worth based National Youth Cutting Horse Association and compete in the championships there. She stands currently at 13th place but must continue earning points each weekend to maintain the position.
"All of my really good friends are actually home schooled because this is all they do, basically," Austria said. "I have a friend that lives in Alabama that will show at a show and go home Monday morning. She'll be there until Wednesday or Thursday and then leave for another show, and that's pretty much all she does."
Cutting competitions aren't just for Austria, however. They are an Arnold family affair.
"I get a lot of good family time in at the shows because we're all there together," she said.
Austria's parents have shown cutting horses professionally since long before she began. Her father, who is an equine veterinarian, and mother, who has worked for various equine related non-profits and publishers, wanted to make sure that riding was not Austria's only activity. While they still showed, Austria ice-skated and played competitive soccer. At age seven, she began riding barrels and other rodeo events, winning all-around titles in true cowgirl style. By seventh grade, however, she had committed to cutting just like her parents.
"It's fun. It's something we do together," Austria's mother, Carroll Brown Arnold, said.
Now that Austria is "hauling" for top 15 under-13-year-old in the world, the Arnold family travels every weekend all across the southern United States in the hopes of accumulating points. Austria's scores determine her place in shows and, depending on the number of competitors, the points she is awarded contribute to her yearly total. This yearly total determines her final position.
All this is a good deal of work, but, according to Austria's mother, "she does a great job with it. She doesn't mind if it's hot or cold or what it is, she's just passionate about it, out there getting it done."
Austria cares for her own horses and takes the lead training them and preparing them for shows. In fact, Austria's parents gave her a horse for Christmas, the first one she has ever owned. The Boss Cat, also known as Bossman, was previously owned by Rieta Dufurrena, daughter of Austria's trainer Ed Dufurrena. Rieta won the title of National Cutting Horse Association Senior Youth World Champion in 2011 on The Boss Cat, and Austria and Rieta have become close since Bossman changed hands.
"I have looked up to Rieta for years as an older and very successful youth showman," Austria said. "She has helped me improve my cutting skills to learn how to ride this specific horse to the best of its ability."
Mrs. Arnold thinks the two girls have a lot in common.
"She is one of Austria's real life heroes for many reasons— she is 19 or 20, a great competitor and a really classy girl. The two share a love for the culinary arts and horses," Mrs. Arnold said. In fact, Rieta currently attends Le Cordon Bleu College of Culinary Arts.
"Austria's mom introduced us because Austria was interested in culinary school and then I've been helping her get to know the horse," Rieta said. "Every horse is different, so I help her with how I've ridden him in the past."
Rieta and Austria do differ in one major aspect, however.
"I never really played sports in high school because I wanted to do one thing and be really good at it," Rieta said. Austria is a member of Hockaday's junior varsity field hockey and varsity soccer teams.
They both acknowledge, however, that showing every weekend is very challenging.
"You travel a lot and you have to be super dedicated to showing," Rieta said. "My senior year, I missed all my events, I missed prom, everything you can name in senior year, I missed it. Still, all my scholarships I won during my horse-showing experience are paying for college completely."
The Arnold family has made sacrifices for cutting in other ways as well. Previously, the Arnolds all showed at events. Now, her parents sometimes don't show so they save the horses for Austria to ride.
"For instance, we went for nine days over the Christmas holiday to Batesville, Miss., and we'd already showed for four days before that here, so sometimes Kent [Austria's father] and I didn't show to rest the horses," Mrs. Arnold said, "It's just like athletes, you know, sometimes you get aches and pains and you have to rest your body, and horses are the same way."
While this might be hard on the schedule of Austria's parents, Mrs. Arnold thinks that "It's just natural. You love your kid and you want the best for them, so you want to rearrange your schedule or kind of do a little less of whatever your pastime is to do more of what your kid wants. It's very much a team component with our family."
While Austria's team is her family, Austria's cutting friends are her competitors, an unusual situation that fosters a different type of community.
"Everyone tries to keep an even keel and be supportive of each other," Mrs. Arnold said.
What really keeps the Arnolds going when the sport gets hard, though, is their shared love of the sport.
"I love the event, I love the bond I get to experience with my horse because not only do I have this animal that I care about and that I take care of but also that I'm competing with," Austria said. "But right now I'm going through this period where I'm going for this goal and either together we'll make it or together we won't."
-Emily