Seniors Margaret and Jordan will play SPC at Hockaday for the first time
After the four and a half hour bus ride to Houston and a night in a hotel room, Hockaday's varsity basketball girls were worn out. They lost their first two games in the morning and next had to play Fort Worth Country Day, who they lost to earlier in the season by just a couple of points and needed to be fully energized to beat.  Thankfully, they managed to win and came home in seventh place.
This year, varsity is 12-4  making them the number two team in North Zone and guaranteed to get into Division I for SPC. This will be the first year seniors Margaret and Jordan will have the opportunity to play SPC at home since they were selected for the team as freshmen.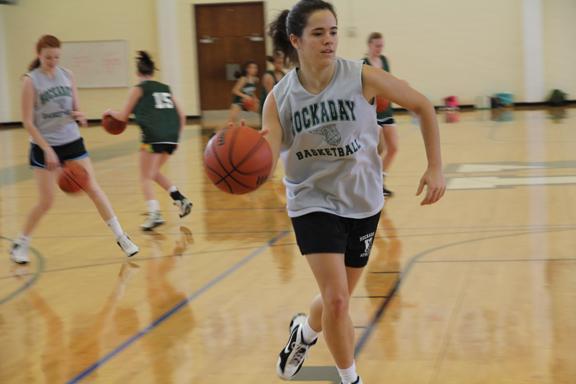 Jordan said that there are several advantages to playing at home rather than away on another school's turf, one of the main differences being a better knowledge of the court.
"When we play at home, we know all the bumps in the court and what it feels like to shoot on our own baskets so it feels familiar," she said.
Other than feeling more comfortable, Margaret said that traveling is also one of the major disadvantages to playing most games. Staying at home means that they aren't as exhausted before going into the game.
But one of the major things most people don't think about is the fans. Margaret said that when games are away there aren't as many fans to support Hockaday and it is definitely a disadvantage.
"We also get better attendance at home games which pumps us up and makes us work even harder," Thomas said.
As far as the pressure they had to get into Division I, the players did not feel as much as one might expect. Margaret said that she does not believe it will pose an issue during the tournament.
"We don't have a ton of pressure to win SPC this year since we were underdogs last year," she said.
However, Tina Slinker, the varsity basketball coach this year and Director of Physical Education and Interscholastic Athletics, had a different view on SPC being played at home this year.
"I think having SPC and Division I at Hockaday is an opportunity, not necessarily a pressure. It has given us an automatic Team Goal to play at our own school and make our students proud," she said.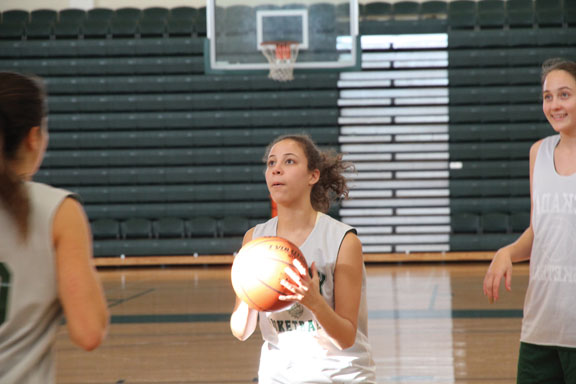 Other than pressure, the team's strategy has not changed very much even though they will be playing at home.
Junior Shelby said that the strategy has changed because "only Division I is played at Hockaday, so it has made the goal of making Division I a necessity."
Because the team has been similar for the past couple of years, they are closer and know how each other play.
"We are basically the same team as last year and we have just improved a lot," Margaret said. "We are also a very athletic team this year so our goal is just to outrun the other teams."
Jordan agreed that the team is close to how it was last year, and they have become their "own little family." She continued to say that the goal is the same–to win through hard work.
"We aren't worried about what the other team will do because we are good about adjusting, but what we want is to make others adjust to us."
Slinker also added that varsity this year has won almost all of their home games, and generally have performed well at home.
The Division II girl's basketball tournament will be held at Episcopal School of Dallas. Both the Division I at Hockaday and Division II at ESD tournaments will be on Feb. 15-16.
-Charlsea