Senior Lulu spends three seasons on the field and the court managing teams
Senior Lulu sets her cleat-clad feet one after the other, lugging her field hockey and school backpacks onto the bus, along with the ball bag and medical kit. In her uniform—number 19—she races back into Penson Gym to help the freshman with the coolers.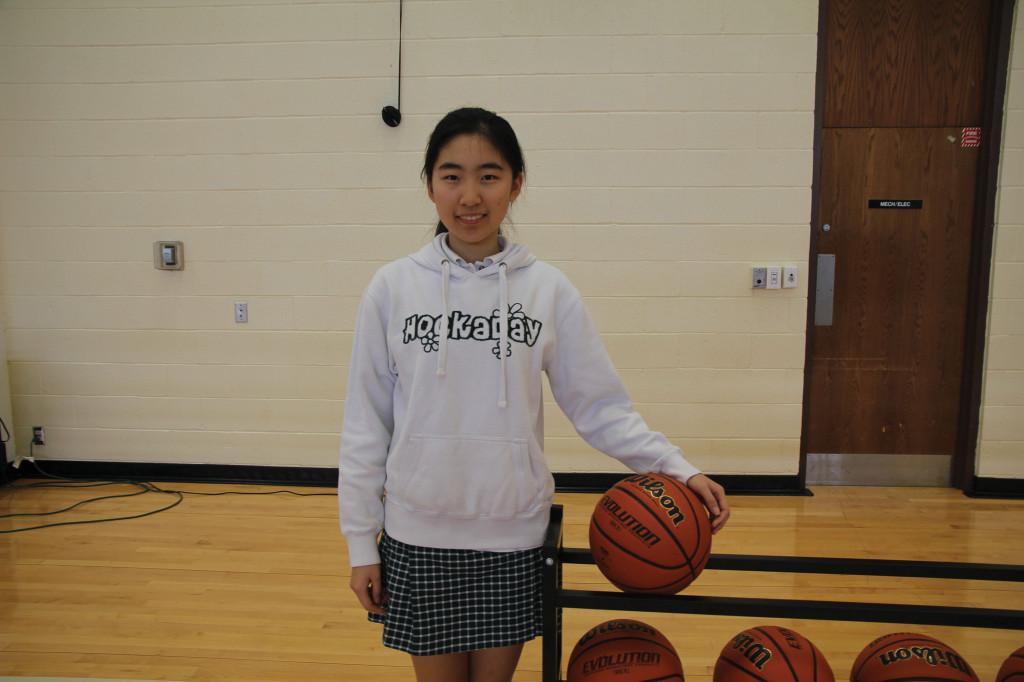 Since there is no more food to help bring on the bus, she checks the back to make sure the goalie bags—one of which is hers—are safely loaded in the back of the bus. Lulu's shinguards are already moist from the perspiration of making sure her entire team (and coaches too) are ready for the big game.
In many ways, it's a routine very similar to her other two sports: basketball and lacrosse. As she clambers onto the bus, though, she does something other seniors would not do—she grabs the clipboard and scorebook and begins preparing to take statistics.
When Lulu switches from basketball to lacrosse at the end of the winter season, she will enter her seventh season as a manager. In that time, she has made an impact on the coaches and athletes she knows as her teams, said junior Lily.
"Lulu really good about getting our stats, saves in goal and all that, and she's just really nice, helpful, and happy!" said Lily, who played JV basketball with Lulu as manager two years ago and also counts Lulu among her varsity lacrosse teammates.
During her first year at Hockaday, Lulu tried out for the basketball team but had never played organized basketball before. Coach Carol Thumlert convinced her to manage the junior varsity team instead. After learning more of the rules and terms of basketball as well as the important statistics, Lulu moved up to varsity her junior year.
"My junior year, I'm like, I'll just do it for fun. Since I know the team, I really started to fall in love with basketball," Lulu said. "It really got me in the Hocka-spirit, cheering for the team. Not only basketball but field hockey and lacrosse."
Lulu began managing the field hockey team her junior year, answering the team's call for help.
"At first I was kind of scared by [the players]," she said. "Y'all looked kind of intimidating to me. I didn't know anyone except for [senior] Marzia."
She said she now "loves" field hockey.
"It's a cool sport to watch, it's a cool sport to be a part of, and the people on the team are really the best people I've ever seen, pretty much, in my life. They are really welcoming."
Lulu had never watched a field hockey game before, but her senior year she tried the goalkeeper position and even played in a couple of games, allowing the team's starting goalkeeper to have some fun in the field.
After basketball season of her junior year, Lulu also picked up another sport she knew nothing about: lacrosse. During practices, Lulu sometimes picks up a lacrosse stick to try the sport. The ever-smiling, ever-energetic, ever-helpful Lulu runs the clock, keeps stats and sports a full uniform during games so she can act as the ultimate cheerleader.
"I learn something new every game." Lulu said.
An additional benefit from being a part of Hockaday's athletics teams, the boarder and Chinese native said that her English has greatly improved.
"Sometimes [managing] is hard. When we get off the schedule during practice it's hard to keep track of time," she said.
However, her coach said that Lulu is up to the task.
"I don't know what we'll do without her next year," Varsity Lacrosse coach Elia Kochan Stanfield said. "It's going to be hard to recruit someone as great as Lulu."
In response, the quiet, humble Lulu said, "Yes, I'm afraid that's going to be hard  to find."
-Emily