Seventh-grader Kate apprentices at rise n01, a soufflé restaurant located in Inwood Village, acting as a hostess and serving cheese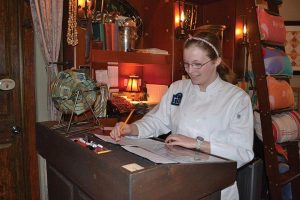 Seventh-grader Kate was offered a job at Rise no1, a souffle restaurant in Inwood Village, when she was nine-years-old. Jokingly, the shop's founder Hedda Gioiadowd, amazed by Kate's cheese knowledge at such a young age, presented her with a job application.
"I asked her what she ordered and she said a cheese plate and then proceeded to describe all the different cheeses in detail," Gioiadowd said.
Gioiadowd later called Kate's parents and said that she would love for Kate to apprentice at Rise. A few days later Kate came in for an interview and started her  apprenticeship in August of 2009. Kate apprenticed at Rise rather than working as an official employee because state laws prevent children under the age of 14 from holding a full time job.
John Fundis, Kate's father, said that his initial reaction to Kate's being offered a job was surprise because of Kate's young age, but that the family was also "flattered  because we had no previous relationship with the owner and that only after fifteen minutes of conversation they were able to see Kate's maturity and intelligence."
At first, Kate was in charge of the Cheese cart and would  provide guests with explanations about the eight to 15 cheeses served.
Just four months after Kate began working there, she had the opportunity to serve cheese to former President George W. Bush, his family and the ambassador of Sweden.
"I could not get over her knowledge and sophistication when working with guests,"  Gioiadowd said, adding that Kate was not intimidated at all by serving the president and was able to share her knowledge of the cheeses with poise.
Now Kate works on Saturdays from 10 a.m. to 2 p.m. as a hostess. A typical Saturday at Rise for Kate consists of coming in early and setting up tables and reservations for the day. Then Kate helps greet guests and sometimes helps with the cheese cart.
She enjoys coming into work on Saturdays, but said she hopes that once she is in high school, she will work at Rise on a more full-time schedule for a salary.
"I memorize and explain about the different cheeses," Kate said. "I don't get paid, but it is good experience."
Kate added that she hopes to also one day work in the restaurant business or something involving catering or design.
Gioiadowd hopes that Fundis will continue her work at Rise and said that Fundis is a "gift."
"She is extremely rare for her age, and her curiosity and thirst for life should be an example for everyone," she said. "I would invest in anything she does in her future."
-Alaina