Model United Nations Club members travel around the country to debate world conflicts, take home awards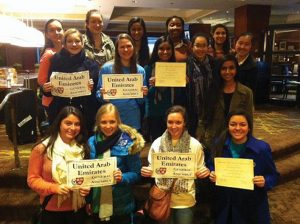 The Model United Nations team has at last established its presence among the numerous clubs at Hockaday, this year boasting nearly 60 members and claiming numerous awards at conferences.
Before each conference, the students put forth hours of research and preparation.
"We have to learn about our assigned country, its allies and its enemies," senior Zoya said. "We then learn about the topic from the point of view of our country and of other countries."
The delegates at each conference represent the stances of their respective countries and work to pass resolutions for the debated topic. However, even if delegates fail to pass a resolution, they can still receive awards for their performance.
"There is a lot that goes into awards. You can get an award even if your resolution did not pass, because it is a lot about how you work in committee and whether the chair sees that you are being a proactive delegate," senior Catherine said.
Typical awards include honorable delegate, outstanding delegate, best delegate, awards for position papers and overall school delegation awards.
At October's Baylor University Model U.N. Competition, the Model U.N. team claimed seven awards, including delegation and position paper awards as well as the titles of "Most Innovative" and "Most Diplomatic."
While attending their most recent conference, held at Harvard University, Catherine, along with most of the girls from Hockaday, represented the United Arab Emirates. Catherine described the committee she worked in: Special Summit on Technology.
"It is about data protection and privacy laws," she said, "so I researched how the U.A.E. and their allies feel about that."
The girls competed with over 3000 students from 38 countries throughout the four day conference.
The U.A.E. delegation in the Historical Arab League of 1976 represented by junior Anisha and freshman Camila took home an Outstanding Delegate award at Harvard.
At the upcoming conference at Georgetown University on Feb. 14-17, President of the Model U.N. club Saniya will participate in the Islamic Educational, Scientific and Cultural Organization.
"I think this will be an interesting committee to be on because it goes beyond the usual security councils that I participate in," Saniya said.
But traveling to conferences is not all about the competition. Students on the team also get to explore the cities they travel to. At the Harvard conference, the students visited the John. F. Kennedy Presidential Museum. Catherine reflected on last year's Georgetown Conference.
"At Georgetown, we got to go to the Pentagon, and we got a tour of it," Catherine said.
In addition to the Pentagon tour, the team members also visited the Jamaican embassy, met with the Jamaican ambassador and talked with former Texas Senator Kay Bailey Hutchinson. This year, the students will visit the State Department when they travel to Washington D.C.
Saniya said that the students participate in Model U.N. because they love what the activity has to offer.
"What is most rewarding is working with people from different schools, different states, and sometimes different countries," Saniya said, "and solving a problem together."
Catherine said she also enjoys how Model U.N. provides a medium for discussing important issues.
"What I love about Model UN is that it is not personal," she said. "It is about how your country feels about a topic, and you supporting that based on their viewpoints and their thoughts."
-Kathy