While their peers are busy on the sports field or singing "We're all in This Together" in the auditorium, some students have chosen to get a job during their free time and earn a little extra cash. The Fourcast explores a variety of options currently being pursued by students.
Retail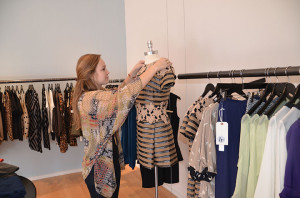 Senior Jessica has worked in retail since the beginning of her junior year, starting at Spice and Spicy II and now at Haven Boutique. Senior Callie also works at Haven, which Abby Hoak '05 and Mallory Harrison '05 opened in May 2012.
They usually help with the clothes, from unpacking and steaming to selling, and have also attended the market before. The Dallas Market, held at Fashion Institute Gallery, features all the clothes at wholesale price, where the designer presents the line of clothing for the shopper to pick certain pieces.
"It's really fun being involved in that and seeing all the stages of the retail process and envisioning the items in the store," Jessica said.
Junior Caroline started her first job in June 2012 at Commonwealth Couture, a vintage store in Snider Plaza.
Caroline usually works about eight hours per week and this job helps her visit her "nostalgic" side, she said.
"I spend almost all my time at vintage stores and I'm very familiar with vintage merchandise and style," she said. She appreciates the independence the job provides, as well as the 30 percent employee discount.
Callie also said she enjoys the extra cash that she earns from working, which she spends on gas, clothes and food.
Both Callie and Jessica plan to pursue a career in fashion, focusing on the selling and business side of the industry.
"I want to study why people buy the products they do, like media and celebrity influences, and what a company can do to display their products to attract consumers," Jessica said.
Caroline, however, does not plan to continue fashion later in life.
"It's just a way to express myself," she said. "It's something really fun that I enjoy."
Blushington
Junior Tai recently began her job at Blushington, a makeup studio on Oaklawn. Working as a receptionist four days per week, Tai takes calls, schedules appointments and assists wherever necessary.
Tai expressed a similar reason as the other students for getting a job: her desire to spend her own money without having to ask her parents.
"The atmosphere at Blushington is so fun. Everyone who works there is nice," she said. "Plus I can get my makeup done for free."
Karen Dillard's
College Prep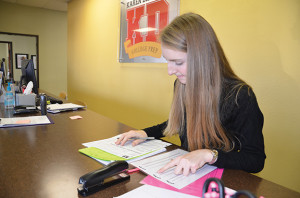 After completing test prep at Karen Dillard, senior Marzia and juniors Allie and Christine became employees of the company. Marzia has worked there since January 2012 while Allie and Christine began this fall.
Each typically works one to two shifts a week.
"We do a lot of office work, filing and giving out tests," Christine said. "We show kids into their classes and answer the phones."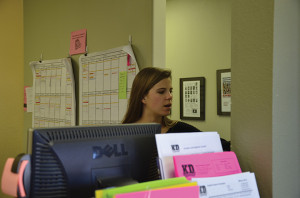 Allie enjoys interacting with the customers, especially when they are people she knows.
"You have to be really sunshine-y and cheery when people come in," she said.
Plus, the job teaches both the girls important lessons, such as responsibility and how to manage their own time and money.
"It's good to know for the future what it's like to work in an environment with bosses and coworkers," Christine said.
-Megan