Hockaday's First Black Graduates
Three African American students graduated from The Hockaday School for the first time on May 20, 1977. They made history and left behind a legacy of change and diversity.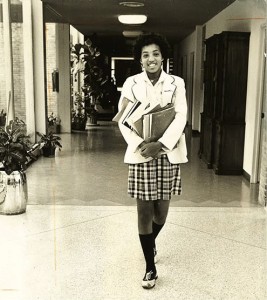 In honor of Black History Month and the upcoming centennial Valencia Mack Yarbrough and twins Traci and Staci Williams recount their experiences, stories and challenges that they've faced during their time at Hockaday.
The first time Valencia Mack Yarbrough came to Hockaday she was reminded of Hemingway's short story "A Clean, Well-Lighted Place."
"The campus was absolutely beautiful when I came, with big windows and light everywhere," Yarbrough said.
Staci Williams said she owes her Hockaday experience to Director of Admissions at the time Mary Reynolds, who took the first steps towards admitting African Americans to Hockaday.
"There were board members who decided to step out of the status quo and decided it was time for Hockaday to integrate," Staci Williams said. "I have always held Mrs. Reynolds in awe because of that."
Yarbrough was admitted to the school in 1970 to the sixth grade class, becoming the second African American student at Hockaday (the first being Josette Kirven, who graduated in 1980). Two years later, Staci and Traci Williams joined Yarbrough in the class of 1977.
Yarbrough attributed her admittance and success at Hockaday to her mother, who as a teacher at Dallas Independent School wanted her to be challenged.
"My mother told me to just apply. She said you certainly won't go if you don't apply, and so I did," Yarbrough said. "I remember wearing a red and white dress for my campus tour. I can never forget that."
Traci Williams said she too believes her parents played a large role in their enrollment at Hockaday.
"Our parents really believed in education, and they guided us to Hockaday," Traci Williams said.
Coming to Hockaday at a time when the nation itself was going through turmoil and segregation posed many obstacles for the three girls.
"There were some people who were wonderful, and we would get invited over, and they were our friends. And then there were other people whose parents didn't want us coming to their house," Traci Williams said. "But it was okay. We learned how to maneuver around that."
Dealing with prejudice and stereotypes was something the girls had to face, but according to Staci Williams, knowing that they were in the right helped them stay strong.
"Sometimes taking a stand can lead to heartbreak and back stabbing, but you know that because you did the right thing that you can withstand all of the attacks," Staci Williams said.
Staci Williams said that the school itself played a role in protecting the girls as much as possible.
"My attitude was I'm a student, and I belong here. If there's an obstacle, I'm going to knock it out of my way," Staci Williams said. "There were of course issues, but the environment was such that we could just talk to the administration and they would do their best to fix it."
Yarbrough credited Hockaday, explaining that they did a wonderful job of creating a safe environment for them to focus on their work.
Though the civil rights movement was at its height in the '6os, segregation and prejudice were still not uncommon in Dallas, which according to Traci Williams, was just starting to integrate when they came to Hockaday.
"Hockaday felt like an oasis from the turmoil that was happening in the outside world," Yarbrough said.
Their time at Hockaday, however, was not defined by their race or the obstacles they had to face, Yarbrough said.
"We had wonderful lifelong friends and great teachers who just made our time at Hockaday so enjoyable," Traci Williams said.
One of these friends was Joyce Madkins, who works in Food Services at Hockaday. Yarbrough said she could relate to Madkins, who was at the time one of the only African Americans on campus.
"When I saw Joyce she always had a smile she always at her post and she always encouraged me. That just really meant something to me and really brightened my day," Yarbrough said. "I took it as encouragement even when the days were hard and long to just keep going. And I really appreciated her encouraging words to me all throughout Hockaday."
Not only did Madkins have a positive impact on Yarbrough, but Yarbrough had a lasting effect on Madkins.
"Val Mack and I were real close. I could talk to her about anything. She was a good girl, a smart girl, and the whole time she was in school she was a real great person," Madkins said.
All three Hockaday alums currently reside in the Dallas area. Yarbrough is a first grade teacher at St. Marks, Traci Williams an independent senior analyst and Staci Williams owner of the private law firm, The Law Office of Staci Williams.
"We treasure the cornerstones and value them every day. They're just a little reminder in life of what's important," Staci Williams said.
Looking back at their graduation in 1977, the Williams sisters describe it as a blur.
"I remember being nervous that day," said Traci Williams. "I knew that when we crossed that line history was being made."
Yarbrough, proud of the accomplishments of her classmates, said that every other girl graduating with them had just as much to be proud of on graduation day.
"We were a class," she said. "We were not treated special or differently than    any other students. We weren't set aside. We felt included, and we graduated the 77 of us as a class, and we graduated together."
-Avita