Meet the New Student Council
Shortly after the installation ceremony on Feb. 25, the new student council for the 2013-2014 school year is already making plans for its time in office.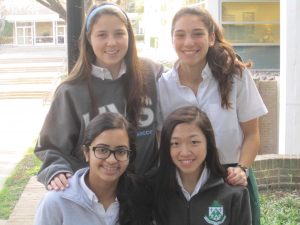 Led by Junior Meredith, next year's Student Council President, the new council hopes to "add more fun stuff such as de-stressors or even lunch tables so we can eat outside," Meredith said.
Meredith has served on Student Council before and believes that her past experience will help implement the desires of student body. Despite her experience, she thought that the current transition period is very helpful and that being able to learn from the current holder of the position allows her to jump right in next year.
"It is very satisfying to be behind the scenes," Meredith said.
Second in command is next year's Vice President, junior Mary.  Mary has also been on student council before as well and is glad that she "got to see the ropes" as treasurer of the executive student council this year.
"There are many small changes that we would like to make that might not seem that drastic but could make a big difference," Mary said. She said she hopes that she can use her "calm and relaxed attitude" to represent the students well.
"I am very calm in every situation. I'm extremely relaxed—maybe even too relaxed," Mary said.
Sophomore Courtney also joins the board this year as the new student council treasurer, although this is not her first time in a position dealing with budgeting and money; she was student council treasurer in Middle School as well.
She also knows the other incumbent student council executive members well from various activities and hopes that "it will help us function better as a team."
Courtney is very open to suggestions and hopes that people "will tell [her] what [they] wanted fixed."
Current freshman Sunila, with her enthusiastic election speech rapped to the tune of "Ice Ice Baby," will be next year's student council secretary. She is currently this year's student council Parliamentarian.
When running last year for Parliamentarian, Sunila's current position on student council, Sunila also rapped in her speech.
"My sister and I were thinking of fun ways to get the crowd pumped and we decided on rapping," said Sunila. She has only rapped twice in her life (for each of the speeches).
"I can't even rap very well," Sunila joked.  Sunila also really enjoys baking and is ready to organize some bake sales for next year.
Have any questions for the new 2013-2014 student council? Comment below and The Fourcast will pass them on.
-Alaina