Students who cannot choose just one fine art sometimes pursue multiple
Twenty-one classes are offered for a Fine Arts credit at Hockaday. When given a wide variety of visual and performing arts, debate classes and an orchestra (which includes 53 different instruments), many students face tough choices when planning their course selections.
But some don't bother making a choice: they simply decide to take as many fine arts classes as they can.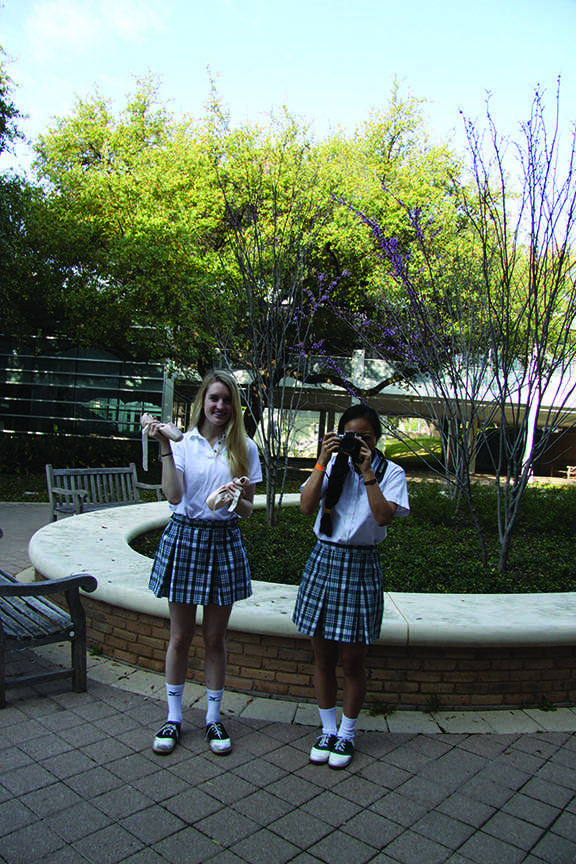 Junior Madison entered a total of eight events for the Independent Schools Association of the Southwest Festival, which is the most a Hockaday girl has ever participated in. She said a few of them were show choir, the musical, gospel choir, Improv and a St. Mark's One Act.
"I'm really busy," she said, "but it's a good kind of busy to be. I've been moving my schedule around a ton to make room for all of my extra rehearsals."
Madison currently takes two fine arts—choir and dance. Because dance replaces her physical education requirement, she doesn't have a free period. However, she said that this has actually been beneficial for her.
"After you don't have a [free period] for a while, you stop relying on it," Madison said. "I would say I'm more productive now than I used to be."
Sophomore Dominique said that she enjoys taking two fine arts because one of them is relaxing and the other is an art that she wants to explore and improve in.
Dominique doubled up on fine arts last year with dance lab and ceramics; this year, she is taking Hockaday dance theatre and photography. While she takes ceramics mostly to relax and take a break from the school day, she pursues photography for exploration and improvement. She compared the schedule she has now that has no free periods to her schedule in Middle School, when there was only one study hall to get homework done.
Sophomore Katherine is taking both studio art and ceramics this year. She said that there were so many options to choose from for freshman year that she couldn't decide on just one, so she decided to take both.
However, unlike Dominique and Madison, Katherine could not rely on dance to fulfill her physical education credit and had to figure out when she would take Health I, but because she is a tri-sport athlete, she was able to fill her P.E. credit with one of her fine arts. She took Health I and II the summer after her freshman year.
But doubling up on fine arts is not as common as one might think.
The Fourcast polled the Upper School students and found that only 27 percent of girls do more than one fine art and a mere seven percent do three or more fine arts.
The most common fine art that was doubled up in was either orchestra or private music lessons.
According to Upper School Registrar Sharon Wright, there are usually not a lot of complications with scheduling. She said that dance and orchestra are the top fine arts classes that girls will choose to take another fine art with.
Dance is usually paired with another fine art, because it takes the place of a P.E. block, making it easy to schedule around other classes. Orchestra is similarly easy to schedule because they practice during Y-period.
It is very rare that a student will double up in photography or a publication, Wright said.
Katherine agrees. She said that girls don't usually take a publication with another fine art because there is more outside work with publications than visual or performing arts.
The primary scheduling problem arises when a student chooses to take both choir and dance, because dance lab meets at the same time as choir.
Generally, Wright does not find it "difficult to schedule, but it's difficult for the girls to schedule their time to make sure they can take on a full load of five solids."
She added that taking an extra class leaves no free period in students' schedules, which can be challenging for some students.
"But on the other hand," she said, "fine arts are such a great outlet in the academic day that it gives you that relief."
The balance of relaxation and school work may be the reason why girls who start off the year taking multiple fine arts almost always continue to take both of them throughout the entire year.
Wright said that she cannot remember the last time a girl wanted to drop one of the fine arts she was taking.
Madison, Dominique and Katherine agreed that if a student is passionate about two fine arts, she should take both of them, because it will be worth it in the long run.
"I think that if you love both of the things you are pursuing, and it doesn't feel like a burden to you, it's totally worth it," Madison said. "At the same time, it isn't something you just do for fun. It is a commitment, but I think it's a good one."
-Charlsea