Drama Students to Stage "Our Town" this May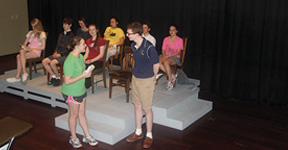 It runs in the family. Sophomore Avery, who will play the lead role of Emily Webb, and St. Mark's senior Will, who will play the stage manager, are not the first among their kin to perform in the play "Our Town."
Avery's father played the part Simon Stimson, the drunk in "Our Town," during his junior year at Comanche High School in Comanche, Okla. in the 1970s.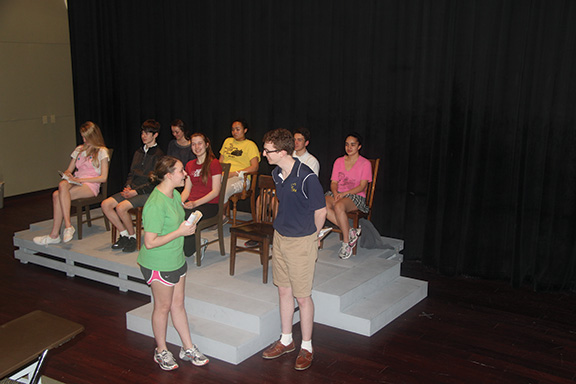 "When I brought him the play," Avery said, "he said this script hasn't changed at all. The script even has the Broadway notes in it, so you can do it the exact same way they did 75 years ago."
Will's mother, who also participated in the production of the show during high school, said that it was exciting to see her son in a play that she was once a part of.
"She's really happy for me to participate in this show and she looks forward to seeing me do it as my final show," Will said. "She doesn't think there will be a big difference, because Thorton Wilder [the playwright] wanted it done a certain way and ensured that future generations understood that."
Set in Grover's Corners, N.H., "Our Town" outlines the fictional history of the city from 1901 to 1913 and depicts the daily lives of its citizens.
"'Our Town' is perhaps the greatest single work of any American playwright," Will said. "I think the audience is really going to enjoy the universality of the show."
Challenges for the actors include creating a New Hampshire atmosphere and performing with a dearth of props.
"It is sort of a mixture of Bostonian and British accents," said senior Reagan, who will play Mrs. Webb, Emily Webb's mother. "It is really tough but we are all trying our best."
Will added that the actors must also master long narratives and pantomime to successfully perform the play. Perfecting "a good rhythm" for his extended opening dialogue will prove important in terms of setting "the right tone" for the entire show.
"My character has monologues that serve as bookends to the acts, and there's really no one else on stage to feed off of," Will said.
When the show first opened at McCarter Theater in Princeton, N.J. on Jan. 22, 1938, it was considered "experimental theater," because of the intentional lack of props and scene settings, Rod Blaydes, Director of the Hockaday and St. Mark's Drama Program, said.
"The only thing [the original crew] had was chairs, a couple of tables and two ladders," Blaydes added. "They managed to create the town with just that."
In order to give the audience the real experience, actors had to first rehearse with tangible props and then gradually take them away.
"Having no props or real set, you have to be very observant in scenes, because there may be a cue to serve bread to your family, but there is no actual bread," Reagan said. "At one point in the show, I feed my chickens but there are no chickens to feed."
Reagan added that although "the simplicity of the set can be frustrating," it requires her to be on her toes and "constantly focus on the scene at hand."
She added that the play sheds light on topics such as "death and eternity," and those who have taken part in the play, either through acting or watching, will carry the impression of it throughout their whole lives.
With some light-hearted jokes woven between more serious moments, "Our Town" carries its audience up and down with each scene.
"It's a well-written play, very interesting," Avery said. "There's not another play like it. It's very unique. The people will enjoy listening and watching and experiencing the main character's growth, as they only know after death what the meaning of life is."
-Cassie