Broken In and Worn Out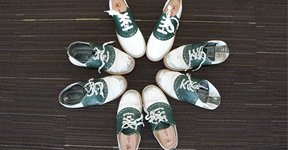 Students' much-loved saddle oxfords may lead to foot problems
They're beaten mercilessly against concrete day after day, year after year. They're ripped, torn, bent and drawn on. This is the sorry life of saddle oxfords here at Hockaday.
Once students have broken into their shoes, most refrain from finding a replacement until the last possible minute, pushing their shoes to the very limit.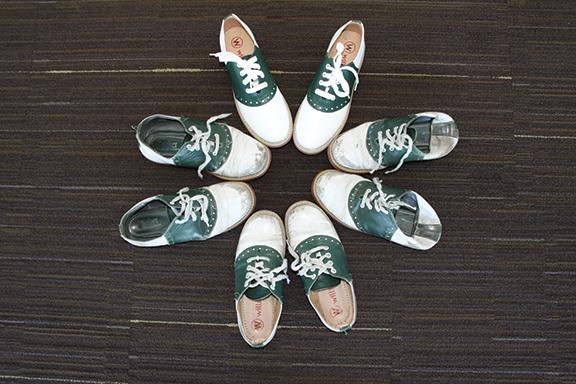 Senior Lilian has worn the same pair of saddle oxfords since she was in fourth grade, and her older sister Vivian Lilian '11 wore the same pair of shoes for several years before her.
"I don't mind the saddle oxfords that much," Lilian said. "I wouldn't wear them anywhere but Hockaday, but mine are so broken in [they're] very comfortable [to wear]."
Junior Caroline has had her saddle oxfords for five years and hasn't made much of an effort to take care of them.
"I abuse my saddle oxfords a ton," she said. "I step on the backs of them, I squish the tongue of the shoe to the very front, I cut the laces once, I draw on them a lot and I throw them around."
Sophomore Ryan has worn her saddle oxfords since the seventh grade. For McBride, they hold sentimental value.
"I don't want to part with them. They're like my babies," Ryan said. "My plan was to keep them all through high school, but I'm going to have to replace them because there's no way they'll last. They're literally falling apart."
Head Athletic Trainer Jeanne Olson said that wearing the same saddle oxfords for too long can cause fallen arches in the foot as well as plantar fasciitis, an inflammation of the tissue from the heel to the base of the toes. And, according to Olson, not replacing saddle oxfords often enough can have other harmful effects on the ankles, knees and hips because everything stems from the foot.
"The saddle oxfords don't have the best arches, and having good arch support is very important," Olson said. "Wearing a shoe all day that doesn't have good arch support can cause problems."
The American Podiatric Medical Association reported that "an average day of walking brings a force equal to several hundred tons on [feet]. They are subject to more injury than any other part of the body." According to the American Podiatric Medical Association, students shouldn't wear the same pair of shoes two days in a row and should rotate between pairs. However, for most students, this is impractical.
"You wear saddle oxfords every day," Olson said. "Ideally, you need to replace your saddle oxfords every year, but if that's not possible, then every two years."
Olson also advised students to replace their running shoes often.
"For running shoes, whenever you look at the bottom of the soles and they're worn down or your feet start to hurt, you need to replace your tennis shoes," Olson said.
Many students step on the back of their saddle oxfords so that they slip on easily.
"The problem with stepping on the backs of shoes and not wearing them properly is that it can cause bruised heels and other foot problems," Olson said.
New oxfords are easy to spot among the sea of beaten-down and graffitied oxfords, their shiny, pearly-white surfaces a beacon to the eye.
"I think it's more of a status symbol to see whoever can have the oldest looking shoes," Olson said.
In a March survey of 169 Upper School students, 92 percent reported that older shoes are more comfortable than newer ones.
"[The saddle oxfords] are more comfortable when they're old," Lilian said. "But I might have replaced them if I had known [they could cause foot problems] though."
Sophomore Niha replaces her saddle oxfords almost every year because her "mom tells [her that she] should always dress sharp," Niha said.
Niha doesn't replace her oxfords with health benefits specifically in mind. But it's an added  bonus nonetheless.
Sophomore Azani, who had worn her previous pair of saddle oxfords for five years, finally replaced them this year with a pair that she bought from the uniform resale store. Creeks said that buying them from resale made them more comfortable because they were already broken in but they were still newer than her old pair.
However, according to the American Podiatric Medical Association, one should "never wear hand-me-down shoes."
In general, newer shoes provide better arch support. Olson said that if further arch support is desired, many local pharmacies sell items to help with arch support.
"Replace your saddle oxfords every couple of years," Olson said. "Always try to take of your feet, because you'll need them everyday."
-Courtney