A Motley Crew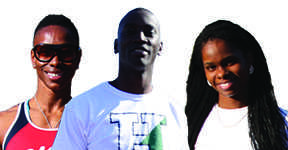 The last, and only, time Hockaday Track won SPC was in 2011. This year's Track and Field coaching staff, complete with Nike Fit models and Olympic Trial athletes, has got it all to motivate the daisies to another victory.
Coach T Coach Tawanna Meadows, known affectionately to the Track team as "Coach T", is an accomplished track runner.

Coach T attended the Olympic Trials in Beijing of 2008. Unfortunately, she didn't make the team; however, she still said it was a good experience. In 2004, Coach T earned the title of Florida State Champion in the 100 m. She attended Troy University in Alabama with a full scholarship. At the school in 2008, she held (and still holds) the 60 m, 100 m, 200 m, 4×1 and 4×2 record. The same year, T made Team USA for a meet held in Mexico where she represented the United States. She tore her ACL in 2009, had surgery on the knee and has battled the injury ever since.
T said she started coaching because she realized how much of a difference encouragement can make. "I like to motivate people because of what I've been through," she said. "I've never had people to motivate me."
Coach T is the newest coaching addition to the Hockaday track team this year.  She's excited about working with the athletes.
"I saw a lot of talent at Hockaday, and that's what made me want to coach here," T said, "I like making a difference."
T's favorite track event is the 100 m.
"It's fast, but not as fast as the 60m," she said. "You have enough time to step the race up—not too long, not too short. Right in the middle."
Coach Crystal Track and field has been a part of Coach Crystal Pollard's life since she was six years old. But it is not the only realm in which she has achieved success. 

After graduating from the University of North Carolina and attending business school there, Crystal worked at Neiman Marcus as a buyer. Later on, she began working at the Dallas Morning News. Crystal was part of the three-person team that created FDLuxe, a local luxury magazine affiliated with the Dallas Morning News. She still manages all the marketing and sales of the publication.
In 2010, Crystal began training, coaching and teaching classes full time. Also during that time, she worked as a model for Lululemon—a Canadian based athletic apparel company. Crystal also worked as a Nike Fit model.
Crystal was invited to coach at Hockaday by Tina Slinker, whom she had a mutual friend with. Slinker needed more people for the track team and reached out to her, thinking she would bring a more performance-corrective approach to the team.
Coach Crystal's said her favorite track event is the 200. "It's longer than the 100, so you can still fix the mistakes," she said, "but not as long as the 400—which is crazy hard."
Coach Bean Coach LaBoris Bean grew up in Houston, Texas and graduated from Jasper High School. 

Before beginning Track, Coach Bean played Football, Basketball and ran Cross Country. In 2001, Bean was ranked 23rd in the nation for his time of 46.97 seconds in the 400 m hurdles.
He graduated from Oklahoma University in 2003. In 2004, he went to the Olympic trials for 400 m hurdles.
Since 2010, Bean's love of track has driven him to coach the sport at Hockaday. However, a recent car wreck caused a major setback in his life, and Bean said that he currently is not able to run/train as much as he would like.
He continues to coach Hockaday and professional athletes.
Bean is great at encouraging the team, senior captain Lexie said. "He pushes us really hard, there's no doubt about that," she said. "But he makes sure we're having fun and loving the sport every step of the way."
His favorite event is the 400 m hurdles.
-Elie