Athletics Department plans for the first Middle School golf program in the Southwest Preparatory Conference
Senior and varsity golf captain McKenna's first experiences with golf were in elementary school at Highland Park's summer camps, where she was grouped with the few girls in attendance. Rather than using a club, the athletes threw their balls down the course until they reached the green; then they proceeded to putt their way to the hole. Later, McKenna learned the more technical aspects of golf.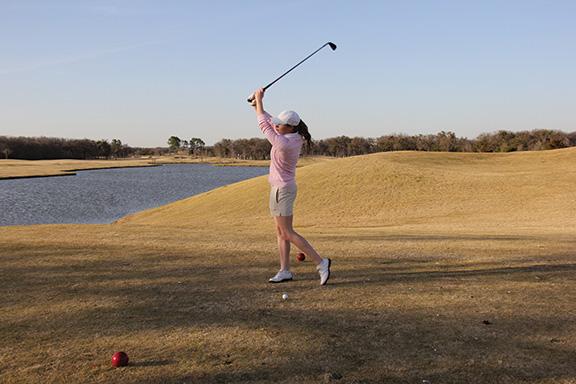 But she didn't enter into the competitive golf world until many years later.
Although McKenna began playing in tournaments during Middle School, she said that she felt less prepared when she reached the varsity level because she had less experience competing.
"[Tournaments] were always kind of stressful for me because I kind of started taking golf seriously a lot older than some of the other kids that were on the team," she said.
The next generation of Hockaday varsity golfers won't have the same problem McKenna did.
The athletics department will launch a Middle School golf program next fall, the first program of its kind for a Southwest Preparatory Conference school and thus a model for other middle schools. It will be coached by Hockaday's own varsity coach Chris Lagow.
The program has several goals, the first of which is to increase participation in golf at all levels, particularly the varsity level.
Because players must achieve scores under 120 to attend varsity tryouts, the pool of athletes who can even attempt to make the team is limited. This rule exists to ensure only experienced players attend and helps ensure the competitiveness of the pool of athletes.
Lagow said she hopes that the new program will increase attendance and eligibility, as well as accomplish several other goals.
"I've been coaching the varsity team for 12 years, and I have been wanting to start a Middle School program for several seasons to be able to have a more experienced varsity program as well as to introduce the game to girls at a younger age," Lagow said.
The program also aims to introduce golf to inexperienced players and provide instruction for the improvement of seasoned players.
"What Middle School golf will do," assistant varsity golf coach Rodney Skaife said, "is it will give kids who are interested, who have decided maybe that other sports are not their thing, a chance to go out, meet coach, and she'll get them on the right footing so that when they do come to ninth grade, there's not such a big gap."
Sixth grade student Charlsie said she hopes to participate in the new program next year. Except during basketball season, Charlsie often plays with her father, Cameron, a golf pro and former professional golfer.
"I think this will get me the type of caliber of experience I wouldn't have gotten otherwise," Charlsie said.
She also hopes to carry on her family's legacy of golfing. In addition to her father's success, her mother was a national ranked high school golfer and the second best golfer in Texas and her grandfather was also a golf pro.
Mckenna added that the Middle School program will help introduce the expectations for Upper School golf earlier.
"We usually see every year a couple of people come and try out who aren't quite at the level of what the varsity team expects and needs," she said.
Lagow said that the Middle School program is important in order for golfers who begin at an earlier age to be more successful.
"The earlier you can learn golf or another sport in life, the easier," she said. "Whether you go on to play it at a competitive level or just for leisure, anyone will tell you that the earlier you learn, the easier."
Director of Athletics Tina Slinker said she sees two additional benefits to the new golf program.
"It's the only SPC sport not in Middle School, and secondly, it would give us another sport in the fall which I think helps with the numbers," she said. "For example, we had 46 players come out for volleyball this year."
By utilizing the varied methods she has gathered in 20 years of experience teaching both experienced and beginning players, Lagow plans to create a program that will appeal to a range of golfers. Trained in junior-player specific Professional Golfers Association techniques, Lagow will bring in some components of these methods, which have "a long history of proven success."
The program will consist of two practices a week at Hockaday and two practices at the North Texas Golf Center. However, there will be no SPC tournaments because no other SPC schools offer Middle School programs. Instead, Hockaday will incorporate the competitive side of golf in three main ways.
"We will be competing amongst the individuals on the team as well as other schools as available and also through tournaments sponsored by the Northern Texas PGA Team Golf Program," said Lagow, who will coach the Middle School team in the fall and the Varsity team in the spring.
The Northern Texas PGA Team Golf Program holds tournaments nearly every weekend and allows teams such as Hockaday's to enter.
Charlsie, who said she has participated in several charity golf tournaments and some family tournaments with her brother and father, agreed that the opportunity to try different competitive formats will be helpful.
"In a nutshell," Lagow said, "the goal is to introduce as many as possible to the game of golf and provide a solid base for middle school players within the SPC conference and to promote potential for stronger varsity positions."
Overall, McKenna is excited about the program.
"I've always wondered why they didn't have golf in Middle School," she said. "I think it would definitely help for when you get to Upper School and you want to play on the varsity team, just to have experience… and I think it would have been a lot of fun."
And as for Charlsie, she is most looking forward to "combining golf and fun together, so I know people and can golf with my friends."
-Emily