Play Ball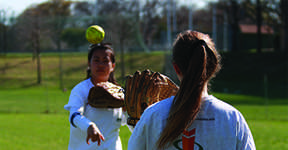 After being put on the back-burner, the Varsity Softball Team is poised to make a comeback with its two newest coaches, Paul Strapkovich and Emily Edgerton, leading the way
It was SPC 2012, the final game. The Hockaday Varsity Softball team was fighting for first place, and all was looking well, until the final inning. Unable to make that third out to close the game, the team suffered a disappointing loss and finished the season in second place.
But, with a new year comes a new chance for the team to redeem themselves, and they are more than ready.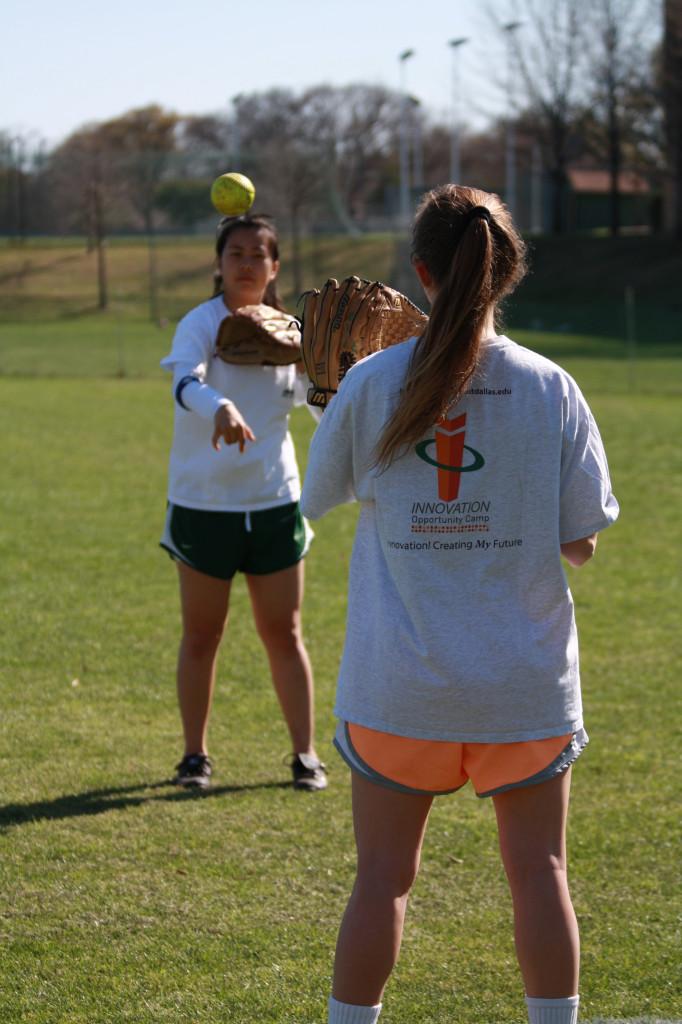 With 17 team members and new coaches, the varsity softball team is revamping their mindset and the way they play the game.
Unlike other sports at Hockaday, the softball team has never had a permanent coach. And according to the girls who have been recurring members of the team, this inconsistency makes it difficult to make progress in the way they play.
But this year's coaches, Paul Strapkovich and Emily Edgerton, are ready to turn the softball team into champions.
Strapkovich has 28 years of experience coaching girls at J.J. Pearce High School in Richardson. Two years ago he began his career at Hockaday as a bus driver for the residence department.
When Strapkovich saw the open position for a softball coach, he quickly stepped up to the plate.
Some of Strapkovich's goals for this season include being more competitive, seeing progress from day one and encouraging everyone to see improvement in their own games. But he said he knows that his main job, first and foremost, is to make sure the team trusts him as a coach.
"They haven't had a lot of consistency," Strapkovich said, "so we want to teach them to believe in our philosophy and believe in what we are telling and teaching them."
Edgerton, who has played softball for over 10 years first at her high school and then in college, currently coaches the Texas Elite select team and gives private lessons at the Pastime Training Center. She said she is very excited to be at Hockaday and has a very simple plan for this season.
"We just need to work hard and practice hard," Edgerton said.
Although the team will face challenges, including the mixture of both experienced and inexperienced players on the team, the "veterans" who have been a part of the softball team since their freshman year, have a positive outlook on this season.
Senior Mackenzie, who has played softball for six years, said that, in the past, softball has been the "stepchild" to all the other sports at Hockaday. And she believes that it is time for that to change.
"I think for softball to be treated as equally as all the other sports, we need to be given the same resources and consistent coaches," Mackenzie said.
But she remains optimistic, as she thinks that Strapkovich and Edgerton can help them out of their rut.
"[The new coaches] are so enthusiastic and, even though they push us hard, it's going to make us a better team," Mackenzie said.
Junior Lindsey has also played softball since third grade and said she has high hopes for this season.
"I'm excited about this season with the new coaches," Lindsey said. "The energy they bring to the team is great."
Lindsey said she hopes to not only raise school spirit for softball, but to also raise her team's spirit.
In past years, Lindsey said, the team would suffer from disappointing losses because they just gave up if they started to lag behind.
"One thing our coaches keep telling us is just to keep fighting," Lindsey said. "We have to try until the very end so that, even if we lose, we will know that we never gave up."
Not only do the coaches and players have high hopes for the future, Tina Slinker, Director of Athletics, is looking forward to seeing the softball team improve.
"I love the new coaches," she said. "They are very serious about getting the girls to a higher level. They make a great team."
And, in order to push his girls to even more success, Strapkovich is working on a motif or inspiring word he can say to always encourage his team to fight and never give up. Although he has not decided on one yet, he has one in the works that he thinks will do the job.
-Alexis