P.E. + Academics = Success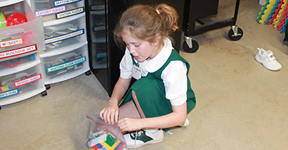 Around the nation, schools are bridging the gap between physical education and academics
Two towers of drawers stand side by side, each filled with human anatomy puzzles and manipulatives such as legos. The three-foot-tall pair forms the Physical Education Department's Science, Technology, Engineering and Math (STEM) carts, stored in the equipment room for students who can't participate in normal class.
Outside, PE coaches ask their students true or false questions based on their academic subjects. If the statement is true, girls on the left chase those on the right. If it is false, the opposite occurs.
As if these additions of academic material to the physical education curriculum aren't enough, the instructor's discussions of angles for bounce passing and rebounding in basketball quickly relate movement to math.
This phenomenon of reviewing academic concepts in the physical education building doesn't stop at the edge of the Hockaday campus. According to a Feb. 19 article in The New York Times titled "Gym Class Isn't Just Fun and Games Anymore," the ideas of academic classes have entered some PE classes nationwide.
Scientists have found activity beneficial to the brain and to learning, which has contributed to the rise. Additionally, the New York Times article suggests, schools are making every effort to raise standardized test scores, especially as a result of the quickly spreading Common Core State Standards Initiative (standards which, incidentally, Texas is one of only five states not to have adopted).
First and second grade physical education coordinator Tina Maddox said that, here at Hockaday, teachers have recently begun to incorporate educational topics, in particular health-related ones, into physical education classes.
"We do a lot of health topics—intentionally put health topics into physical education," she said. "We may do the same thing for vocabulary, math skills [and] science type things."
Maddox explained the physical education coordinators aim to help students develop motor and manipulative skills in order to prepare them for lifelong physical activity and sports that they will partake in later.
Carol Thumlert, physical education coordinator for pre-kindergarten, kindergarten and primer, added that she hopes Lower School girls will learn to move capably, share and cooperate with large groups. In addition, she said, Lower School physical education introduces effort levels through tools such as pedometers for the third and fourth graders.
The incorporation of more academic skills into physical education classes, she said, is in the works for lower grade levels.
"We are attempting to do more of a blend-cross-curriculum," Thumlert said, "incorporating math skills, foreign language, different concepts with science, too, like the equator…but it's not concrete yet as far as building blocks."
Maddox said that she will continue turning to inspiration from outside of Hockaday for methods of integrating physical education with academia.
"There's always room to evolve," Maddox said. "I may read an article and get some amazing ideas and we might think 'yeah, you know, we're already doing stuff at a high level, but we can evolve even more and put more things into it."
Maddox said she has already put in place a program for injured students to interactively learn science, technology, engineering and math (STEM) during P.E. class.
The STEM carts contain spatial reasoning activities and often also incorporate health concepts, such as anatomy or skeletal system puzzles. They includes manipulatives like building blocks, magnetic formations and connect-it straws as well as puzzles.
Third grade student Lucy said she enjoys both reading and playing with the manipulatives when she cannot participate in physical education class.
"They have puzzles, they have wedgits, they have legos," said Lucy, who sat out of a recent physical education class for health reasons. Her favorite are the wedgits, "because they have cards, and they give you challenges and you have to try and build those challenges, but it just gives you one picture, it doesn't tell you how to build it."
Fourth-grade teacher Sheri Le initially brought STEM carts to the Lower School when she proposed that STEM carts could be rotated through the homerooms during independent reading time and other breaks.
Idea sharing in this way is key to allowing academics into the physical education environment without compromising the goals of P.E., Thumlert said.
"We're apart from the main pulse of the school," Thumlert added, "so it's important to keep the bridges open."
-Emily