Community Braces for Judgment on UT Affirmative Action Case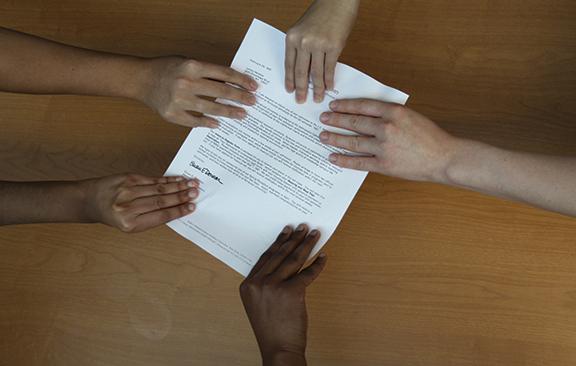 The Supreme Court is in the midst of making a decision on the most recent high-profile challenge to race-based affirmative action. Fisher v. University of Texas was brought in October 2012 by Abigail Fisher, a white student who said that she was denied admission from the University of Texas at Austin because less qualified minority students were afforded spots over her. Should the Supreme Court rule in Fisher's favor, race will no longer be a legitimate factor for admissions consideration at public universities and private universities that receive federal funding.
Although Hockaday admissions policies will not be affected by the upcoming ruling, the school remains ahead of the curve on diversity-related admissions policies. In keeping with a longstanding tradition of race blind admissions, Hockaday relies on strategic recruiting rather than race-conscious admission to ensure a diverse student body, said Eugene McDermott Headmistress Kim Wargo.
"We make a very concerted effort in the way that we market the school and communicate with different groups of people to make sure that we are getting the word out about Hockaday to as many different kinds of people as we possibly can," Wargo said.
Wargo added that by attracting a diverse pool of applicants, the school maintains a high-level of diversity within each class.
Assistant Head of Enrollment and Strategic Initiatives Jen Liggitt elaborated on the techniques that Hockaday uses in order to ensure that a diverse array of student apply to the school.
She said that the school strives for racial diversity by hosting receptions for prospective African-American and Hispanic students. At the gatherings, members of the Hockaday community speak about their experiences as students of color. In addition to hosting receptions, Hockaday admissions representatives travel the city and the world to spread the word about Hockaday.
Wargo said that she hopes the community will reflect upon bringing together diverse groups of people not only as a moral and an ethical imperative but as a necessity in solving problems and gaining new insights.
"It is about the richness that comes from considering a problem or an issue from multiple points of view," Wargo said. "We can learn from each other by thinking about a problem from different points of view."
She added that bringing together students with diverse experiences, socioeconomic classes, strengths and races will ultimately bring about a greater level of connectivity within the school.
"It's really about casting as wide of a net as we can around the world and the United States of students who will benefit from the Hockaday experience but who will also benefit us," Wargo said. "If we're doing our recruiting well…and we're looking for those girls who are the best fit for the school, I think what you will see is what we have: a diverse school."
Liggitt pointed out that, aside from providing a richer experience for students, the school's commitment to socioeconomic diversity and financial aid may help to level the playing field for students who are not provided with equal academic opportunities at a young age.
"I hope that students that are in independent schools are really well-prepared for coming here," Liggitt said. "But there are some kids in public schools too who have done a really good job with maybe a different kind of education and who want to be here as well."
Associate Director of College Counseling Courtney Skerritt said that, in the college admissions process as well, attention to socio-economic diversity helps with a phenomenon she likens to an unfair road race.
"We're not all at the same starting line—people are coming from different directions," she said.
To explain that some colleges give a "bump up" to first-generation college students and those who come from lower class families, Skerritt provided a scenario.
"Just like students at Hockaday want colleges to know their story, a student whose had to ride the New York metro an hour and a half each way or whose had to sleep in a car wants colleges to know that story too," she said. "Every story deserves to be told."
Skerritt added that she believes the conversation about race will soon be passé. "It's going to all about socioeconomic status," she said, "because there are such great divides."
Reflecting on a recent forum hosted by the Race Relations Board about affirmative action, senior Linda, Race Relations Board Chair, said that she believes the definition of diversity is undergoing revision: it is drifting away from race to focus on other factors, such as socioeconomic status.
Linda said that special admissions consideration for race is a controversial issue at Hockaday in that students emotions are quickly involved, especially if they do not reap the reward from racial affirmative action.
"In the forum last year, [affirmative action] was a touchy issue for Asian students," said Linda, a student of Asian descent, "because we don't get the benefit from affirmative action. That entire program can be detrimental to us, whereas some of the students who could be qualified for affirmative action, like the black students and the Hispanic students, are either indifferent or gung-ho about it."
Senior Laura-Brynn, a caucasian student and member of the Race-Relations Board, said that the Board discussed affirmative action as a tool for aiding those who are economically rather than racially disadvantaged.
She noted that students talked about the benefits of making a concerted effort to provide college acceptance and financial aid to students who could help end the poverty cycle for their family by receiving a college education.
"Personally, as a white student, I don't know that I ever formed an opinion about affirmative action," Laura Brynn said.
Senior Anase, an African American student who wrote her Junior Research Paper about affirmative action's role in the college process, said that she believes race should play a role in admissions decisions.
"I think [race] does need to be taken into consideration, because it is taken into consideration in every other aspect of my life," she said. "If I'm going to have a job interview, and I have to denote my race, and that's going to negatively affect my application, that's something I have to live with."
Anase added that, despite the recent push for affirmative action in the job market, statistics show that African-American women in particular still face disadvantages in this realm.
While Anase said that race should and does only slightly improve her chances for admission to college, she has noticed a stigma around race-conscious admissions within the halls of Hockaday.
"Most of what I've heard from my peers is the generic statement: you're going to get in because you are black," she said. "It kind of belittles the process and the work that I've put in academically and extracurricularly."
Skerritt said that the Supreme Court has already confirmed the legitimacy of class-conscious admissions, but the Fisher case could change the legality of race-conscious admissions.
She added that "time will tell" the decision's effect on students applying for admission to the University of Texas school system. But colleges would likely respond to a ruling against racial affirmative action by increasing their outreach to minority students.
"There are very interesting ways for them to increase the diversity of the pool," she said. These methods include targeted mailings to prospective students and sending admissions representatives to strategic locations.
According to a 2012 article in the New York Times, however, "the consequences of such a decision [to do away with racial preferences in higher education] would be striking."
"It would, all sides agree, reduce the number of African-American and Latino students at nearly every selective college and graduate school, with more Asian-American and white students gaining entrance instead."
Several states, such as California and Michigan, have already banned the practice of taking race into account during the admissions process.
"It was astounding just in five years to see how the demographics shifted in California when they took race off the table," Skerritt said.
While the college admissions process could soon be subject to changes, Wargo assured the Hockaday community that the school will remain committed, first and foremost, to accepting those who will contribute to the school while making the most of its resources.
"You want kids who are driven and ambitious and who want to learn," she said, "who want to be in an academically enriched environment and who are going to contribute to the life of the school."
-Hailey