Alumnae Day Dubbed Centennial Preview Event
Alumnae, community will get a taste of next year's centennial celebration on April 19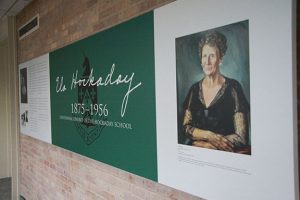 With Hockaday's 100th anniversary just months away, Alumnae Day on April 19 has been designated as the Centennial Preview Event.
As part of the event, the Centennial Exhibit will open, featuring pieces significant in the founding of the school, Memorial Living Room has been transformed into the Centennial Exhibit for faculty, students and parents to learn about Hockaday's founder, Ela Hockaday.
"It's a gift we're giving to the Hockaday community to learn more about its founder," Centennial Director Holly Hook said.
Students will be able to walk in and out of the exhibit at leisure, viewing artifacts and learning about Ela Hockaday herself. Artifacts include books with inscriptions to Ela (including one from author Gertrude Stein), tea sets, a letter from the White House concerning Eleanor Roosevelt's stay with Ela and papers from her travels to Europe.
The exhibit will begin outside of Memorial Living Room with a panel describing Ela's life before she started Hockaday. Visitors will first see her desk, and the exhibit is decorated with five panels along the walls, a photo mural and six display cases, which will be low so that even Pre-K students can see them. The panels will end with Ela's life after she retired as headmistress in 1946.
"I want them to take away what an incredible woman she was," Centennial Exhibit Chair Katherine Rogers Roberts '89 said. "She had some gumption. She is the epitome of a Hockaday girl, and I just want people to know she was a woman beyond her years. She sought, she had a vision and she did it—spectacularly."
For the past year Archives Manager Emily Embry has been familiarizing herself with the archives, assisting the Centennial Exhibit committee with piecing the exhibit's artifacts together.
"I've learned so much about Ms. Hockaday, and I hope everyone gains a deeper appreciation of her and of the school from this exhibit," Embry said.
Roberts' mother, Ellen Higginbotham Rogers '59, has helped her with the exhibit.
"You can really tell what kind of woman [Hockaday] was—her interests, her writings, her travels," she said.
The exhibit will remain open throughout the 2013-2014 school year but will close afterwards.
A major change in this year's Alumnae Day is the absorption of the annual awards ceremony into the lunchtime program in Penson Gym, rather than recognizing two separate events.
"It'll be very celebratory and festive," Director of Alumnae Relations Amy Spence '87 said. Spence and Associate Director of Alumnae Relations Mackenzie Ramey have been making plans for Alumnae Day throughout the past year.
Alumnae President Maria Martineau Plankinton '83 and Eugene McDermott Headmistress Kim Wargo will speak at the luncheon, catered by renowned Dallas chef Stephen Pyles. The Lower School Choir will close the ceremony.
"We always want [alumnae] to walk away with warm feelings about Hockaday," Spence said. "Alumnae Day is the perfect opportunity to really build connections with alumnae and Hockaday and leave them feeling good about their school."
Seniors have been invited to the luncheon as well.
"They are about to be the newest members of the Alumnae Association, and we want to recognize them," Spence said.
Campus tours and classroom demonstrations will be offered to alumnae as part of the day. Alumnae will be able to attend classes across all school divisions (Lower, Middle and Upper Schools) and all disciplines. This year, classes will be structured specifically for the visiting alumnae in concentrated 20-minute periods. Alumnae will be able to visit ceramics classes or lectures in the History of Music and Art, among other classes.
"The faculty has been very willing," Spence said. "They want to show off their students."
Each alumna will receive personalized schedules of their day, complete with the classes they signed up for. Adding to the centennial celebration, all merchandise such as nametags and programs will bear the Hockaday centennial logo.
Fine Arts Department Chair Ed Long will moderate the annual 10-year reunion class alumnae panel. Although usually only seniors attend this panel, juniors (the centennial Class of 2014) have been invited as well. It will take place during advisory.
Although around 450 alumnae typically attend Alumnae Day, approximately 550 alumnae are expected to attend this year because it is marked as the Centennial Preview Event.
"It's a really exciting time for alums to come back and find out about Hockaday's next century, to reconnect and discover how Hockaday can be a part of their lives moving forward," Alumnae Day Chair Elizabeth Cullum Helfrich '98 said.
The centennial website, www.hockaday100.org, will also launch on Alumnae Day, allowing members of the Hockaday community to explore the past 100 years of Hockaday's history.
Helfrich also designed and crafted a tree that will be present on the first floor of the ARC on Alumnae Day. The massive tree will have a daisy for all 10,500 Hockaday alums, each daisy personalized with each alumna's name.
On Saturday, April 20, alumnae day celebrations will continue with the annual Boarder Breakfast and the new African American Alumnae Affinity and Special Interests Group Reunion Breakfast. A family picnic on the Lower School playground will also take place through the afternoon, with alumnae and their families invited to enjoy food and even a bounce house for children.
"We want every alumna to feel welcome, warm and treasured," Spence said.
As Hockaday nears its hundredth year, Spence said she hopes alumnae know they are still vital to the Hockaday community.
"We want them to be excited about what the school is about to do, about the centennial, and eager about Hockaday moving into its second century," Spence said. "They were an important part of the first 100 years of Hockaday, and they will continue to be a vital part of the school's second century."
-Tiffany